Husson University and NMCC Sign Agreement to Facilitate Credit Transfers for Nursing Students
Published on: July 11, 2018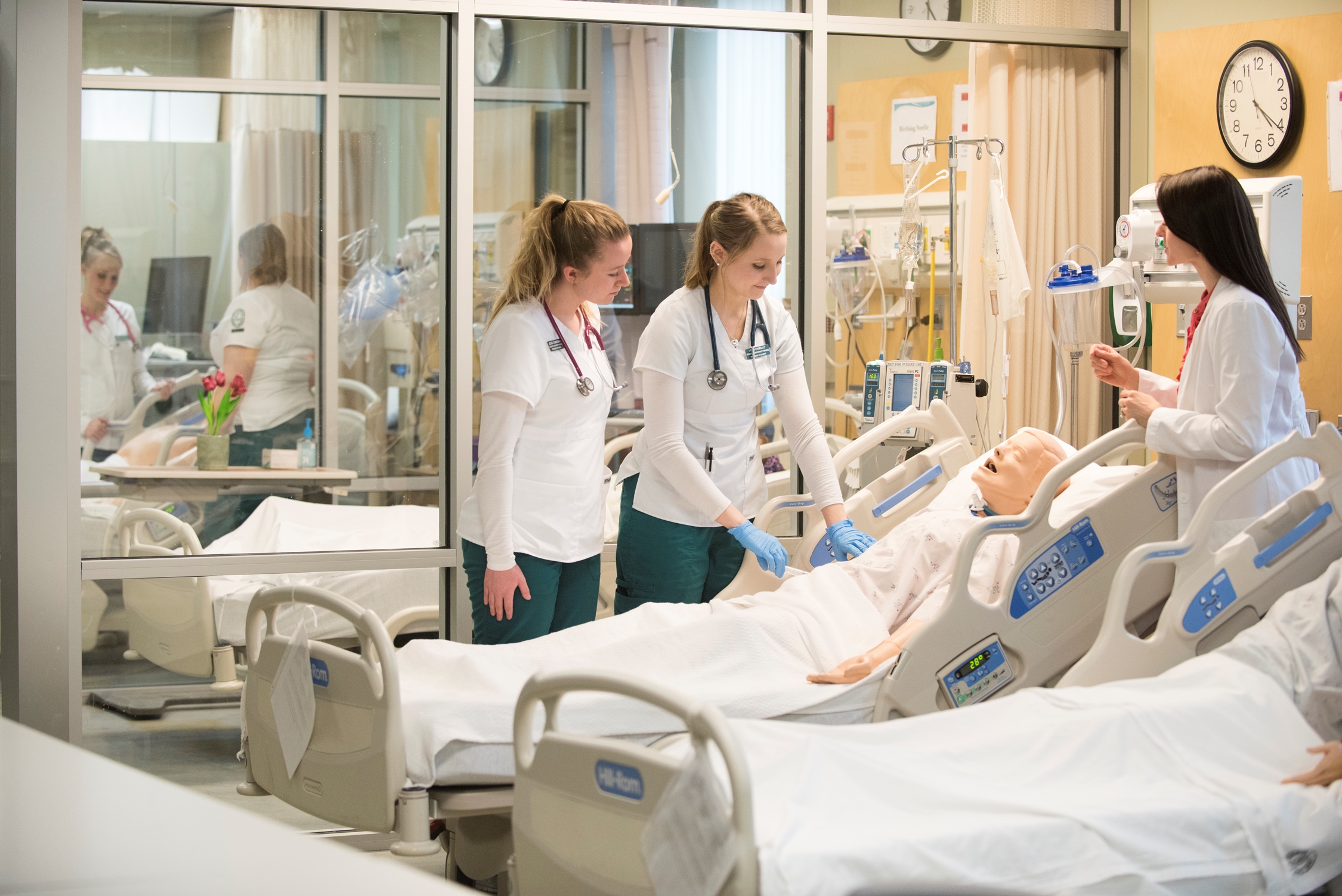 BANGOR, MAINE - Husson University and Northern Maine Community College (NMCC) recently entered into an agreement that creates a smooth process for the transfer of credits for students in NMCC's Associate of Science in Nursing program interested in continuing their education and earning a Bachelor of Science in Nursing (BSN) from Husson University.
The agreement provides nursing students from NMCC with a side-by-side analysis of how their credits will transfer from Northern Maine Community College to Husson.
"NMCC and Husson University have a long history of cooperation. In fact, Husson's Northern Maine campus is part of the NMCC complex in Presque Isle," said Jennifer Flynn, director of Husson's Northern Maine campus and the University's Canadian Public Community College diploma to degree program.
"This agreement will allow community college students to continue to have access to an affordable, high-quality education as they pursue their bachelor's degree," continued Flynn. "Husson University is still the lowest net-priced, private four year college in Northern New England accredited by the New England Association of Schools and Colleges (NEASC). This combination of affordability and quality makes Husson a natural choice for community college nursing students interested in furthering their education." 
"Northern Maine Community College is pleased to expand upon our partnership with Husson University. In the College's 57-year history, the nursing program has always been one of the most popular and the graduates continue to make outstanding contributions in the field of healthcare," stated NMCC President Timothy Crowley. 
"The nursing faculty at NMCC are both pleased and excited to have this agreement with Husson University. It's a privilege to collaborate with such an excellent nursing program," said Mary Cornelio RN, MSN, department chair of the Nursing and Allied Health Department at Northern Maine Community College. "This agreement expands opportunities here in Aroostook County for our nursing graduates to pursue additional nursing education, which is both important and meaningful for their careers here and beyond."
Educating the next generation of nurses has become more important than ever. An aging population and an aging nursing workforce is creating a nursing shortage.[1] A report from the Maine Nursing Action Coalition (MeNAC) predicts that Maine could have a shortage of 3,200 registered nurses by 2025.[2] Colleges and universities will need to educate more students in order to meet the growing demand for nurses.
In addition, a 2010 report by the Institute of Medicine of the National Academies recommended that at least 80 percent of nurses hold baccalaureate degrees by 2020. According to the report:
"A more educated nursing workforce would be better equipped to meet the demands of an evolving health care system. This need could be met by increasing the percentage of nurses with a BSN. An increase in the proportion of nurses with a BSN also would create a workforce poised to achieve higher levels of education at the master's and doctoral levels, required for nurses to serve as primary care providers, nurse researchers, and nurse faculty - positions currently in great demand across the profession and within the health care system."[3]
"These reports show that there is a need for more nurses and for better educated nurses" concluded Flynn. "Smoothing the credit transfer process with this agreement will allow nurses to spend less time on academic policies and procedures, and more time on their studies."
Northern Maine Community College's main campus is located in Presque Isle. The College offers 29 associate-degree and certificate-level programs, preparing students to either enter the workforce immediately upon graduation or to transfer to a four-year college or university to complete a baccalaureate program. It is one of seven colleges in the Maine Community College System. NMCC has been cited by the Aspen Institute as one of the nation's top 150 community colleges for commitment to student success and educational excellence. Visit NMCC.edu for more information.
For more than 100 years, Husson University has prepared future leaders to handle the challenges of tomorrow through innovative undergraduate and graduate degrees. With a commitment to delivering affordable classroom, online and experiential learning opportunities, Husson University has come to represent superior value in higher education. The Bangor campus and satellite education centers in Southern Maine, Wells and Northern Maine provide advanced knowledge in business; health and education; pharmacy studies; science and humanities; as well as communication. In addition, Husson University has a robust adult learning program.  For more information visit www.Husson.edu. 
[1] "Nurses needed: Why there is a critical shortage in Maine?," Bangor Daily News, Catching Health Section, Diane Atwood, http://catchinghealth.bangordailynews.com/2018/04/30/healthnews/nurses-needed-critical-shortage-in-maine/, April 30, 2018.
[2] Ibid
[3] "The Future of Nursing: Focus on Education," Institute of Medicine of the National Academies, October 2010, pages 2-3, http://www.nationalacademies.org/hmd/~/media/Files/Report%20Files/2010/The-Future-of-Nursing/Nursing%20Education%202010%20Brief.pdf
Back to All Articles