Husson University Strengthens Relationship with Nanyang Medical College in China
Published on: June 4, 2018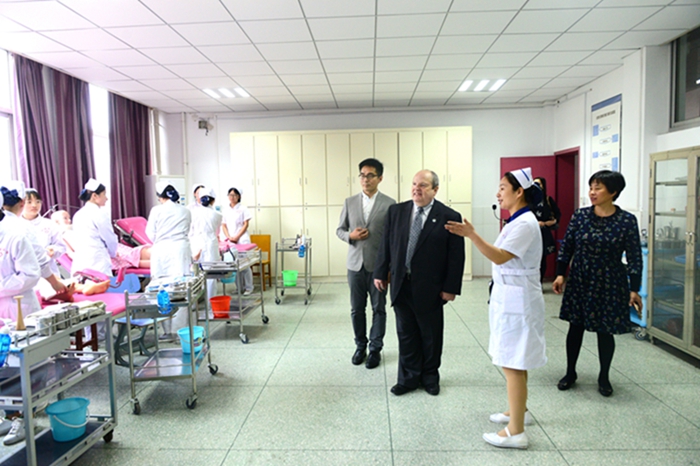 BANGOR, MAINE - In an effort to build on a relationship that began in the fall of 2016, Husson University President Robert A. Clark, PhD, recently visited Nanyang Medical College (NMC) in the southwest Chinese province of Henan. 
During his visit, Clark met with Fang Jiaxuan, president of Nanyang Medical College and other senior staff members. Clark also toured the campus, NMC's academic and research facilities, and the College's affiliated hospitals. Gifts were exchanged as symbols of good faith. Dr. Clark also had an opportunity to address more than 600 NMC students and faculty members interested in learning more about Husson University.
Memorandum of Understanding
In November 2016, the two institutions signed a memorandum of understanding (MOU). The recent visit by Clark reaffirmed Husson's commitment to working together with NMC to offer joint degree programs. 
The MOU states, in broad terms, that the two institutions of higher learning will work together to develop joint programs that lead to a Bachelor of Science in Healthcare and Public Health, and a Bachelor of Science in Biology at Husson University.
Under the agreement, NMC students would attend their home university in China for the first three years and then transfer to Husson University for an additional two years in order to complete their bachelor's degree. Students from Nanyang Medical College would also have the opportunity to continue their studies and earn a Master of Business Administration (MBA) with a concentration in healthcare management from Husson University's College of Business if they chose.
The agreement would also allow faculty from NMC and Husson to teach on each other's campuses, share information about professional teaching methods and practices, and discuss best practices developed at each school.
"The approval process associated with creating joint degrees with Chinese educational institutions can take some time," said Colleen Grover, Husson's director of international initiatives. "Unlike a simple transfer program, joint degree programs must meet with the approval of the Chinese Ministry of Education as well as the Provincial Ministry of Education. This process requires Husson to prepare in-depth documentation that attests to the quality of our University."
More About the Approval Process
In addition to University profiles, Husson was required to submit information about faculty credentials, text books, course syllabi, course maps and degree requirements. Fulfilling the Chinese government's information requests required the combined efforts of academic program directors associated with the two joint degrees; Dean Patricia Bixel, PhD, from Husson University's College of Science and Humanities; Senior Vice President for Academic Affairs and Provost Lynne Coy-Ogan, EdD; and Assistant Registrar Diana Hamel. All of the submitted materials helped smooth the transition from one academic environment to the other. They will also help ensure Husson University's programs remain rigorous. Following a meticulous vetting, the program was approved by the Chinese Ministry of Education at the end of April. Husson anticipates NMC students starting to enroll in the fall of 2019.
"This effort will help diversify Husson University's educational offerings and expand our international connections," said Clark. "We believe that educational excellence can be achieved through experiential learning and global understanding. The development of learning initiatives between ourselves and the Nanyang Medical College is just one example of our efforts to help Husson graduates become engaged world citizens."    
For more than 100 years, Husson University has prepared future leaders to handle the challenges of tomorrow through innovative undergraduate and graduate degrees. With a commitment to delivering affordable classroom, online and experiential learning opportunities, Husson University has come to represent superior value in higher education. Our Bangor campus and off-campus satellite education centers in Southern Maine, Wells and Northern Maine provide advanced knowledge in business; health and education; pharmacy studies; science and humanities; as well as communication. In addition, Husson University has a robust adult learning program. For more information about educational opportunities that can lead to personal and professional success, visit Husson.edu.
Back to All Articles