$100,000 Greenlight Maine Finale at Husson University's Gracie Theatre
Published on: June 8, 2018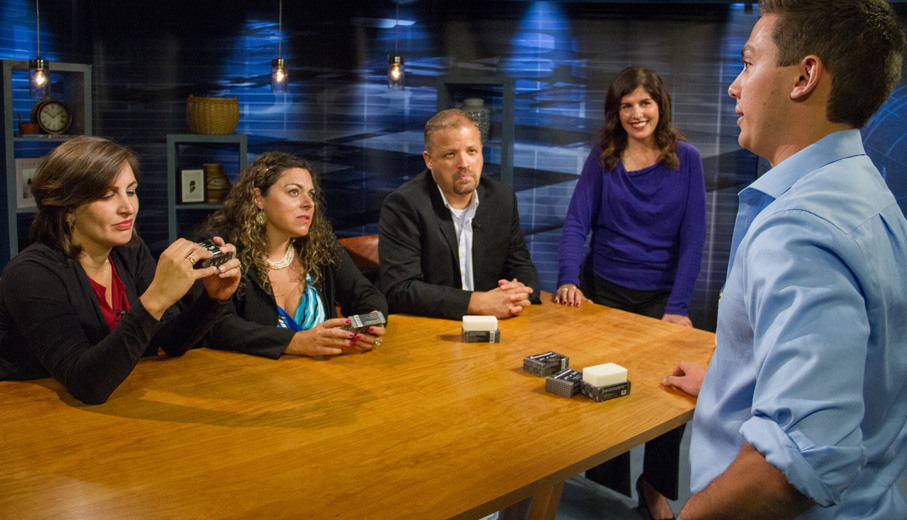 BANGOR, MAINE - The Greenlight Maine Season three pitch-off for the grand prize of $100,000 in cash will be held on June 8, 2018 at the Gracie Theater on the campus of Husson University in Bangor. This event is free and open to the public. The doors will open at 6:30 p.m. for the 7:00 p.m. show.
The three finalists, Forager, Zootility and North Spore, will compete live in front of three distinguished judges and a television audience.
About the Finalists:
Forager's mission is to accelerate the growth of the local food economy and make locally sourced food more widely available to all. According to David Stone, CEO and founder of Forager, LLC, "Our groundbreaking digital procurement-to-payment platform is making it simpler, cheaper, and faster for grocers, co-ops, wholesalers, foodservice buyers, farmers, artisans, and producers to meet consumers' growing demand for locally produced foods."
Zootility designs knives, multi-tools and everyday gadgets. Everything from design to manufacturing to distribution is done at their custom workshop in Portland, Maine. Laser-cutters, laser-etchers, and a skilled team are working 12 hours a day to bring their products to life. In addition to their own products, the company provides the same production services to others with next day delivery.
Greenlight Maine is the twice Emmy nominated television series that airs each Saturday night on local NBC affiliates WCSH-TV Channel 6 in Portland and WLBZ-TV Channel 2 in Bangor. The show encourages entrepreneurs throughout the state to pursue their dreams and share their business ideas with viewers. In the three seasons that the show has aired, over $4 million have been invested in companies which have appeared on this show. It addition, each season's winner receives a $100,000 cash prize.
"Husson University's involvement in this program has benefited students in our College of Business and the New England School of Communications," said Senior Vice President for Academic Affairs and Provost Lynne Coy-Ogan, Ed.D. "Producing this Emmy nominated program at our campus studio has given our audio and video students an opportunity to gain valuable hands-on experience as part of a professional broadcast production. In addition, our business and entrepreneurship students have had the opportunity to speak first-hand with start-up company leaders looking launch new products. These experiences will help our students achieve career success, in their respective fields, after they graduate."
Greenlight Maine is a production of Portland Media Group, LLC in cooperation with the New England School of Communications. 
For more than 100 years, Husson University has prepared future leaders to handle the challenges of tomorrow through innovative undergraduate and graduate degrees. With a commitment to delivering affordable classroom, online and experiential learning opportunities, Husson University has come to represent superior value in higher education. Our Bangor campus and off-campus satellite education centers in Southern Maine, Wells, and Northern Maine provide advanced knowledge in business; health and education; pharmacy studies; science and humanities; as well as communication. In addition, Husson University has a robust adult learning program. For more information about educational opportunities that can lead to personal and professional success, visit Husson.edu.
Those interested in agricultural firms and fungi will be interested in North Spore. This organization is focused on innovative mushroom cultivation, spawn production, research and the development of specialty mushroom products.
Back to All Articles