Husson University's Strong Growth Bucks National College Enrollment Trends
Published on: May 14, 2018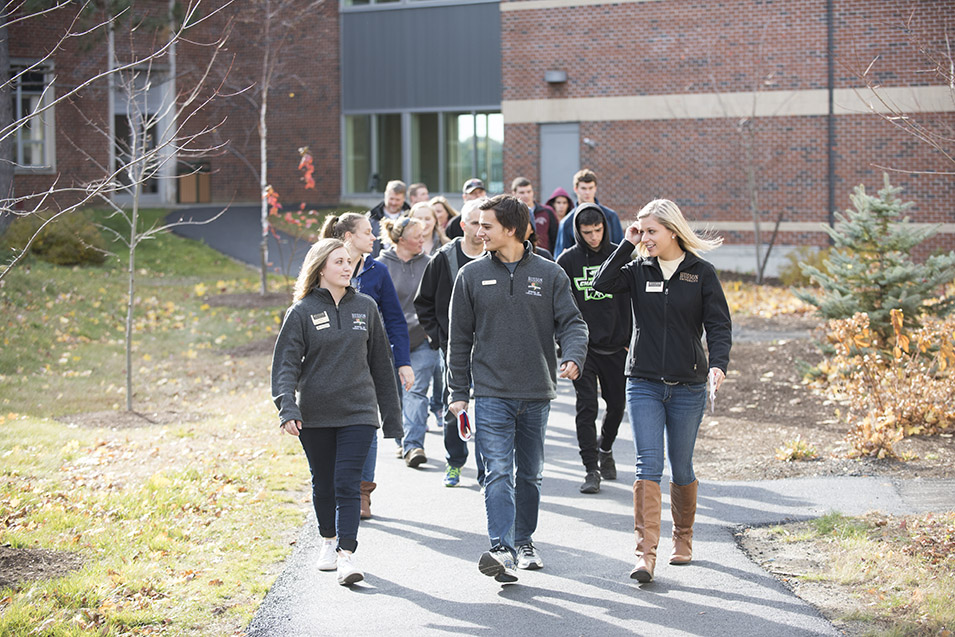 BANGOR, MAINE – Nationally, many small colleges are facing big enrollment challenges. A declining pool of high school seniors, combined with the increased cost of attending college, has reduced the number of traditional undergraduates who pursue higher education after high school.
In some northeast states, there has been a 16 percent decrease in the number of high school seniors over the last ten years. This has had a negative impact on university and college budgets. In some cases, institutions of higher education have had to close their doors.
In stark contrast to what many other colleges and universities are experiencing, Husson University's Fall 2018 incoming class is on track to break records. On May 1, 2018, the University's Admissions Office reported that first-year student deposits are up 12.5 percent over last year. If this enrollment trend continues through the summer, this group of students would be the largest incoming class in Husson's 120-year history.
"Husson has just the right blend of outcome-focused academic programs at an affordable price point. In addition, Husson's small class sizes allow students to get the personal attention they deserve," said John Champoli, vice president for enrollment management.
"The outcomes of our graduates speak for themselves," continued Champoli. "According to the most recent data, 98 percent of Husson University graduates are employed or enrolled in graduate school within one year of completing their degrees. An education that helps students achieve career success, at an affordable price, with high-quality academics, has national and international appeal."
According to the May 1 data, more students from Husson's home state of Maine are planning to attend the University in the fall. In addition, this data is projecting an increased number of students from New Hampshire, Vermont, Massachusetts, Connecticut, New York, New Jersey, Pennsylvania and Maryland.
Adam Smith, Husson's director of undergraduate admissions remarked, "Efforts were made to enhance recruitment strategies over the past year. The strong results that we're seeing are an indication that the many positive initiatives we adopted during the recruitment cycle led to a growth in enrollment that exceeded our expectations." May 1 is an important day for colleges and universities. This is the national deposit deadline for accepted students across the country. On this day, prospective students declare where they are going to college in the fall.
Enrollment growth isn't the only area where Husson University is experiencing success. The University is currently in the midst of a capital campaign to raise $16 million for a new College of Business building. The proposed new building will fuse business education with science, technology and math opportunities. Husson envisions a cross pollination of sciences and entrepreneurship in this modern, unique learning space dedicated to innovation. The new building will also feature interactive learning spaces designed to foster innovative interdisciplinary learning.
Husson's faculty, strong academic programs and commitment to experiential learning, have been a big part of the University's success. "Our faculty members not only have strong academic backgrounds, they also have experience working in the fields they teach," said Dr. Lynne Coy-Ogan, senior vice president for academic affairs and provost at Husson University. "Our students graduate with a comprehensive understanding of what they need to be successful in the workplace. Our graduates are work-ready on day one."
For more than 100 years, Husson University has prepared future leaders to handle the challenges of tomorrow through innovative undergraduate and graduate degrees. With a commitment to delivering affordable classroom, online and experiential learning opportunities, Husson University has come to represent superior value in higher education. Our Bangor campus and off-campus satellite education centers in Southern Maine, Wells, and Northern Maine provide advanced knowledge in business; health and education; pharmacy studies, science and humanities; as well as communication. In addition, Husson University has a robust adult learning program. For more information about educational opportunities that can lead to personal and professional success, visit
husson.edu
.
Back to All Articles