New Graduate Online Nursing Program at Husson University Focuses on Educational Leadership
Published on: May 23, 2018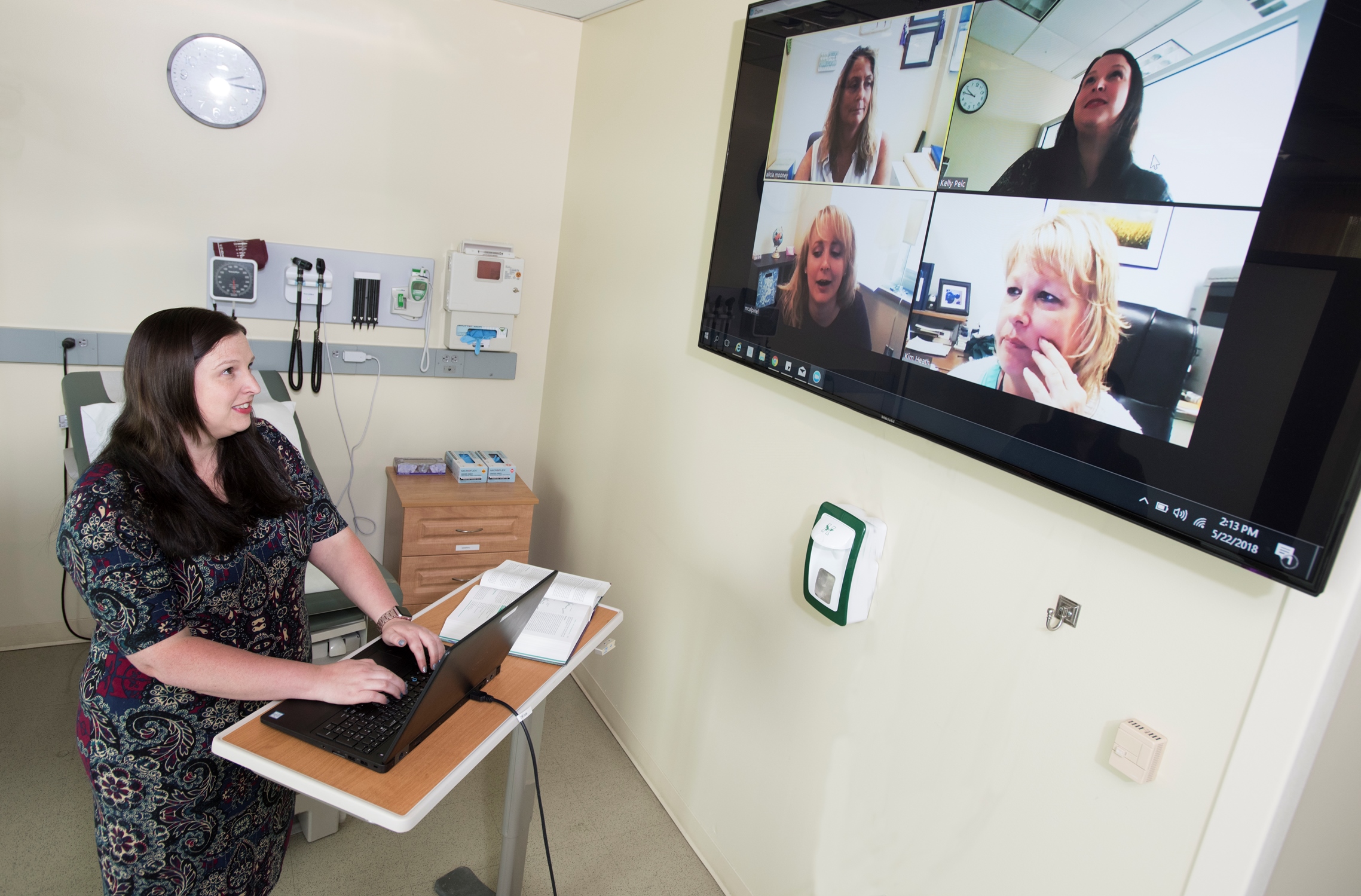 BANGOR, MAINE - Husson University's School of Nursing announced today that they'll be launching a new fully-online track for their Master of Science in Nursing (MSN) program this fall that focuses on educational leadership. This program will provide students with the leadership skills they need to excel in administrative positions in healthcare systems and academia. 
Students will gain a comprehensive understanding of the financial, operational, regulatory and clinical aspects of health system management. The program includes an in-depth combination of educational and leadership theory. In addition, students will gain in-depth knowledge of pharmacology, pathophysiology and health assessment through innovative and integrated online coursework.
A Husson education is grounded in real-world practices. MSN students develop a comprehensive understanding of what it means to be a healthcare professional from a core graduate faculty has more than 140 years of combined experience. Since Husson is a small school, it offers students, including those who study online, the opportunity to get the individual attention they deserve. 
The Need for Nursing Administrators and Educators
According to the U.S. Department of Labor - Bureau of Labor Statistics' Occupational Outlook Handbook, jobs for medical and health services managers, including healthcare administrators, is projected to grow 20 percent from 2016 to 2026.[1] Nurse educator job opportunities are expected to grow 16 percent by 2024.[2] In both cases the job growth is faster than average, compared to other occupations.
"The online versions of our nursing programs are ideal for working professionals interested in furthering their education," said Donna Beuk, EdD, MSN, RN, CNE, chair of Husson University's School of Nursing. "Synchronous and asynchronous courses allow nurses to fit degree studies into their busy schedules. Field work and internships are an important part of the degree. Practicing nurses can fulfill the field work requirement at their current employer, if they choose."
Open to Students in the United States and Canada
In the United States, Husson University online courses are part of NC-SARA. All of Husson's online courses are part of the National Council for State Authorization Reciprocity Agreements (NC-SARA). This is an agreement among member states, districts and territories that establishes comparable national standards for interstate offering of postsecondary distance education courses and programs. NC-SARA provides students with increased access to educational offerings from other states while enhancing the overall quality of distance education.
Online graduate nursing options at Husson University also benefit students from Canada. A degree from Husson University meets Canadian nursing education standards. Many students from Canada live in more rural locations. Online programs allow these students to have the same access to education as their urban counterparts.
More Program Information
In Maine, an advanced practice registered nurse (APRN) is allowed to practice independently. That's because they have demonstrated that they possess the expert knowledge, complex decision-making skills, and clinical competencies necessary for expanded practice responsibilities. While the new MSN in educational leadership is not on the APRN track, two other programs at Husson University will prepare students to become advanced practice registered nurses. 
Husson is currently accepting applications for Fall 2018 for students interested in beginning their MSN studies in their family and community nurse practitioner (FCNP) and psychiatric mental health nurse practitioner (PMHNP) program. In addition to master's degrees, each of these areas of study offer post-master's degree certification programs.
The FCNP prepares students to deliver expert and compassionate care to individuals and families in a primary care setting. The PMHNP helps prepare students to deliver high-quality mental health care to younger and older patients.
"From what I've seen, Husson University's PMHNP program is among the best in Maine," said Wayne Steller, PMHNP-BC, vice president of nursing and patient care services at Acadia Hospital. "It's infused with high-quality educational content that can help graduate nursing students achieve career success."
"Well-trained Husson graduates are an integral part of our team at Acadia Hospital. They help us deliver high quality psychiatric care and make a difference in our patients' lives every day. Beyond Acadia Hospital, there's a huge demand for psychiatric mental health nurse practitioners in the community," continued Steller.
All courses are delivered online with 24/7 access, so students can complete coursework when it's convenient for them. Students enrolled in the APRN track and post-master's certificate programs engage in rich clinical experiences that match their career goals. FCNP students attend two one-week clinical intensives guided by experienced faculty-practitioners in Husson's state-of-the-art simulation labs.
The deadline to apply for the advanced practice FCNP and PMHNP programs is July 31. The application deadline for the new educational leadership program is August 15, two weeks later. For more information or to apply to one of these programs, contact Husson University Graduate Admissions at (207) 404-5661 or graduateschool@husson.edu.
About Husson University: 
For more than 100 years, Husson University has prepared future leaders to handle the challenges of tomorrow through innovative undergraduate and graduate degrees. With a commitment to delivering affordable classroom, online and experiential learning opportunities, Husson University has come to represent superior value in higher education. Our Bangor campus and off-campus satellite education centers in Southern Maine, Wells, and Northern Maine provide advanced knowledge in business; health and education; pharmacy studies; science and humanities; as well as communication. In addition, Husson University has a robust adult learning program. For more information about educational opportunities that can lead to personal and professional success, visit Husson.edu.
[1] Bureau of Labor Statistics, Occupational Outlook Handbook, "Medical and Health Services Managers," https://www.bls.gov/ooh/management/medical-and-health-services-managers.htm
[2] Nursing.org, "Nurse Educator," https://www.nursing.org/careers/nurse-educator/
Back to All Articles