Husson University to Honor Retirees During Fifth Annual Tree Planting Ceremony
Published on: May 1, 2018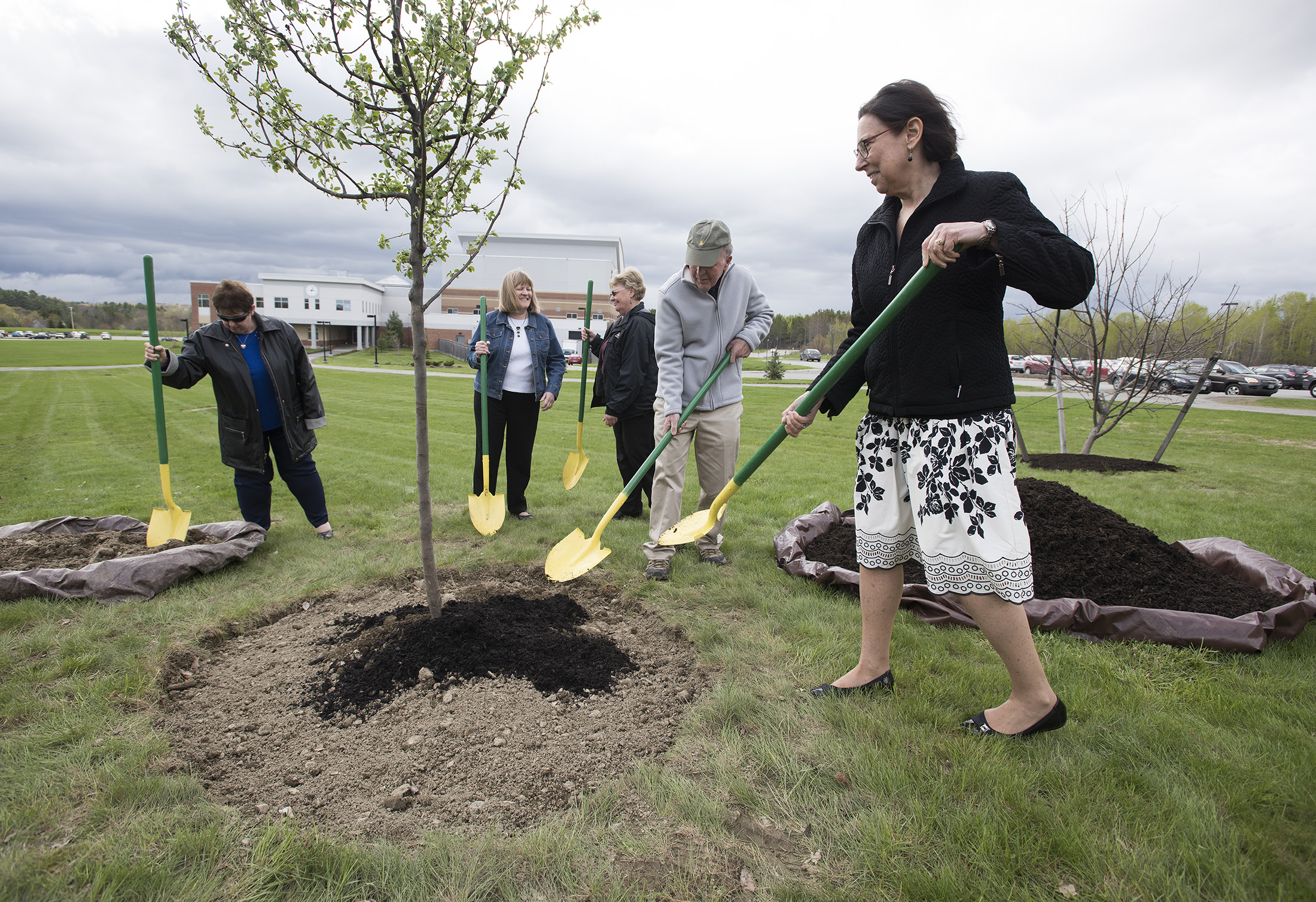 BANGOR, MAINE - Husson University announced today that it would be honoring recent retirees with a tree planting ceremony on Thursday, May 3, 2018 at 3 p.m. on its Bangor campus. The tree will be planted in recognition of five individuals with more than 10 years of service who helped make this remarkable institution of higher learning a success. 
The individuals to be honored include (in alphabetical order):
Steve Egland, Coordinator of International Student Immigration Affairs
Karen Kydd, MSB, ABA, Instructor in the School of Accounting
Al Mulldune, Lead Custodian, Maintenance
Sue Trafton, Catering/Grab 'N' Go Manager, Dining Services
Sharon Wilson-Barker, Dean of Student Success, Student Affairs 
With more than 25 years of service, Steve Egland will also be receiving a wooden chair from Husson in honor of his many contributions to the University. 
Retirees with less than 10 years of service will also be honored after the tree planting ceremony as part of a celebration in the campus center. They include (in alphabetical order):
Michael Foster, Director of Special Programs, President's Office
Cathleen Goebel, MSN, RN, Instructor in the School of Nursing
Peg Olson, PT, PhD, NCS, Assistant Professor, School of Physical Therapy
"While this tree planting ceremony is only five years old, Husson University's roots go back 120 years. Like a tree, Husson continues to grow and enhance the legacy of the many people who dedicated their lives to this University," said Senior Vice President for Academic Affairs and Provost Dr. Lynne Coy-Ogan. "This ceremony honors a group of individuals who have helped our students branch out into a variety of successful careers. It's an honor to plant this tree and commemorate these retirees' contributions to our University."
Celebrants are being asked to gather in Peabody Hall's Campus Center at 3 p.m. on Thursday, May 3, prior to moving outdoors for the tree planting. The tree to be planted this year is a flowering crabapple. Refreshments will be served in the Campus Center at the conclusion of the ceremony. 
For more than 100 years, Husson University has prepared future leaders to handle the challenges of tomorrow through innovative undergraduate and graduate degrees. With a commitment to delivering affordable classroom, online and experiential learning opportunities, Husson University has come to represent superior value in higher education. Our Bangor campus and off-campus satellite education centers in Southern Maine, Wells, and Northern Maine provide advanced knowledge in business; health and education; pharmacy studies; science and humanities; as well as communication. In addition, Husson University has a robust adult learning program. For more information about educational opportunities that can lead to personal and professional success, visit Husson.edu.
Back to All Articles