Husson University Names their 2018 Valedictorians and Salutatorian
Published on: May 2, 2018
BANGOR, MAINE - Husson University announced today that Chase Walton Allen, Weston R. Ranalli and Kirsten Rose Wood are this year's valedictorians. All three completed their degrees with a perfect 4.0 grade point average (GPA).
Allen is from Brewer, Maine and will be receiving a Bachelor of Science in accounting and a Master of Business Administration (MBA). Ranalli hails from Big Lake Township, Maine and will be receiving a Bachelor of Science in accounting and a Master of Business Administration (MBA) while Wood, who is originally from Madison, Maine, will be receiving a Bachelor of Science in kinesiology.
In addition, Robbie C. Chamberland of Saint Agatha, Maine will be the Class of 2018's salutatorian. He earned a Bachelor of Science in accounting and a Master of Business Administration while maintaining a grade point average of 3.983.
All four of these individuals will be recognized for their academic accomplishments along with the rest of the Class of 2018 at Husson University's 119th Annual Commencement Exercises at the Cross Insurance Center in Bangor, Maine at 10:30 a.m. on Saturday, May 5, 2018. With 810 individuals earning 908 degrees at Commencement this weekend, this will be Husson University's largest graduating class in its 120-year history.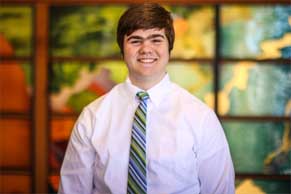 Ranalli is looking forward to Commencement. His Bachelor of Science in accounting and Master of Business Administration (MBA) degrees will ensure he is well prepared for the job he has already secured. Ranalli recently accepted a position as a staff auditor in the Portland office of Baker Newman Noyes, a leading New England accounting and advisory firm.
Reflecting on his time at the University, Ranalli said, "I enjoyed the tremendous sense of community that exists at Husson. Through clubs, student activities and my classes, I was able to build relationships with hundreds of incredible people. Sharing the college experience with these amazing people made the high-quality education I received at Husson even richer. While my educational experience at the University is coming to a close, I know that the relationships I've built will continue for years to come."
Ranalli also talked about achieving academic success. "Hard work is always a prerequisite for success," he said. "However, to achieve success, one must have the assistance of others. During my time at Husson, I was fortunate enough to receive the help of many incredible people who made my success possible.
"The faculty members at Husson take the success of their students seriously and are always available to help. I would have been lost without their assistance. The administration and staff do an incredible job of ensuring that the campus runs smoothly. In addition, the many great people at the Center for Student Success, Career Services, the Wellness Center, and other campus offices were always there to help me when I needed it. I'm also grateful for the assistance of my friends and classmates who always made themselves available to provide help or a word of encouragement. Perhaps most importantly, I am grateful to my family, who have supported me throughout my college experience."
Kristen Rose Wood of Madison, Maine is another student who earned valedictorian recognition this year. Even though she will be receiving her Bachelor of Science in kinesiology at graduation, she will be staying on at Husson for another two years as part of the University's Doctor of Physical Therapy program. Wood is looking forward to going on her first clinical rotation after graduation.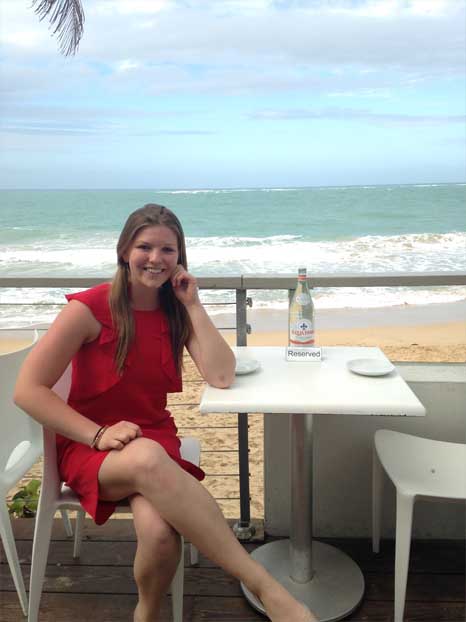 "The first year of the professional phase of the program has been my favorite educational experience so far," she said. "For years, I felt like I was working towards a goal that hadn't quite come together yet. This year, I've learned so much. I'm finally starting to imagine myself as a physical therapist. While I still have a long way to go, the progress feels amazing."
Like Ranalli, Wood is also grateful for the support she has received from others. "I would not have been able to make it to where I am today without the support of my family and friends. My parents sacrificed a lot to help get me through school. They always made sure I had what I needed, whether it was money for tuition or a warm, home-cooked meal. My friends have also helped keep me sane over the past four years. In addition, my fiancé and two cats helped provide a great environment for me to come home to every day. I couldn't have done all of this alone."
About Husson University: 
For more than 100 years, Husson University has prepared future leaders to handle the challenges of tomorrow through innovative undergraduate and graduate degrees. With a commitment to delivering affordable classroom, online and experiential learning opportunities, Husson University has come to represent superior value in higher education. Our Bangor campus and off-campus satellite education centers in Southern Maine, Wells, and Northern Maine provide advanced knowledge in business; health and education; pharmacy studies; science and humanities; as well as communication. In addition, Husson University has a robust adult learning program. For more information about educational opportunities that can lead to personal and professional success, visit Husson.edu.
Back to All Articles