Hooding Ceremony for Graduate Students at Husson University
Published on: May 2, 2018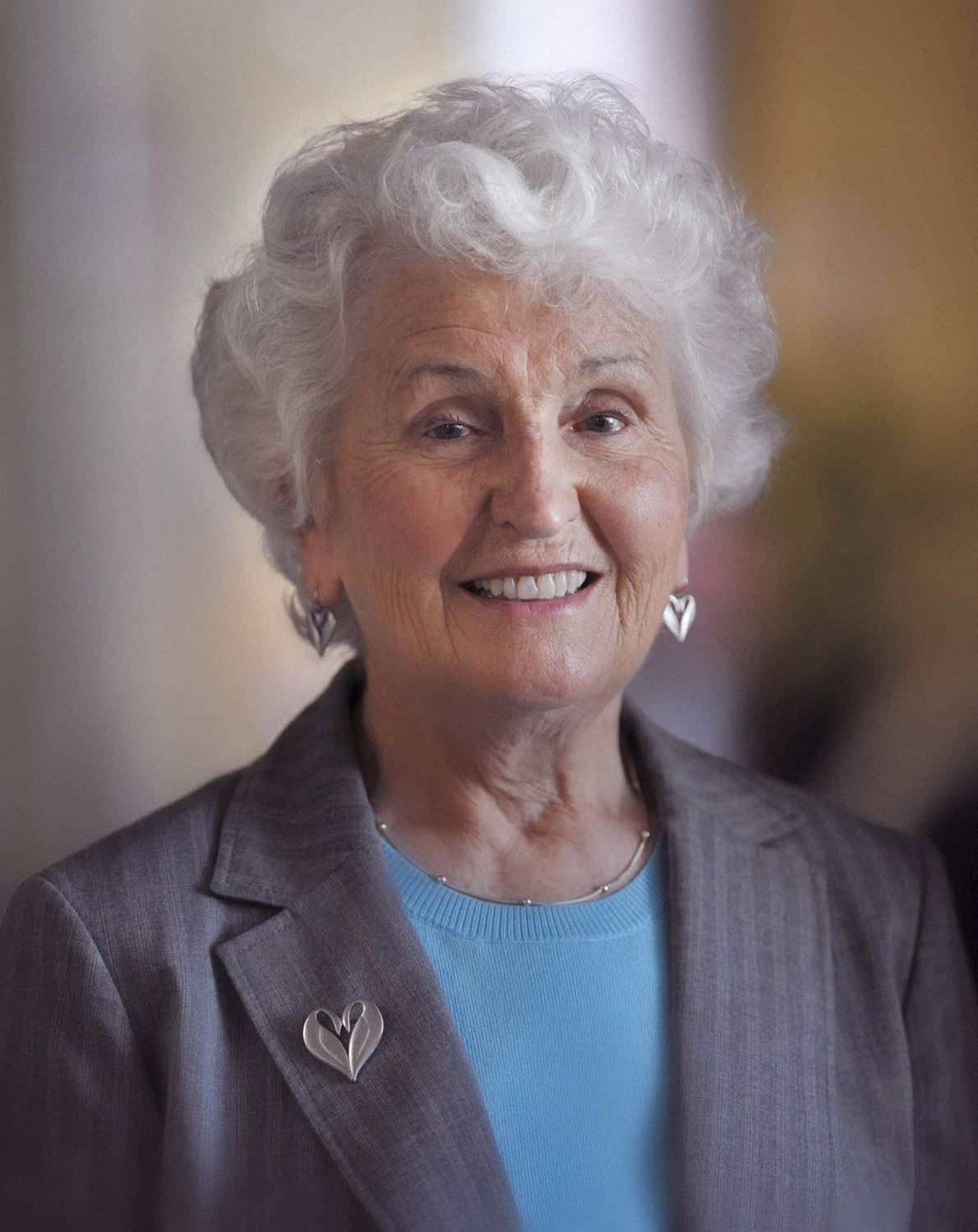 Professor Emerita Dr. Teresa Willett Steele
BANGOR, MAINE – A ceremony recognizing the next generation of professionals who completed their masters and doctoral degree studies at Husson University will take place at the Newman Gymnasium in Bangor at 7:00 p.m. on May 4, 2018. Twelve-hundred people are expected to attend a ceremony recognizing 287 students, the largest group to ever participate in a Husson hooding ceremony. Seventy-nine doctoral and 208 master's degree candidates will cross the stage to receive their hoods. 
"Hooding ceremonies provide special recognition to students receiving advanced degrees," said Dr. Robert A. Clark, president of Husson University. "Earning a hood signifies that the degree recipient is now considered a scholar. The hood's length, lining colors and binding signify the degree, field of study, and the individual school where the graduate earned his or her degree."
During a hooding ceremony faculty and students are dressed in academic regalia. Faculty members place the hood over the head of the graduate to signify his or her success in completing their degree.
History of Hooding:
The wearing of special gowns and hoods is a practice that dates back to the 12th and 13th centuries.
[1]
Clerical attire was the typical dress of scholars during those medieval times.
[2]
Long gowns provided necessary warmth in unheated buildings. Hoods as head-coverings helped students and faculty members resist the cold.
[3]
The Celts and their priests, the druids, initiated the wearing of hoods to distinguish a level of training.
[4]
Only the druids wore mantles with attached hoods to mark their superiority within society.
[5]
Today, caps, gowns and hoods are associated with college graduation. Instead of being practical clothing, modern academic hoods consist of elongated scarves draped over an individual's shoulders with the lining turned inside out.[1] Although a hood is always black in color, the lengths have significance. A graduate earning a bachelor's degree receives a hood that's three feet long.[2] A master's degree graduate receives a hood that's three and one-half feet in length while four-foot hoods are given to doctoral recipients.[3]
Chesley H. Husson, Sr. Award
Each year, Husson University presents the Chesley H. Husson Sr. Award at the hooding ceremony. Chesley H. Husson Sr. was the founder of Husson College. He believed in academic integrity, hands-on education and community service.
This year, the award is being presented to Professor Emerita Dr. Teresa Willett Steele.
Steele has devoted more than 30 years to Husson University as a School of Nursing faculty member, dean, fellow and interim dean. She graduated from the Mercy Hospital School of Nursing in Portland, Maine and was employed at Eastern Maine Medical Center (EMMC) as a registered nurse (RN) in a variety of capacities. These included: staff nurse, charge nurse, head nurse, and nursing instructor at the EMMC School of Nursing.
In 1983, the EMMC diploma program joined Husson and became the Husson College/EMMC Baccalaureate School of Nursing. She joined the College shortly after the program began.
Steele has earned multiple degrees, including a Bachelor of University Studies (BUS) and a Master of Education (M.Ed), from the University of Maine. She also earned a Master of Science in nursing (MSN) from the University of Texas - El Paso, and a doctorate from the Union Institute and University in Cincinnati, Ohio.
While at Husson, she held a variety of positions. With each new position, she accepted increased levels of responsibility. Steele went from being an assistant professor to becoming a full professor. She was actively involved in academia and grant writing. Her efforts resulted in Husson receiving substantial funding to begin a Master of Psychiatric Nursing program. Once launched, Steele became the director of the program.
As her academic career progressed and Husson changed from a College to University, Steele became dean of the School of Health. As dean, she was responsible for overseeing the nursing, physical therapy (PT) and occupational therapy (OT) programs. She retired in 2010 as a professor emerita.
Following this, she continued to provide consultative services to Husson and the nursing program as a Husson fellow. In Fall 2017, she returned full time as interim dean of the College of Health and Education and assisted the nursing programs during the Commission on Collegiate Nursing Education (CCNE) accreditation process. She is now retired full time and enjoying her family. Her activities include traveling with her husband Ernie, and keeping up with the adventures of her two daughters. This includes daughter Cathy, son-in-law Jamie, grandson Josh, and daughter Susan, son-in-law Steve, granddaughter Nicole, dog Jack and various chickens.
She is the recipient of numerous honors and awards. In 2010, Steele was inducted into the Husson University Alumni Hall of Fame. That same year, she also received the University's Distinguished Community Service Award and became a professor emerita at Husson's School of Nursing. Steele is listed in Who's Who in American Nursing and has received other awards from The University of Texas - El Paso, the American Association of Colleges of Nursing, the International Society of Psychiatric Mental Health Nurses, and the Omicron Xi Chapter of Sigma Theta Tau International.
About Husson University:
For more than 100 years, Husson University has prepared future leaders to handle the challenges of tomorrow through innovative undergraduate and graduate degrees. With a commitment to delivering affordable classroom, online and experiential learning opportunities, Husson University has come to represent superior value in higher education. Our Bangor campus and off-campus satellite education centers in Southern Maine, Wells, and Northern Maine provide advanced knowledge in business; health and education; pharmacy studies; science and humanities; as well as communication. In addition, Husson University has a robust adult learning program. For more information about educational opportunities that can lead to personal and professional success, visit Husson.edu.
[1] "Significance of the Graduate Hood," University of Alaska Anchorage, https://www.uaa.alaska.edu/students/commencement/graduate-degree-hooding-ceremony/significance-of-the-graduate-hood.cshtml
[2] "Academic Regalia in the United States," Wikipedia, https://en.wikipedia.org/wiki/Academic_regalia_in_the_United_States
[3] Ibid
[1] "Academic Regalia: Historical Overview of the Academic Costume Code," American Council on Education (ACE), http://www.acenet.edu/news-room/Pages/Historical-Overview-Academic-Costume-Code.aspx
[2] Ibid
[3] Ibid
[4] "Graduation Cap and Gown History," https://www.graduationsource.com/blog/graduation-cap-and-gown-history/
[5] Ibid
Back to All Articles