Student and Faculty Scholarship to be Celebrated During Husson University's Ninth Annual Research and Scholarship Day
Published on: April 19, 2018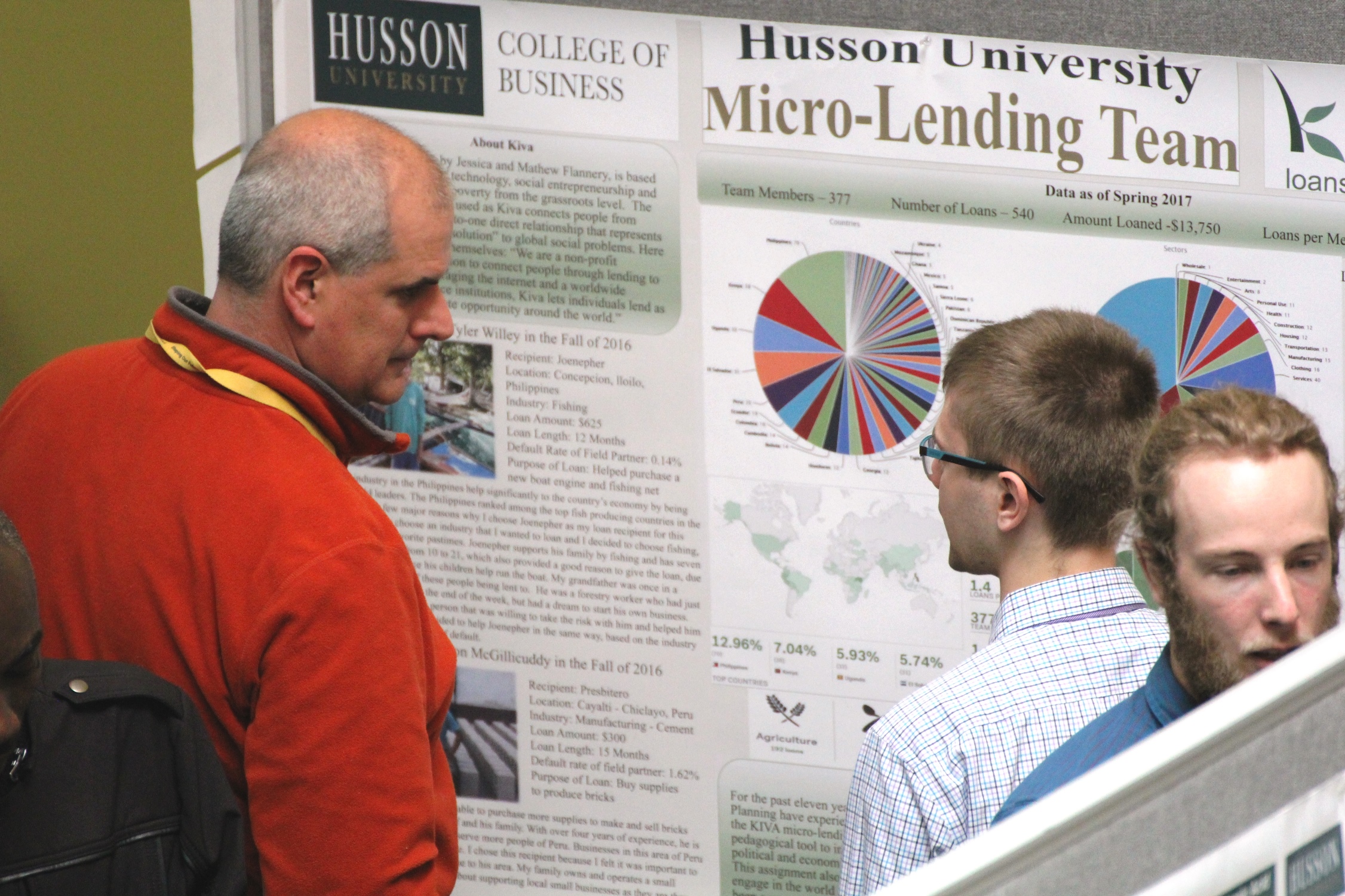 BANGOR, MAINE - Husson University will be celebrating students and faculty members' contributions to the scientific and clinical research community's growing body of knowledge during its Ninth Annual Research and Scholarship Day on Thursday, April 19, 2018 in the Gracie Theatre and the adjacent Darling Atrium. During the event, undergraduates, graduate students, and faculty members from all of the university's colleges and schools will share the results of their many capstone research projects, graduate theses and other activities devoted to understanding our world.
"Every year, Husson students and faculty members make important contributions to science through research. The event is an annual opportunity for us to recognize their efforts. The work they do helps us to better understand the issues, materials, and processes that affect our lives every day," said Lynne Coy-Ogan, Ed.D., senior vice president for academic affairs and provost at Husson University.
"The depth and diversity of students' original thinking is a testament to the outstanding education Husson University offers to aspiring professionals," concluded Coy-Ogan.
Research and Scholarship Day kicks off at 8:30 a.m. on Thursday, April 19, 2018, in the Darling Atrium at the Beardsley Meeting House with a display of posters that summarize many of the scholarly activities undertaken during the past year. From 11:00 a.m. – 12:30 p.m., research authors will be present to stand by their posters and answer questions about their findings.
This year's plenary speaker is Susan L. Santangelo, Sc.D., a research professor of psychiatry at the Tufts University School of Medicine and a director at the Center for Psychiatric Research at the Maine Medical Center Research Institute. Her hour-long presentation begins at 1:30 p.m. and is entitled "To Tell the Truth: Can Science Prevail in the Post-Truth Age?" 
Immediately following Dr. Santangelo's plenary address, there will be a concluding reception and presentation at 2:30 p.m. recognizing the Best Student Research Posters as judged by a select group of Husson University faculty and staff members. Top scoring student posters will be awarded gift certificates to the Husson University Bookstore. A reception in the Darling Atrium will conclude the event.
About this year's plenary speaker:
Dr. Santangelo received her Doctor of Science degree in epidemiology from the Harvard School of Public Health, and previously held positions with Tufts University, New England Medical Center, Harvard Medical School, Harvard School of Public Health and the Massachusetts General Hospital, where she directed the Statistical Genetics and Genetic Epidemiology Laboratory within the Center for Human Genetic Research. She remains on the faculty at the Harvard School of Public Health.
She has studied the genetics of autism spectrum disorders for over 20 years and that is now the major focus of her work. Santangelo is a nationally and internationally recognized expert on the genetics of autism spectrum disorders and her research has been funded by the National Institutes of Health, Department of Defense, National Alliance for Autism Research, the March of Dimes, Autism Speaks, and the NLM Family Foundation.
In addition, Dr. Santangelo is a member of the Autism Working Group and the Cross-Disorder Working Group of the Psychiatric Genomics Consortium (PGC), involving more than 800 investigators from over 38 countries. The PGC represents the largest biological experiment in the history of psychiatry.
About Husson University:
For more than 100 years, Husson University has prepared future leaders to handle the challenges of tomorrow through innovative undergraduate and graduate degrees. With a commitment to delivering affordable classroom, online and experiential learning opportunities, Husson University has come to represent superior value in higher education. Our Bangor campus and off-campus satellite education centers in Southern Maine, Wells, and Northern Maine provide advanced knowledge in business; health and education; pharmacy studies; science and humanities; as well as communication. In addition, Husson University has a robust adult learning program. For more information about educational opportunities that can lead to personal and professional success, visit Husson.edu.
Back to All Articles