Husson University Students to Perform Pulitzer Prize Winning Play "Doubt"
Published on: April 3, 2018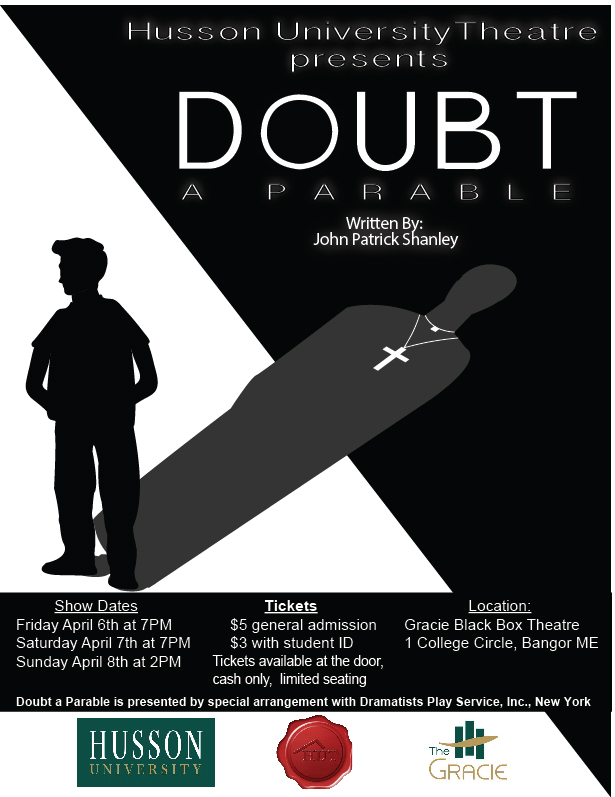 BANGOR, MAINE - Husson students will be producing and performing John Patrick Shanley's "Doubt: A Parable" on April 6 - 8 in The Gracie's Black Box Theatre located on the University's Bangor campus. "Doubt: A Parable" is an award winning drama about two nuns who challenge the hierarchy within their church by confronting a priest they suspect of abusing a child.
The Husson University Theatre production is directed by junior Edward Grace. Grace is majoring in entertainment production at Husson University's New England School of Communications.
"The play is set in 1964 within a fictional Catholic church/school in the Bronx," said Grace. "Over the course of the performance, the characters deal with child abuse within the Catholic Church, systemic racism, and the fight between liberal and conservative ideologies."
"Doubt: A Parable" was first produced off-Broadway in November 2004 at the Manhattan Theatre Club and moved to the Walter Kerr Theatre on Broadway in 2005. The play won a Pulitzer Prize for Drama in 2005 and a Tony Award for Best Play in the same year. 
In 2008, the play was adapted for the screen by Miramax and starred Meryl Streep as Sister Aloysius, Philip Seymour Hoffman as Father Flynn, Amy Adams as Sister James, and Viola Davis as Mrs. Miller. The name of Mrs. Miller was Mrs. Muller in the stage version. 
In the upcoming Husson University student performance, Rina Scherbatskoy will be playing the role of Sister Aloysius, a conservative nun fighting against Father Flynn, played by Eli Irvin. Jacqueline Stone is the young and innocent Sister James and Anastasia Lemitelamy plays the role of Mrs. Muller, the struggling mother of the boy whose abuse is in question. 
Technical direction is provided by Eric Lehmann with scenic design by Ani Inman. Zachary Madore is the lighting designer, Kendra Hanson is in charge of audio design and operation, Keira Getchell is the properties master, Abbi Cushing is the costume coordinator, and Megan Hallissey is in charge of hair and makeup.
Previous Husson University Theatre productions include Diana Son's "Stop Kiss," John Cariani's "Almost, Maine," and Tennessee Williams' "The Glass Menagerie." 
Husson University Theatre (HUT) is an entirely student-run organization and the official student theatre company of Husson University. It allows students to act as directors, designers, and performers in productions of their own choosing. Husson students are responsible for all aspects of the company's operations. This includes all of the production roles from acting on stage, to crew roles backstage, and box office management. 
Performances will take place on Friday, April 6, 2018 and Saturday, April 7, 2018 at 7:00 p.m. In addition, there will be a matinee performance on Sunday, April 8 at 2:00 p.m. Tickets are $3 for students with a valid student ID and $5 for general admission.
Tickets can only be purchased at the door with cash prior to the performance. Those interested in getting the best seats are encouraged to arrive early. Ticket sales begin one hour before show time. This production is recommended for mature audiences.
For more information about HUT and the upcoming production of "Doubt: A Parable," please contact Edward Grace at gracee@husson.edu or the Gracie Theatre box office at 207-941-7888. Information is also available at GracieTheatre.com.
Completed in October of 2009, The Gracie is Husson University's center for the fine and performing arts. This beautiful 500-seat theatre is considered one of Maine's premier performance venues. In addition, The Gracie also serves as a learning platform for students from the New England School of Communications in digital audio, sound mixing, set design and construction, lighting, acting and electronics. 
For more than 100 years, Husson University has prepared future leaders to handle the challenges of tomorrow through innovative undergraduate and graduate degrees. With a commitment to delivering affordable classroom, online and experiential learning opportunities, Husson University has come to represent superior value in higher education. Our Bangor campus and off-campus satellite education centers in Southern Maine, Wells, and Northern Maine provide advanced knowledge in business; health and education; pharmacy studies; science and humanities; as well as communication. In addition, Husson University has a robust adult learning program. For more information about educational opportunities that can lead to personal and professional success, visit Husson.edu.
Back to All Articles