Emmy Nominated Nite Show in Westbrook this Friday
Published on: April 12, 2018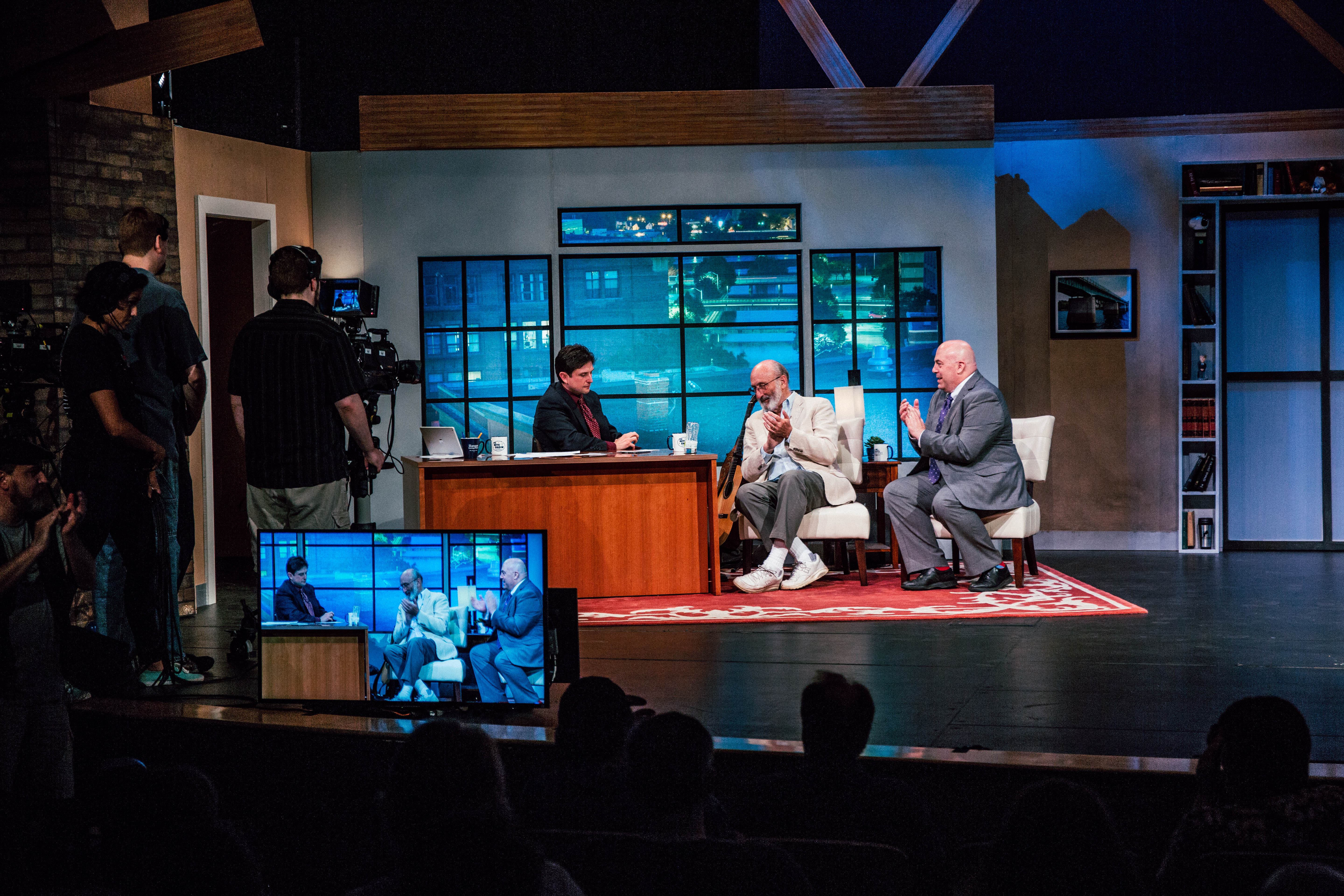 Fans of late night talk shows are in for a treat when The Nite Show with Danny Cashman comes to the Westbrook Performing Arts Center for a one-night taping on Friday, April 13, 2018 at 6 p.m. Tickets are free for anyone interested in attending.
"Many people may not know this, but the show is produced by the students and faculty of the New England School of Communications (NESCom) at Husson University in Bangor," said Nite Show host Danny Cashman. "The Emmy Award nominated quality of our show is a testament to the education students receive at Husson. Their professionalism and creativity can be seen in every broadcast."
Friday's show tapings in Westbrook will give students a valuable opportunity to work on a multi-camera entertainment program recorded "on location." Ordinarily, The Nite Show with Danny Cashman is recorded at Husson University's Gracie Theatre in Bangor.
There are high expectations for students participating in this production since the show will be seen on broadcast television stations throughout the state. Broadcast statewide on Saturday nights, the show can be seen in Portland at 7:30 p.m. on WGME CBS 13, and at 10:30 p.m. on WPFO, FOX 23. In Bangor, the show is broadcast on Saturday nights at 11:30 p.m. on WABI-TV5 (CBS) and in Presque Isle on Saturday nights at midnight on WAGM FOX 8.
"NESCom students think outside of the box. They're dedicated to sharing their artistry through creative processes in sight and sound," said New England School of Communications Dean Marie Hansen, Ph.D. "Armed with the knowledge of how to create memorable audience experiences, our graduates leave Husson University ready to become successful. NESCom graduates enjoy going to work, doing jobs that are fun and in demand as part of professions that stretch their imagination and creativity to the limit."
More About the Program:
The Nite Show with Danny Cashman is the number one rated show on Saturday late nights in Eastern and Central Maine through WABI-TV in Bangor according to Nielsen (November 2017 ratings). It attracted more viewers than Saturday Night Live during this period. Just this week, The Nite Show was nominated for its seventh New England Regional Emmy Award.
The Nite Show is Maine's version of a late night talk show, featuring a monologue, comedy bits, guest interviews and performances. Modeled after shows done by Johnny Carson, David Letterman, and Conan O' Brien, the 30-minute weekly show also features a five-piece house band (Brian Nadeau & The Nite Show Band), a live announcer (Joe Kennedy), and many elements familiar to late night television viewers. The show originates from Husson University's Gracie Theatre with a live studio audience and is broadcast statewide on Saturday nights. It is one of only two shows of its kind in the entire country.
Details about Friday's Shows:
Guests that will be appearing on The Nite Show in Westbrook this Friday will include former Maine Governor John Baldacci, David Letterman's longtime warm-up comic Eddie Brill, and Grammy Award winning singer/songwriter Paula Cole.
The taping begins at 6 p.m. on Friday, April 13 and audience members are asked to arrive by 5:45. Tickets are free, but must be obtained on The Nite Show's website at http://www.theniteshowmaine.com and clicking on the "Tickets" tab at the top of the page.
"Thirty-four students studying video production, live sound technology and entertainment production will be participating in Friday's show," said Husson University's New England School of Communications Dean Marie Hansen, Ph.D. "Shows like this give students an opportunity to gain professional experience. Organizations that hire NESCom graduates can be confident that they have an employee who's prepared to take on any challenge."
For more than 100 years, Husson University has prepared future leaders to handle the challenges of tomorrow through innovative undergraduate and graduate degrees. With a commitment to delivering affordable classroom, online and experiential learning opportunities, Husson University has come to represent superior value in higher education. Our Bangor campus and off-campus satellite education centers in Southern Maine, Wells, and Northern Maine provide advanced knowledge in business; health and education; pharmacy studies; science and humanities; as well as communication. In addition, Husson University has a robust adult learning program. For more information about educational opportunities that can lead to personal and professional success, visit Husson.edu.
Back to All Articles