75 Maine Teachers Gathered at Husson University to Work on Leadership in Schools
Published on: April 9, 2018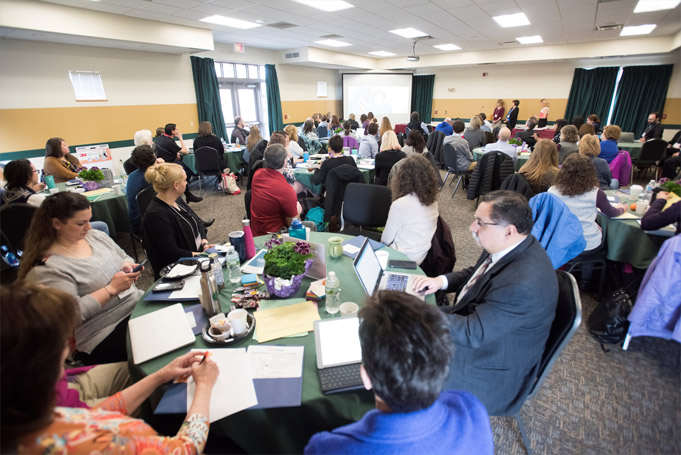 BANGOR, MAINE - Husson University's Richard E. Dyke Center for Family Business was the site of the first Maine Powered by Teach to Lead® Summit on Monday, April 9, 2018 from 8:30 a.m. – 3:00 p.m. This event brought together teams of teachers to work on leadership in schools. Celeste Rodriguez, a teacher-ambassador fellow with the U.S. Department of Education, Powered by Teach to Lead® served as facilitator for the event.
"Leadership is one of the teaching standards upon which our programs are built," said Barbara Moody, chair of the School of Education at Husson University. "We believe teachers should have an opportunity to be leaders in their schools. At Husson, we help our students develop the capacity for leadership." 
This summit focused on distributive leadership. Distributive leadership is all about the roles teachers play in leading the various aspects of management, curriculum, and a positive learning environment. "Teachers and principals working together can create successful educational experiences for their students," continued Moody.
This Maine Powered by Teach to Lead® Summit was a collaboration between the United States Department of Education, the Maine Department of Education, Husson University, and the Maine Teach to Lead Teacher Leadership Committee. The event was led by two former Maine Teachers of the Year, Jennifer Dorman and Karen MacDonald. A recorded greeting from U.S. Senator Susan Collins kicked off the event.
The summit was a unique opportunity for teams of teachers and administrators to develop concrete plans to solve problems in their schools and districts, and to network with other teachers from across our state. The teams shared their experiences about teacher-led work that's taking place across Maine.
During this event, teachers examined and discussed:
Developing a system and culture of peer observation to promote teachers learning from one another.
Strengthening practices that lead to meaningful implementation of high quality teaching, learning and assessment in the arts for all students across Maine.
Implementing elements of proficiency-based teaching in math classrooms.
Creating a technology innovation lab to coach students and teachers in the design of student-centered learning projects and the use of technology to support them.
Building a guide, structure and strategies for reaching out to students and families involved in trauma in order to create successful learners.
Issues discussed at past Powered by Teach to Lead® events have included: the use of technology to close the achievement gap, ways to increase district-wide reading or math achievement, strategies for growing teachers as mentors and leaders, the creation of a video library devoted to best practices, and ways to build a collaborative school culture.
The event was free to participating teachers. Online profiles about Teach to Lead can be found at http://teachtolead.org/stories/. A video about the Teach to Lead initiative can be found at https://www.youtube.com/watch?v=dPBQOZADrMg
Teach to Lead is a partnership of the U.S. Department of Education and the Association for Supervision and Curriculum Development (ASCD). Teach to Lead envisions a world in which teachers are valued as the foremost experts in instruction, and as such, are leaders of informing, developing, and implementing education policy and practice to steer systematic improvements to benefit student learning.
Husson University prepares future leaders to handle the challenges of tomorrow through innovative undergraduate and graduate degrees. With a commitment to delivering affordable classroom, online and experiential learning opportunities, Husson has come to represent superior value in higher education. Our Bangor campus and off-campus satellite education centers in Southern Maine, Wells, and Northern Maine provide advanced knowledge in business; health and education; pharmacy studies, science and humanities; as well as communication. In addition, Husson University has a robust adult learning program. For more information about educational opportunities that can lead to personal and professional success, visit Husson.edu.
Back to All Articles