Husson's Fighting Eagles Boxing Club's Pancake Breakfast Fundraiser to Punch Out Parkinson's Disease
Published on: March 12, 2018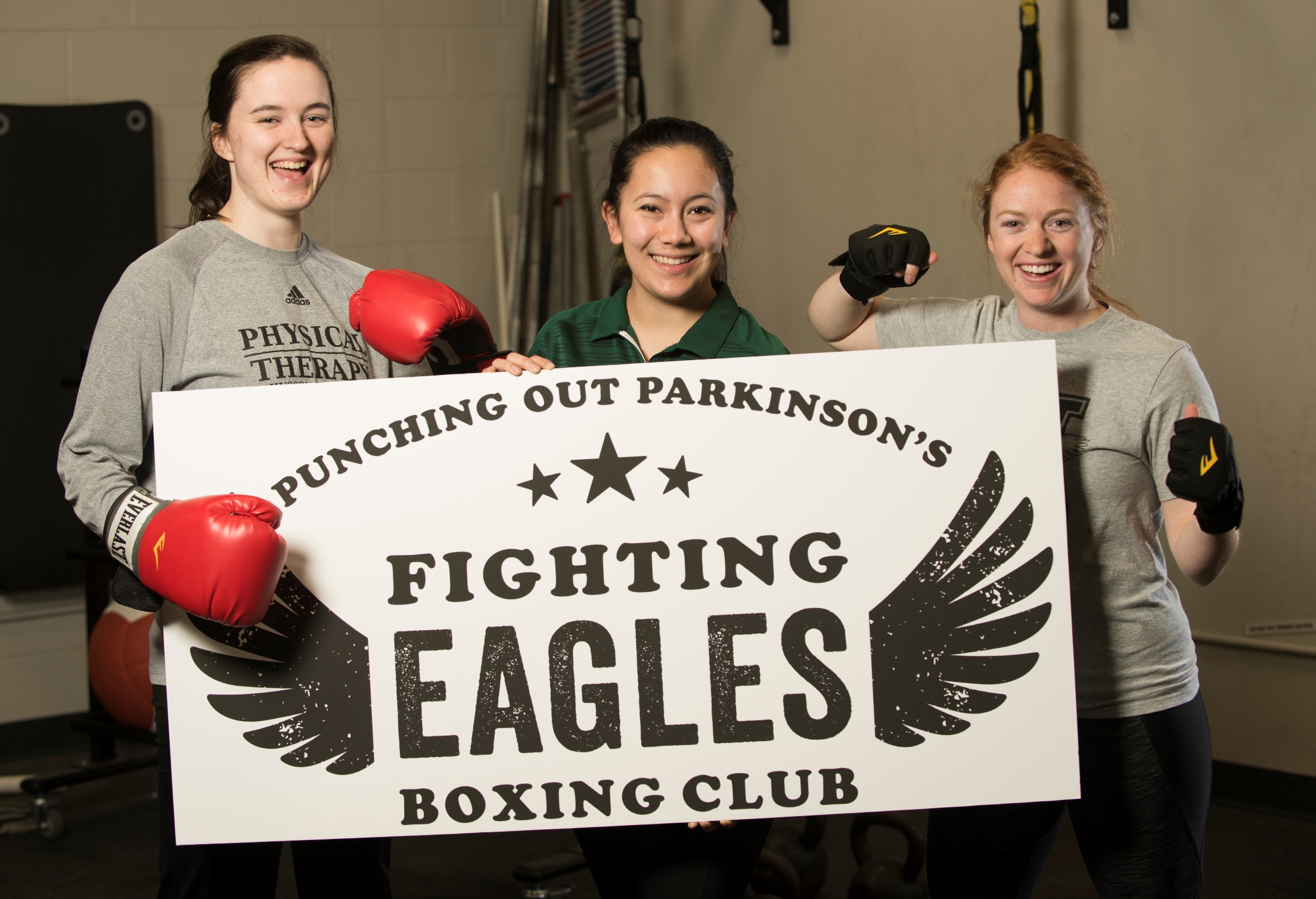 Featured from left to right are Adrienne Chase, Brittney Rusinski and Teresa Rock.
BANGOR, MAINE - Local area residents diagnosed with Parkinson's disease have few wellness or exercise groups devoted exclusively to their needs. To address this situation, physical therapy and occupational therapy students at Husson University are working to launch the Fighting Eagles Boxing Club. The club would provide Parkinson's patients with the opportunity to engage in non-contact boxing. In non-contact boxing, participants punch free-standing heavy bags and punch mitts held by coaches and student volunteers, without punching each other.
"While boxing classes are becoming very popular for people with Parkinson's disease across the nation, there aren't any in our area," said Teresa Rock, a graduate student pursuing her doctorate in physical therapy at Husson University. "Our class would include aspects of boxing along with exercises designed to improve balance, strength, coordination, and fine motor skills, including finger manipulation and small hand movements."
"People with Parkinson's disease have various symptoms that get worse over time," continued Rock. "It has been shown that people with Parkinson's disease feel that boxing classes help slow the progression of symptoms and make them feel more in control of the disease."
To make this initiative possible, the students will need to purchase approximately $1,500 worth of equipment. This would cover the cost of free standing heavy bags, punch mitts, wrist wraps, and boxing gloves. Once the equipment is purchased, classes could start in the fall. 
Applebee's at 718 Hogan Road in Bangor is partnering with the students to kick off the fundraising effort for this initiative. On Sunday, March 18, 2018, from 8 – 10 am, the restaurant will donate the use of their facility and their kitchen staff to the fundraising effort as part of a "Flapjack Fundraiser." The serving, hosting and table bussing will all be done by Husson physical therapy and occupational therapy students. Members of the public interested in participating in the event will need to purchase a $10 ticket by Friday, March 16, 2018. Tickets will not be sold the day of the event and only those with tickets will be able to participate in the fundraiser. Half of all of the ticket sales go to the Fighting Eagles Boxing Club while the other half will be used to cover event expenses.
Those interested in attending the Flapjack Fundraiser can purchase tickets from Cecile Ferguson, the office manager for the School of Physical Therapy in Room 328 of the O'Donnell Commons building on Husson's Bangor Campus. For directions or additional information, contact Cecile via email at fergusonc@husson.edu or call her at 207.941.7101.
Tickets can also be purchased from Patricia Menzie, the School of Occupational Therapy's administrative assistant, at 318 O'Donnell Commons. Her email is menziep@husson.edu and her phone number is 207.973.1078.
In addition, tickets will be sold in Husson University's Campus Center during lunchtime on March 12, March 15, and March 16.    
Contributions by those interested in supporting this student organization who cannot attend the upcoming Flapjack Fundraiser are welcome. To make a contribution, visit https://www.gofundme.com/punchoutparkinsons.
More About Parkinson's Disease:
Parkinson's disease is a progressive affliction that affects the nervous system. Those with the disease exhibit tremors, muscular rigidity, and slow, imprecise movements. It chiefly affects middle-aged and elderly people. Well-known public figures who have been diagnosed with Parkinson's disease include actor Michael J. Fox, boxer Muhammad Ali, attorney general Janet Reno and singer Linda Ronstadt.[1]
According to the Maine Parkinson's Society, approximately 7,000 people in Maine have Parkinson's disease.[2] Nationally, between one and two of every 1,000 people are afflicted with the motor system disorder.[3] This prevalence increases with age. One percent of all people over 60 have Parkinson's disease (one out of every 100 people).[4]
Some of the biggest symptoms are the slowing and diminishing of movement (normal movements become slower and smaller), increasing body stiffness (harder time with general body movement), and changes in walking (smaller, shuffling steps start to occur).[5]
The boxing class and the associated exercises to be offered by Husson University's Fighting Eagles Boxing Club are designed to help those with this motor system disorder perform everyday skills more proficiently. Anecdotal reports from Parkinson's patients who have taken boxing classes in Brunswick, Maine say that the exercise has helped them get up out of bed, walk, and run errands. One man in Brunswick no longer uses a cane because he feels he has better balance. Boxing and the associated exercises also help patients maintain movement speed and perform two physical movements at once, such as punching and walking.
Any Husson University student can join the Fighting Eagles Boxing Club. The club is open to all students interested in facilitating a wellness class, the healthcare field and bettering the community. Initially, stronger interested is expected to be generated by students enrolled in Husson University's physical therapy, occupational therapy, nursing, pharmacy and graduate counseling programs. 
More information about the Fighting Eagles Boxing Club can be found on their Facebook page at Facebook.com/PunchOutParkinsons. Those interested in supporting the organization can contact Teresa Rock at rockt@husson.edu or 715-573-3890. Information about the upcoming fundraising event can be found at Facebook.com/events/154032365301650/.
For more than 100 years, Husson University has prepared future leaders to handle the challenges of tomorrow through innovative undergraduate and graduate degrees. With a commitment to delivering affordable classroom, online and experiential learning opportunities, Husson University has come to represent superior value in higher education. Our Bangor campus and off-campus satellite education centers in Southern Maine, Wells, and Northern Maine provide advanced knowledge in business; health and education; pharmacy studies; science and humanities; as well as communication. In addition, Husson University has a robust adult learning program. For more information about educational opportunities that can lead to personal and professional success, visit Husson.edu. 
[1] "Seven Celebrities with Parkinson's Disease," https://www.healthline.com/health/celebrities-parkinsons
[2] "About Us and Our Mission," Maine Parkinson's Society, https://www.maineparkinsonsociety.org/
[3] Tynes, OB. & Storstein, A., J Neural Transm (2017) 124: 901. https://doi.org/10.1007/s00702-017-1686-y
[4] Ibid.
[5] "What is Parkinson's?", The Parkinson's Foundation, http://www.parkinsons.org/understanding-parkinsons/what-is-parkinsons
Back to All Articles