Husson University Students and Faculty to Share their Expertise at the Maine Science Festival
Published on: March 14, 2018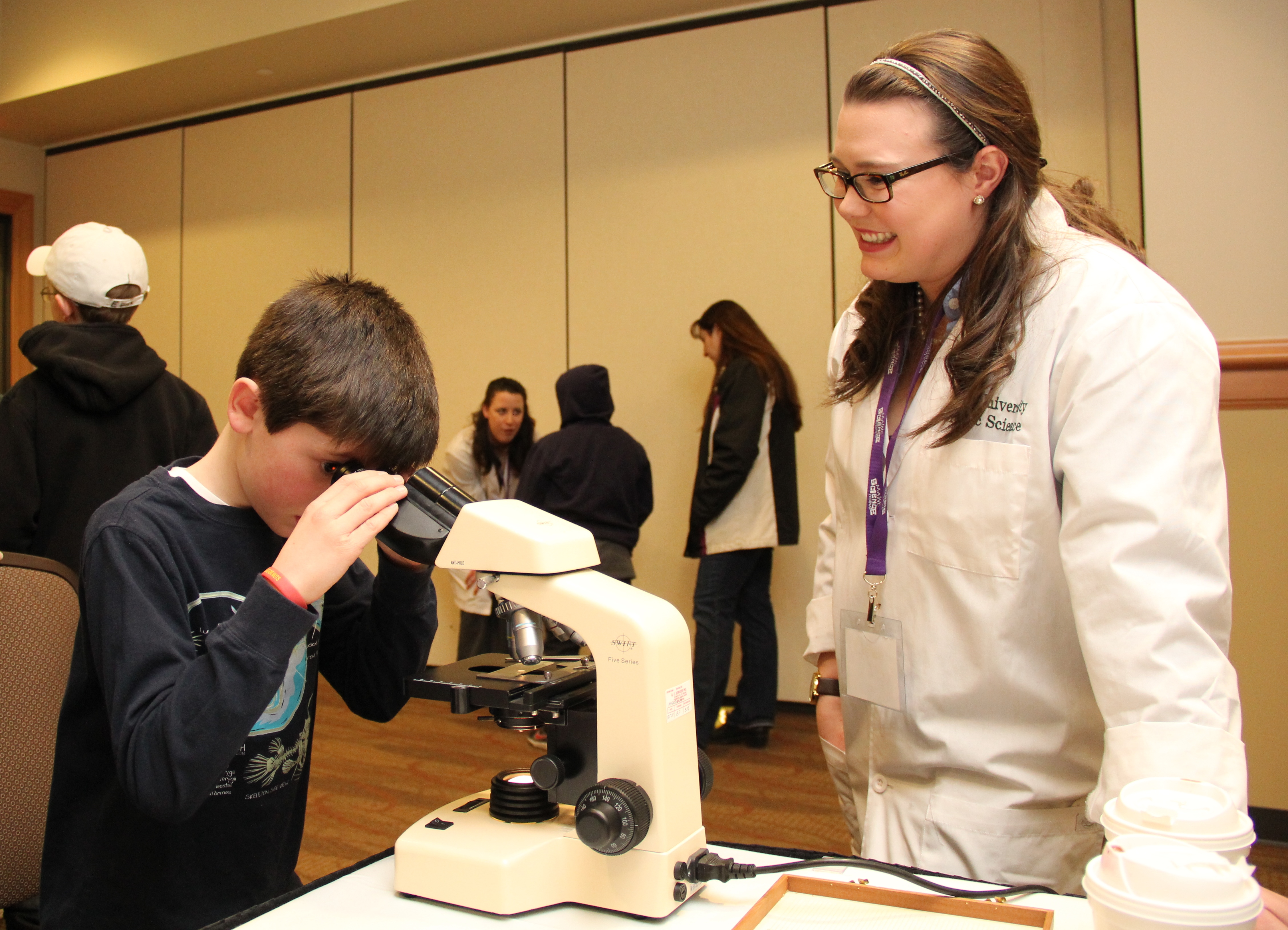 BANGOR, MAINE - Husson University students and faculty will be sharing their in-depth knowledge of science with members of the public on March 17-18 as part of the Maine Science Festival.
From 9 a.m. - 4 p.m. on March 17, Husson University will demonstrate scientific concepts and provide information to visitors at two booths as part of "Exploration Station 2018" in the Cross Insurance Center Ballroom. The first is called "Moving from the Lab to Nursing Practice." At this booth, science festival visitors will get to meet Assistant Professor Valerie C. Sauda, MSN, RN-BC, MGSF from Husson University's School of Nursing and Assistant Professor Emily Messina, PhD, from Husson University's College of Science and Humanities. These health science experts will be featuring a hand-on experience where visitors can learn about how nurses help patients with tuberculosis and the science of microbiology analysis. 
The booth will feature microscopes, examples of microbes, lab values, and the protective equipment used by nurses. After visiting the booth, students will better understand the importance of microbiologists in the healthcare environment and how their work is used by nurses to take care of patients safely.
The Cross Insurance Ballroom will also have a second booth staffed by the members of Husson University's Rho Chi Society, an academic honor society for college students studying pharmacy. Focusing on the "Science and Practice of Pharmacy," this booth will feature hands-on activities for kids, and healthcare information for adults. The hands-on activities will provide young people with the opportunity to learn about medication formulation and the visual differences between pills and candy. Husson students will be available to answer healthcare questions and provide fact sheets on a variety of topics.
That same day, the students from Husson University's Forensic Science Club will talk about the use of science as part of crime scene investigations. Maine Science Festival visitors who go to the Cross Insurance Center's Meeting Room B from 10 a.m. – 2 p.m. on March 17 will have the opportunity to walk through a simulated crime scene, discover evidence, and develop a case theory. Students of all ages will be able to determine what crimes were committed, who the victims were, and who the alleged defendants are. Attending this presentation is a must for anyone who is interested in criminal justice or solving a good mystery.
That evening, Husson University's Gracie Theatre will be the site of the Maine Science Festival's 2018 headliner. Robert Krulwich, the co-host of "Radiolab" on WNYC, New York City's public radio station, will share his thoughts on science and being the host of one of public radio's most popular shows, courtesy of the Maine Discovery Museum. Carried on more than 500 radio stations and with podcasts downloaded over 7 million times each month, "Radiolab" talks about big ideas. Krulwich likes creating images that keep ideas in people's' heads for hours, days, or even months. Tickets to the headliner presentation are $10 for students and $17 for general admission.
More About Robert Krulwich
In addition to being the co-host of "Radiolab," Krulwich is the author of the "Curiously Krulwich," a blog featured on National Geographic. In this blog, he illustrates hard-to-fathom concepts in science using drawings, cartoons, videos, and more. For 22 years, Krulwich was a science, economics, general assignment and foreign television correspondent at ABC News and CBS News. He was also a frequent host/reporter on the PBS investigative series, Frontline.
Krulwich has won two Peabody Awards and Emmy awards, the AAAS Science Journalism Award, The Extraordinary Communicator Award from the National Cancer Institute, and an Alfred I. duPont-Columbia Award. He earned a Bachelor of Arts in history from Oberlin College, and a law degree from Columbia University.
The Science of Dance
Husson University's participation in the 2018 Maine Science Festival concludes on Sunday, March 18, 2018 with a presentation by Myles "Jay" Polsgrove, PhD, an associate professor and exercise science coordinator at Husson University's College of Science and Humanities, and three others, about the "Science of Dance." When viewing a dance performance, few people think about how turns and jumps utilize physics and kinesiology. From the physics that can explain a spin, to an understanding of muscle tone and strength, this event will explore the science of dance with dancers providing live visuals. The presentation will take place at the Bangor Arts Exchange at 193 Exchange Street in Bangor from 11:30 a.m. -1 p.m.
"Each year, members of our Husson University community look forward to attending the festival and sharing their knowledge with young people," said Senior Vice President for Academic Affairs and Provost Lynne Coy-Ogan, EdD. "Educational events like this can plant the seeds of inspiration and nurture the curiosity of young people so that one day, with the benefit of education, they can reach their full potential and achieve a lifetime of career success."
Continuing, Coy-Ogan observed: "The Maine Science Festival also helps to showcase the variety of science-related expertise available at Husson University. We're glad to support this educational effort and help make the festival a great experience for students of all ages."
For more than 100 years, Husson University has prepared future leaders to handle the challenges of tomorrow through innovative undergraduate and graduate degrees. With a commitment to delivering affordable classroom, online and experiential learning opportunities, Husson University has come to represent superior value in higher education. Our Bangor campus and off-campus satellite education centers in Southern Maine, Wells, and Northern Maine provide advanced knowledge in business; health and education; pharmacy studies; science and humanities; as well as communication. In addition, Husson University has a robust adult learning program. For more information about educational opportunities that can lead to personal and professional success, visit Husson.edu.
Back to All Articles