Art Exhibition at Husson University Focuses on Water and Climate Change
Published on: March 16, 2018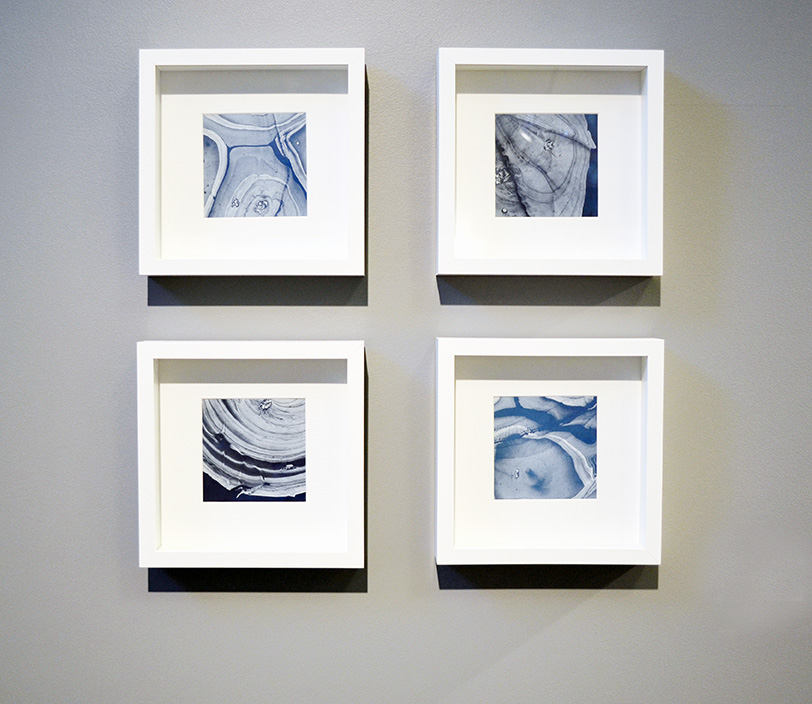 BANGOR, MAINE - Husson announced today that noted academic and artist Kimberly Anderson Ritchie will be working with students in the university's fine arts classes on Monday, March 19 and Tuesday, March 20, 2018. The university will also be hosting an artist talk and reception on Tuesday, March 20 from 4:00 p.m. - 5:30 p.m. in the Robert E. White Gallery in Peabody Hall on its Bangor, Maine campus.
Six works by Ritchie are currently on display in the gallery. The exhibit will conclude on Friday, March 30, 2018. 
Gallery visitors will see a series of cyanotype prints that reflect Ritchie's concerns about climate change and its impact on the natural environment. Cyanotypes are a photographic medium that use light sensitive paper exposed to direct sunlight. Whatever is on top of the paper blocks the emulsion and leaves the paper white, while other areas turn a beautiful cyano-blue. Ritchie's process uses sunlight, the outdoors and natural elements to capture representations of the natural environment in her art.
"On a recent visit to Monhegan Island, Maine, I spent several days exploring the island's plant and sea life. I was especially intrigued by the algae that washed up along the shore," said Richie.  
"My current work revolves around an in-depth study of environmental issues, from air pollution affecting lichen to global climate change affecting sea level rise. The art in this exhibition is my response to the research," she said. "Some works simply use the issue as a starting point while other work clearly displays the concern. I want to bring the beauty, mystery, and conservation of the world back into our daily focus through the image-making process. My art is my way of internalizing the natural world and expressing my concern." ​
Ritchie is an assistant professor and the coordinator of printmaking at Plymouth State University in Plymouth, New Hampshire. She received her Masters of Fine Art in printmaking from Colorado State University and her Bachelor of Fine Arts from Appalachian State University in North Carolina. She has exhibited her work nationally and internationally, attended artist residencies, participated in numerous printmaking portfolio exchanges, and presented at conferences.
During the past decade, she has been featured in solo exhibitions located in Bjarmanes, Skagaströnd, Iceland; Plymouth, New Hampshire; Aurora, Colorado; Blacksburg, Virginia; and Boone, North Carolina. She has also been featured in group/juried exhibitions across the United States.
To learn more about Kimberly Anderson Ritchie and her work, visit KimberlyAndersonRitchie.com.
About the Robert E. White Gallery at Husson University
Artists with connections to Maine who work in every possible medium including watercolors, oil paintings, pastels, sculptures, acrylics, photographs and etchings, are featured at the Robert E. White Gallery.
With a new show approximately every eight weeks, the gallery provides students with a glimpse into how New England artists express themselves, giving them added insight into the place where they've chosen to go to school. The gallery was established in 1992 and named for, and endowed by, Husson alumni and former Board of Trustees Chair Robert E. White '65.
The Robert E. White Gallery is free and open to the public, Monday through Friday, from 8:30 am to 4:30 pm. It is located in Peabody Hall on the campus of Husson University at 1 College Circle, Bangor, ME. For additional information contact: 207-941-7887.
For more than 100 years, Husson University has prepared future leaders to handle the challenges of tomorrow through innovative undergraduate and graduate degrees. With a commitment to delivering affordable classroom, online and experiential learning opportunities, Husson University has come to represent superior value in higher education. Our Bangor campus and off-campus satellite education centers in Southern Maine, Wells and Northern Maine provide advanced knowledge in business; health and education; pharmacy studies; science and humanities; as well as communication. In addition, Husson University has a robust adult learning program. For more information about educational opportunities that can lead to personal and professional success, visit Husson.edu.
Back to All Articles