Husson University's Center for Family Business to Host Panel on Cyber Currency and Cybersecurity
Published on: January 29, 2018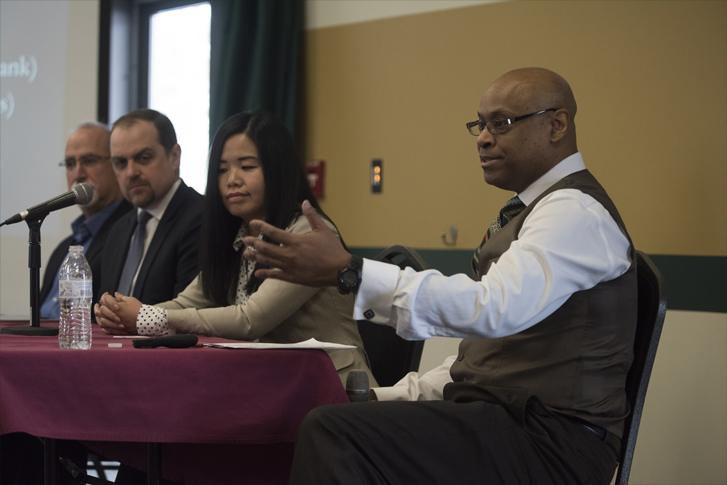 BANGOR, MAINE - As digital currencies, like Bitcoin, go mainstream, banks, businesses, investment firms and the global economy will need to adapt. To help students and the public better understand the implications of cyber currency and the need for enhanced online protection for our financial transactions, Husson University will be sponsoring a panel discussion with some of the area's leading experts on the cutting-edge world of cryptocurrency. The panel discussion will take place from 12:00 p.m. to 1:00 p.m. at Husson's Richard E. Dyke Center for Family Business in Bangor on Monday, January 29, 2018.
"We've assembled a powerhouse panel comprised of leading entrepreneurs, banking executives, and academic experts for 'A Conversation about Cyber Currency & Cybersecurity,'" said Dr. Brien Walton, former venture capital fund manager, fintech investor, assistant professor of entrepreneurship and director of the Richard E. Dyke Center for Family Business at Husson University. "Those who attend this event will not only gain a better understanding of what cryptocurrency is, they'll learn the steps they need to take to protect their finances. In addition, they'll also gain insights into potential future opportunities to create personal financial success."
Moderated by Dr. Brien Walton, the panel will consist of Dr. Jia Liu, a Bitcoin expert and an assistant professor of finance at Husson University's School of Business and Management; Andrew Grover, a senior vice president and chief risk officer at Bangor Savings Bank; and David Joseph, chairman of Davo Technologies, LLC, and co-founder of Davo Sales Tax.
With the creation of blockchain, a digital ledger where transactions made in bitcoin or another cryptocurrency get recorded chronologically and publicly, any sort of transaction of value can be made using digital currency. This has important implications for those who raise capital by dealing in shares, bonds, and other long-term investments. 
This new financial transaction system also poses challenges for traditional banks, investors and individuals. Maintaining the integrity of the system creates challenges for regulators and criminal justice professionals. 
In a new world of cryptocurrency, the need for effective cybersecurity becomes even more important. According to CRN (Computer Reseller News), global security spending among businesses is expected to reach $1 trillion by 2021. It has become abundantly clear that the issue of cybersecurity is not going away anytime soon, and every day, the number of vulnerabilities and risks facing organizations increases. Simultaneously, there is a limited number of solutions we have to defend against online security issues.
Recent software threats and hardware vulnerabilities demonstrate that there is a need for businesses and consumers to invest in tools, technologies and processes that can protect them from the rising tide of security threats that can arise when technology and finance mix.
More Information About Dr. Jia Liu
Dr. Liu has a Bachelor of Arts in financial management from the Beijing Jiaotong University, and a Master of Science in management science and engineering from the Chinese Academy of Sciences. She also holds a Master of Science in finance and a Master of Science in economics from the University of Kansas. In addition, Liu has a Ph.D. in economics with a specialization in international finance from the University of Kansas. Dr. Liu has extensive work experience in consulting, teaching, and research. Her work has been published in academic journals as well as non-academic publications. She has often been quoted in the national media, including The Wall Street Journal, the Los Angeles Times, and U.S. News & World Report. Before she joined Husson in 2016, she worked as a research fellow at the American Institute for Economic Research for four years.
More Information About Andrew Grover
Grover is an experienced professional with over six years of community banking experience with Bangor Savings Bank and Androscoggin Savings Bank. He specializes in risk management, fraud/anti-money laundering detection and reporting, information security and compliance. Grover has over twelve years of public accounting and forensic auditing experience with Macdonald, Page & Company, LLC, concentrating on the financial institution industry. He earned a Master of Business Administration and a Bachelor of Science degree in accounting from Thomas College in 1996.
More Information About David Joseph
David Joseph is the co-founder of DAVO Technologies. He received a patent in 2011 for a process that automates daily fractional funding of recurring 30, 60 or 90 day business cycles. Joseph is currently the chair of DAVO Technologies. In this role he oversees continued product development and implementation of DAVO applications, merchant adaptation and expanding markets for the firm. Joseph has 30 years of hands-on experience and ownership in the small to medium-sized business (SMB) space. During this time he has racked up an impressive track record of creating successful start-up companies in technology, food service, retail and wholesale. This has given him insight into the challenges facing DAVO's target SMB market. Joseph also consults with select SMB clients who utilize his proven ability to successfully analyze and develop innovative cost-effective solutions for streamlining business processes, enhancing competitiveness, increasing revenues and improving customer experience. He holds advanced degrees from The Juilliard School and Yale University and resides with his family in Maine.
A Conversation at the Dyke Center
"A Conversation about Cyber Currency & Cybersecurity" is part of the ongoing "Conversations at the Dyke Center" presentation series. Modeled after Inside the Actors' Studio, these panel discussions and interviews bring together business leaders and academics who are at the top of their game for a conversation in an intimate setting. Attended by students, Husson community members, and guests from the area and beyond, the lessons learned and stories shared inspire and inform those in attendance. 
"Conversations at the Dyke Center" is sponsored by Husson University's College of Business. This unique interactive conversation provides students with the opportunity to connect with successful and talented professionals as part of their education.
For more than 100 years, Husson University has prepared future leaders to handle the challenges of tomorrow through innovative undergraduate and graduate degrees. With a commitment to delivering affordable classroom, online and experiential learning opportunities, Husson University has come to represent superior value in higher education. Our Bangor campus and off-campus satellite education centers in Southern Maine, Wells and Northern Maine provide advanced knowledge in business; health and education; pharmacy studies; science and humanities; as well as communication. In addition, Husson University has a robust adult learning program. For more information about educational opportunities that can lead to personal and professional success, visit Husson.edu.

Back to All Articles