Husson Students Are Cooking Now!
Published on: January 29, 2018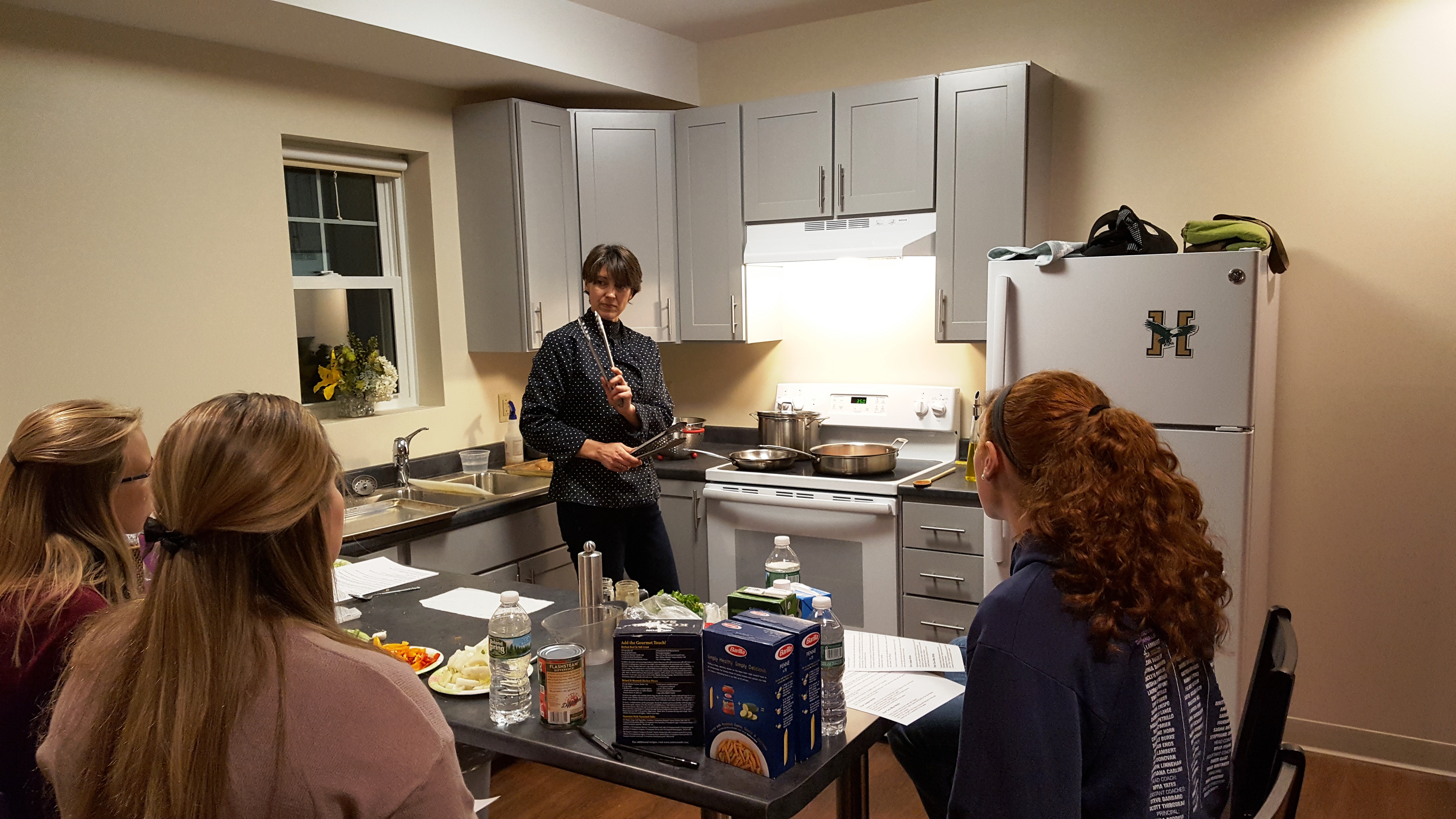 By Eric B. Gordon, Executive Director of Communications at Husson University
Mastery of skills essential to daily living is important to achieving success in life. But what do you do if no one ever taught you how to create entrees, balance a checkbook, change a tire, unclog a drain, or any of the other skills necessary to be self-reliant?
In an effort to help young adults transition from college life to independent living, Husson University's Office of Student Life has begun offering educational seminars in a variety of life skills. One of these "Learning Series Sessions" was held in December and focused on cooking. Students gathered in a kitchen at one of the University's new townhouse residences and learned about preparing chicken breasts from local chef and "major food enthusiast," Cathy Speronis.
Cathy publishes a recipe blog, ATastyAdventure.com. She's a self-taught chef who runs a cafe at the Bangor Harness Raceway, does local catering, and teaches local adult education cooking classes. It's her passion to share her love of food and cooking with others. "I want to teach students how to make food that tastes and looks good." 
Chef Speronis taught the students how to create a delicious, easy, and affordable chicken meal. Her step-by-step demonstrations provided students with the knowledge they'll need to prepare chicken breasts three different ways - traditional, Asian & Tex-Mex styles.
Students also learned how to cook vegetables, pasta and a pan sauce; with food prep safety emphasized in each of Cathy's presentations. 
"I really enjoyed some of the cooking shortcuts Cathy taught us," said Husson University College of Business student Malorie Young. "Before this learning session, I never had any experience in the kitchen. Now I'm confident that I can prepare meals. Once you know what to do, cooking can be fun. I look forward to trying out some of the recipes Cathy shared with us and some recipes I found online."
The University wants to make sure students are prepared for life after graduation. "After I complete my degree, I'm going to have my own apartment and shop for my own food," continued Young. "Understanding how to prepare nutritious and tasty meals is all part of being an adult. I look forward to being out on my own and embracing all that life has to offer."
Back to All Articles