Camden National Bank Pledges $25,000 to New Husson University College of Business Building
Published on: January 25, 2018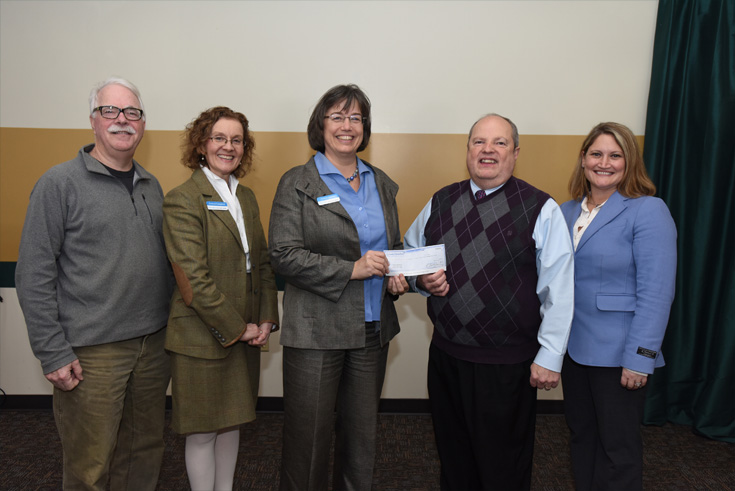 On January 25, 2018, representatives from Camden National Bank made a gift to Husson University to help construct a new College of Business building on the educational institution's Bangor campus. Participating in the check presentation ceremony were (from left to right) John M. Rohman, vice chair of the Husson University Board of Trustees; Joanne Campbell, executive vice president of risk management at Camden National Bank; Deborah Jordan, chief operating officer and chief financial officer at Camden National Bank; Dr. Robert Clark, President of Husson University; and Dr. Marie Hansen, dean of the Husson University College of Business.
BANGOR, MAINE - Husson University announced today that Camden National Bank has pledged $25,000 toward the construction of a proposed new College of Business building on the educator's Bangor campus.
"In addition to providing leading financial services and advice for customers through our community-based model, Camden National Bank aims to strengthen institutions that stimulate economic vitality and growth," said Greg Dufour, president & CEO. "By supporting a new College of Business building at Husson University, we are helping to create the critical infrastructure needed for students to become the successful entrepreneurs and business owners of tomorrow. We are incredibly proud of the contributions and impact that Husson graduates have made as employees at Camden National Bank."
"This new facility will also help existing businesses strengthen their productivity and profitability in the greater Bangor region, where we have a strong presence," continued Dufour. "This gift to Husson is part of our commitment to Maine's economy, people, and future."  
Camden National Bank and Husson University both believe that a college education should be designed with the needs of employers in mind. That's why students from Husson go on to achieve career success after graduation. In fact, according to a recent survey of Husson's Class of 2016, 92 percent of Husson's graduates were either employed or pursuing graduate education within one year of earning their degrees. This is substantially above the national average and reflects the national Brookings Institute finding that a Husson education adds significant value to its graduates as a return on investment.
"Creating a new home for Maine's largest College of Business would not be possible without the support of businesses like Camden National Bank," said Dr. Lynne Coy-Ogan, senior vice president for academic affairs and provost at Husson University. "We're also grateful for the many career opportunities the bank has provided to our graduates and take pride in their accomplishments. Numerous men and women have gone on from Husson to assume leadership positions at Camden National Bank."
For example, in 2014 Michael Archer was named vice president and corporate controller at Camden National Bank. Archer graduated from Husson University as class salutatorian in 2006 with a bachelor's degree in accounting. He assumed his position at the Bank after finding career success as an assurance manager at PricewaterhouseCoopers LLP (PwC) in Boston.
Another Husson graduate who holds a senior leadership position at Camden National Bank is Deborah Jordan. She is the Bank's chief operating officer and chief financial officer. In this role, Jordan is responsible for oversight of financial and regulatory reporting, asset and liability management, investments, strategic planning and forecasting. She joined Camden National in 2008 after working for 16 years at Merrill Merchants Bank (MMB) in Bangor, Maine as their executive vice president and chief financial officer. Prior to MMB, Jordan worked for five years at Arthur Andersen & Company in Boston as their audit manager. She has a bachelor's degree in accounting from Husson University.
Joanne Campbell, the executive vice president of risk management at Camden National Corporation and Camden National Bank is one of Husson University's more active alumni. Prior to her current position, Campbell served as the bank's senior vice president of risk management and the vice president of compliance, audit and CRA. She joined Camden National Bank in 1996 as their vice president and residential real estate administration officer. Before working at Camden National Bank, Campbell was a regional sales manager at the Salem Five Mortgage Company. She earned a master's and bachelor's degree in business from Husson University. Campbell is also a graduate of the Maine Development Foundation's Leadership Maine Program, and earned the Certified Regulatory Compliance Manager (CRCM) designation from the Institute of Certified Bankers.
Husson's College of Business is comprised of four separate schools: a School of Accounting; a School of Business and Management; a School of Hospitality, Sport and Tourism Management; and a School of Legal Studies. The proposed new $16 million state-of-the-art building will allow for interdisciplinary opportunities between schools and programs, and help the University continue to attract the talented students who will lead our nation into the future.
Camden National Corporation (NASDAQ:CAC), founded in 1875 and headquartered in Camden, Maine, is the largest bank holding company in Northern New England with $4.0 billion in assets and nearly 650 employees. Camden National Bank, its subsidiary, is a full-service community bank that offers an array of consumer and business financial products and services, accompanied by the latest in digital banking technology to empower customers to bank the way they want. The Bank provides personalized service through a network of 60 banking centers, 76 ATMs, and lending offices in New Hampshire and Massachusetts, all complemented by 24/7 live phone support. This year marks the eighth time Camden National Bank has received the "Lender at Work for Maine" Award from the Finance Authority of Maine. Comprehensive wealth management, investment, and financial planning services are delivered by Camden National Wealth Management. To learn more, visit CamdenNational.com. Member FDIC.
For more than 100 years, Husson University has prepared future leaders to handle the challenges of tomorrow through innovative undergraduate and graduate degrees. With a commitment to delivering affordable classroom, online and experiential learning opportunities, Husson University has come to represent superior value in higher education. Our Bangor campus and off-campus satellite education centers in Southern Maine, Wells, and Northern Maine provide advanced knowledge in business; health and education; pharmacy studies, science and humanities; as well as communication. In addition, Husson University has a robust adult learning program. For more information about educational opportunities that can lead to personal and professional success, visit Husson.edu.
Back to All Articles