Husson University's Board of Trustees Approve Construction of New $3 Million Wellness Learning Center
Published on: December 15, 2017

BANGOR, MAINE - Husson University's Board of Trustees recently voted to approve the construction of a new 7,100 square foot, $3 million wellness learning center on the institution's Bangor campus. The new facility will be devoted to delivering health services to Husson students, and health education opportunities to those enrolled in the University's nursing, occupational therapy (OT), physical therapy (PT) and graduate counseling programs.
"We currently have a critical shortage of space on our Bangor campus," said Robert J. Ronan, '79, retired senior vice president of technology at Fidelity Investments and current Husson University Board of Trustees chair. "Investing in this new facility will allow Husson to improve our healthcare delivery environment while providing the additional learning space necessary to increase enrollments in our nursing program."
Currently, the University's counseling center and student health services are sharing a temporary modular space. The classrooms and offices for Husson's nursing, OT and PT programs are located in O'Donnell Commons and Peabody Hall. Both buildings are filled to capacity.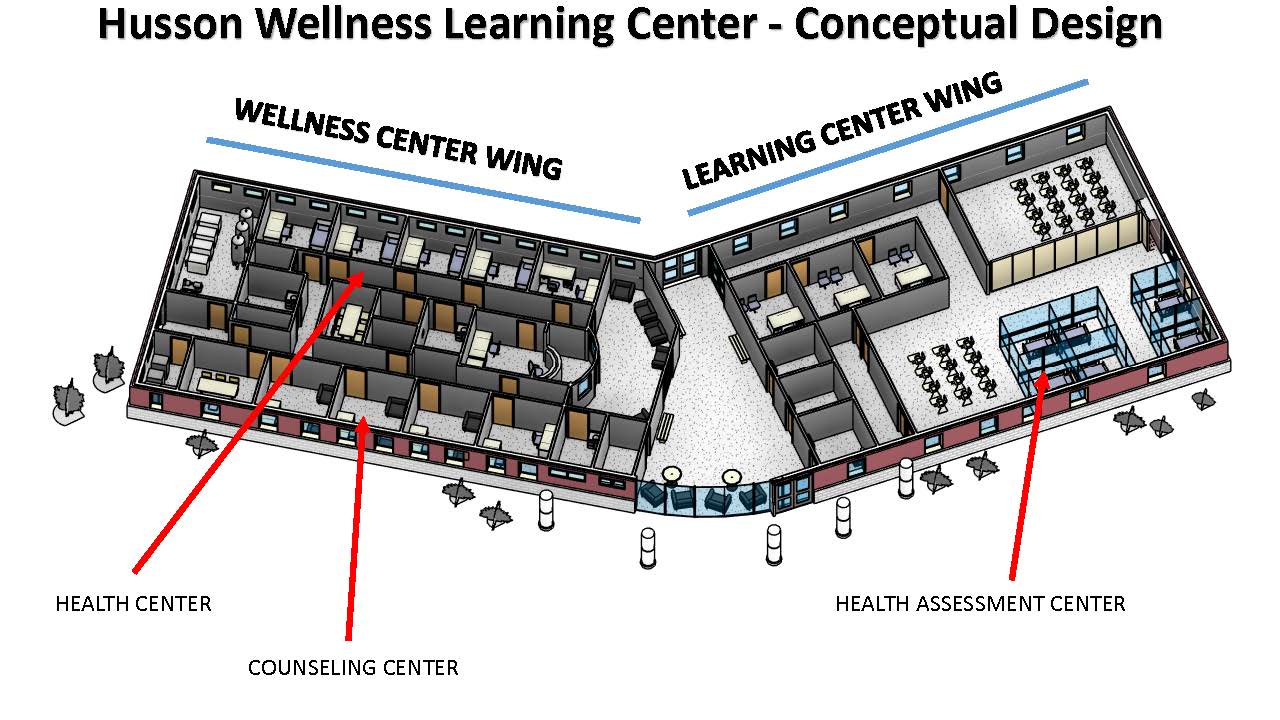 The envisioned building would include a new 3,700 square-foot simulation lab. This and the other learning spaces created by the new building would allow the university to increase nursing enrollments by nearly 25 percent and help successfully position Husson for additional future growth.
While Husson University is already the home of one of the largest, private, nonprofit university nursing programs in Maine, the demand for healthcare professionals continues to increase. According to the Maine Department of Labor, "the advancing age structure of the population is a primary factor driving job gains in healthcare."[1] Their data indicates that healthcare and social assistance will be the largest sector of employment growth in the next decade with over 8,000 new jobs created in the state by 2024[2].
Simultaneously, the professional reputation and quality of Husson's nursing program continues to improve. This can be seen in licensure examination results.
Each year, the Bachelor of Science in nursing graduates take the National Council Licensure Examination for registered nurses (NCLEX-RN). This year, graduates of college nursing programs had the opportunity to sit for this exam from January 1, 2017 through September 30, 2017. During this period, approximately 88 of every 100 students who took this exam, here in Maine and nationally, passed it on their first try.[1] Husson graduates, however, had stronger results. Nearly 91 out of every 100 nursing graduates from Husson passed this rigorous exam on their first attempt.[2] Continued student success that exceeds national averages, combined with the new Wellness Center, will help make Husson University Maine's undisputed nursing education leader.
This leadership can already be seen in Husson's course content. The University's healthcare programs are already a leading advocate for interprofessional education. "Interprofessional collaboration continues to be an important skill set that we seek to instill in all of our graduates," said Husson University College of Health and Education Dean Teresa Steele, Ph.D. "The addition of these facilities will allow for more interprofessional interaction between students of various healthcare disciplines. This interaction will better prepare our graduates to adhere to the highest standard of care as they work to treat patients in a team environment."
Husson University President Robert A. Clark, Ph.D. feels that the new structure will address two distinct university priorities. "The wellness of our student population is, and will continue to be, an important priority. This new facility will ensure that our students receive quality healthcare services. Second, this project will provide the important and necessary infrastructure required to grow our nursing program; an area of distinction for our university. In the near-term future, this project and our new College of Business building are among our highest priorities."
For more than 100 years, Husson University has prepared future leaders to handle the challenges of tomorrow through innovative undergraduate and graduate degrees. With a commitment to delivering affordable classroom, online and experiential learning opportunities, Husson University has come to represent superior value in higher education. Our Bangor campus and off-campus satellite education centers in Southern Maine, Wells, and Northern Maine provide advanced knowledge in business; health and education; pharmacy studies, science and humanities; as well as communication. In addition, Husson University has a robust adult learning program. For more information about educational opportunities that can lead to personal and professional success, visit Husson.edu.
[1] Maine Board of Nursing, "NCLEX-RN "FIRST TIME" TEST TAKERS PASS RATE", January 1, 2017 through September 30, 2017, http://www.maine.gov/boardofnursing/docs/NCLEX%202017%20Jan-September%20Pass%20Rates.pdf
[2] Ibid
[1] "Maine Workforce Outlook 2014 to 2024," Center for Workforce Research, Maine Department of Labor, http://www.maine.gov/labor/cwri/data/projections/2024/2024_Outlook.pdf
[2] Ibid
Back to All Articles