Computer Science Education Week at Husson University
Published on: December 7, 2017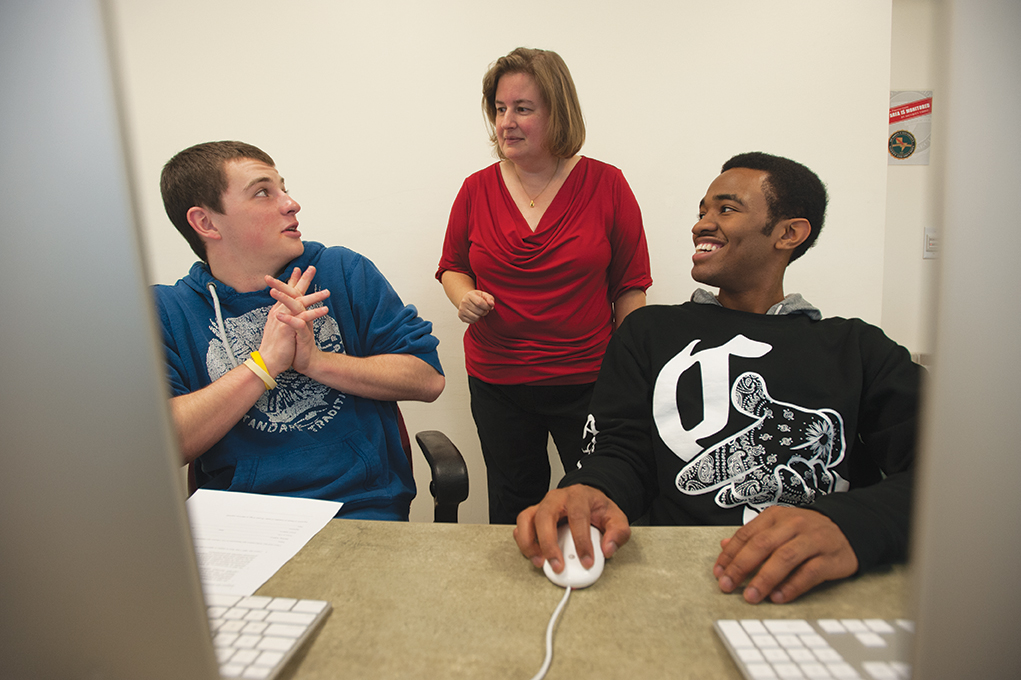 BANGOR, MAINE – December 6, 2017 – The students from Tri-County Technical Center in Dexter, Maine will be visiting Husson University to talk about technology career options and learn how to code as part of an international program called Hour of Code. This program is designed to give students hands-on experience in computer programming. The event will take place on Thursday, December 7 at Husson University's Wildey Communications Center, (the NESCom building) in Room 223 from 10:30 – 11:30 a.m.
In addition, Husson will be sponsoring a series of activities on Thursday, December 7 and Friday, December 8, 2017 in their campus center. These activities will help provide current Husson students with some insights into current computer technology and career opportunities for IT professionals. Informational displays will cover topics such as 3D printing, robotics, drones, virtual reality, and more.
Both Hour of Code and the campus center activities are part of Computer Science Education Week (CSEdWeek). This annual event is dedicated to inspiring K-12 students to take interest an in computer science. Originally conceived by the Computing in the Core coalition, Code.org® organizes CSEdWeek as a grassroots campaign supported by 350 partners and 100,000 educators worldwide.
Laura Gurney, assistant professor of integrated technology at Husson University's College of Business feels that it's important to provide young people with computer science education. "Digital technology has changed the world. As computers become integrated into every aspect of modern life, it becomes increasingly important for people to have an understanding of computer science. This knowledge is now an essential part of participating in our economy and ordering basic goods and services."
Husson University's College of Business will be leading the Hour of Code initiative. "Hour of Code makes computer programming fun and approachable," said Gurney. "Introducing technology to students early is the best way to get them interested in it."
The day will begin with a discussion of technology degrees and the different career opportunities available to students after they complete their college degrees. Immediately following that, Husson University students will work with the Tri-County Technical Center students on a variety of coding activities.
Tri-County students will next join technology faculty for lunch at Husson University's Dickerman Dining Center. They will leave campus to return to Dexter at 12:30 pm.
Hour of Code started as a one-hour introduction to coding, in an effort to show that anybody can learn the basics and broaden their participation in the field of computer science. It has since become a worldwide effort to celebrate computer science, starting with one-hour coding activities, and expanding to all sorts of community efforts. Hour of Code takes place each year during Computer Science Education Week. This year, CSEdWeek takes place from December 4 - December 10, 2017.
"Husson University is dedicated to helping high school students learn about the benefits of a college education for their future," said Dr. Marie Hansen, dean of Husson University's College of Business. "It's important they see the potential for a variety of fulfilling career options in IT available in the state of Maine."
For more than 100 years, Husson University has prepared future leaders to handle the challenges of tomorrow through innovative undergraduate and graduate degrees. With a commitment to delivering affordable classroom, online and experiential learning opportunities, Husson University has come to represent superior value in higher education. Our Bangor campus and off-campus satellite education centers in Southern Maine, Wells, and Northern Maine provide advanced knowledge in business; health and education; pharmacy studies; science and humanities; as well as communication. In addition, Husson University has a robust adult learning program. For more information about educational opportunities that can lead to personal and professional success, visit Husson.edu.
Back to All Articles