Husson University Students to Perform Diana Son's "Stop Kiss"
Published on: November 28, 2017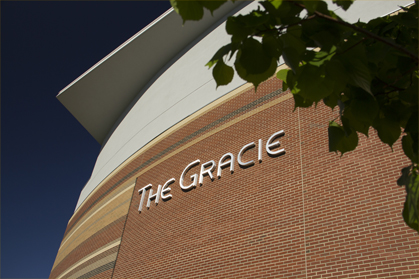 Husson University's student theatre group will be performing Diana Son's "Stop Kiss" on December 1 – 3 in The Gracie's Black Box Theatre. "Stop Kiss" tells the story of two friends who are assaulted on the street after their first kiss. 
The play is about Callie and Sara, two modern-day New Yorkers who fall in love with each other. The drama revolves around a hate crime that puts Sara into a coma. Throughout the story, the audience experiences Callie's internal struggle between self-acceptance and the desire to hide her feelings for Sara.
In writing about "Stop Kiss," The NY Daily News said, "...the writing on display here is funny and credible...you also will be charmed by its heartfelt characters and up-to-the-minute humor."
"I chose 'Stop Kiss' because it really resonated with me personally," says director Megan Hallissey. "Plays that better represent the needs of LGBT women will help increase community awareness of the issues affecting this community. 
Previous Husson University Theatre productions consisted of Stephen Massicotte's "Mary's Wedding," Tennessee Williams' "The Glass Menagerie," and John Cariani's "Almost, Maine."
"Stop Kiss" is directed by Husson junior, Megan Hallissey. Jackie Larrivee is the stage manager. The set is designed by Cadie Boutaugh. The cast includes Rina Scherbatskoy, Anastasia Lemitelamy, Josh Morneault, Kiet Ho, Jackie Stone, and Erryn Bard.
Husson University Theatre (HUT) is a student-run organization and the official student theatre company of Husson University. It allows students to act as directors, designers, and performers in productions of their own choosing. Husson students are responsible for all aspects of the company's operations. This includes all of the production roles from acting on stage, to crew roles backstage, and box office management.
Performances take place Friday, December 1 and Saturday, December 2, 2017 at 7:00 pm in the Gracie's Black Box Theatre, located on the second floor of the Beardsley Meeting House on Husson University's Bangor, Maine campus. In addition, there are performances on Saturday, December 2 and Sunday December 3 at 2:00 pm in the same location.
Tickets are $3 for students and $5 for general admission. They are available at the door an hour before show time and must be paid for in cash. This production is recommended for mature audiences.
For more information about HUT and the upcoming production of "Stop Kiss," please contact The Gracie Theatre box office at 207-941-7888 or visit the theatre's website at GracieTheatre.com.
Completed in October of 2009, The Gracie is Husson University's center for the fine and performing arts. This beautiful new 500-seat theatre is quickly earning a reputation as one of Maine's premier performance venues. In addition, The Gracie also serves as a learning platform for students from the New England School of Communications in digital audio, sound mixing, set design and construction, lighting, acting and electronics. 
For more than 100 years, Husson University has prepared future leaders to handle the challenges of tomorrow through innovative undergraduate and graduate degrees. With a commitment to delivering affordable classroom, online and experiential learning opportunities, Husson University has come to represent superior value in higher education. Our Bangor campus and off-campus satellite education centers in Southern Maine, Wells, and Northern Maine provide advanced knowledge in business; health and education; pharmacy studies; science and humanities; as well as communication. In addition, Husson University has a robust adult learning program. For more information about educational opportunities that can lead to personal and professional success, visit Husson.edu.
Back to All Articles