First Annual 5K Walk to Help Keep Families Warm this Winter
Published on: November 6, 2017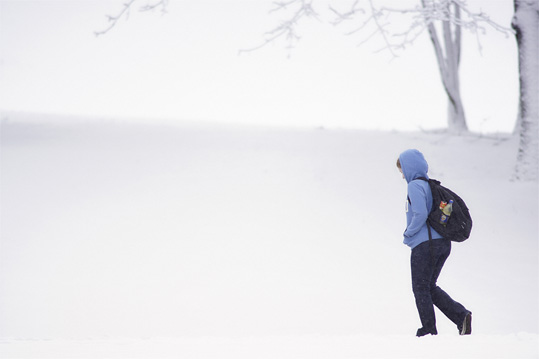 BANGOR, MAINE - Husson University Student Government, in partnership with the United Way of Eastern Maine, will be sponsoring a five kilometer (5K) fun run and walk on the university's Bangor campus on Sunday, November 12, 2017 at 10 a.m. Organizers are hoping this "Walk for Warmth" will raise $1,500 to help local Bangor families pay for heating oil this winter.
"Some of our neighbors here in Bangor will be cold this winter if we don't help," said Madeline Sanborn, president of Husson University's Student Government. "Home heating oil can be expensive, especially for lower income families and people on a fixed income. This 5K fun run and walk will give students and members of the community an opportunity to help the poor, the elderly, children, and disabled adult s keep the heat as the weather gets colder."
As of Monday, October 16, 2017, the current statewide average cash price for No. 2 heating oil was $2.21 per gallon.[1] That's an increase of over 10 percent compared to last year.[2]
Nearly two-thirds of Maine households use fuel oil as their primary energy source for home heating, a higher share than in any other state.[3] An "average" 1500 square-foot, well-insulated home uses approximately 540 gallons of fuel oil per year.[4] That would mean that the average Maine household can expect to spend nearly $ 1,200 to heat their home this year. 
To make matters worse, the price for home heating oil may increase. As the heating season gets underway, the U.S. Energy Information Administration (EIA) is forecasting higher household expenditures for heating, due to higher energy costs.[5] Refinery shutdowns along the Gulf Coast during Hurricane Harvey have impacted heating oil inventories as well as gasoline and diesel supplies.[6]
"We hope everyone will join us in this effort to support some of the more vulnerable members of our community," continued Sanborn. "Let's make sure no one has to go without heat this winter."
Registration and sign-in for the Walk for Warmth begins at 9 am on Sunday, November 12, 2017. Registrants should visit the tent near the Beardsley Meeting House on Husson's Bangor campus prior to the race. The Walk for Warmth will begin at 10 am. In the event of poor weather, the rain date is Sunday, November 19.
If you are interested in registering online, prior to the event, please visit https://www.raceentry.com/race-reviews/walk-4-warmth. For more information, contact Husson University Student Government at Peabody Hall, Room 121, or at studgov@husson.edu.
Registration is $10 per person for those with a Husson ID or $15 for community members without a Husson ID. The first 75 registrants get a free tee-shirt. Husson University Student Government will also be selling raffle tickets for a chance to win a variety of prizes.
For more than 100 years, Husson University has prepared future leaders to handle the challenges of tomorrow through innovative undergraduate and graduate degrees. With a commitment to delivering affordable classroom, online and experiential learning opportunities, Husson University has come to represent superior value in higher education. Our Bangor campus and off-campus satellite education centers in Southern Maine, Wells and Northern Maine provide advanced knowledge in business; health and education; pharmacy studies; science and humanities; as well as communication. In addition, Husson University has a robust adult learning program. For more information about educational opportunities that can lead to personal and professional success, visit Husson.edu.
Back to All Articles