Fiddlers, Fiddles and Fiddle Maker: Childsplay to Perform at the Gracie Theatre
Published on: November 8, 2017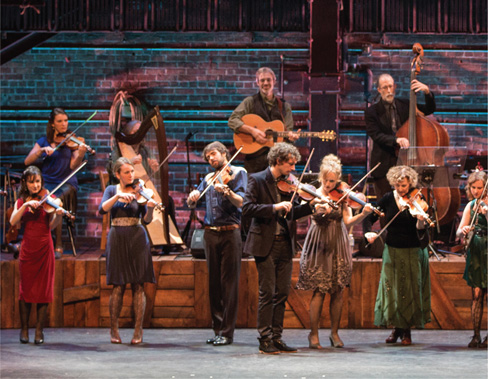 BANGOR, MAINE - Celebrating 30 years of touring, Childsplay will be bringing their band of 19 fiddlers, all-star instrumentalists, dancers and singers to The Gracie's stage on Friday, November 17, 2017 at 7:30 p.m. With some of the leading virtuosos in traditional and contemporary fiddle music from the United States, Sweden and the United Kingdom, Childsplay is sure to delight music lovers of all ages. The band creates vibrant, powerful, and eclectic sounds, with a repertoire that includes the lilting beauty of Celtic jigs and airs; the driving rhythms of American country hoedowns; and the smoky improvisations of jazz.
Having introduced thousands to the delights of all styles of fiddle music, Childsplay is the creation of Cambridge, Massachusetts stringed-instrument maker, Bob Childs. Childs has been making violins for over 35 years. Childsplay, was a natural choice for the band's name. All of the band's members play violins and violas crafted by Childs himself. The group has been touring for more than 30 years.
"The tour this year is the pen-penultimate chance to come out and hear Childsplay and our world class members," said Bob Childs. "When this group comes together, magic really happens on stage. We're excited to perform new works that will be part of our next recording."
Showcasing the versatility of the fiddle, the 2017 shows focus on Celtic music and feature the music of Ireland, Scotland and Cape Breton. Childsplay will also be performing several new pieces of music composed by members of the band in anticipation of their new album. Songs from Irish singer Karan Casey, with arrangements by different Childsplay members, will be included in the concert.
Led by Childs, the group includes talented musicians from all over the United States, Sweden and the Celtic world including: All-Ireland Fiddle Champion Sheila Falls, National Scottish Fiddle Champion Hanneke Cassel, Boston Symphony violinist Bonnie Bewick, fiddler and singer Lissa Schneckenburger, New England Scottish Fiddle Champion Katie McNally, Irish flute player Shannon Heaton, multi-instrumentalist Keith Murphy, and many more.
McKinley James joins the group this year, taking over the role of cellist. Based in Boston, she has performed across the Northeast with her award-winning band, The Irregulars. McKinley plays both classic and traditional music. The 2017 concerts will again feature renowned dancers Kieran Jordan and Kevin Doyle. Fiddler Steve Hickman will delight audiences with his performance on the hambone.
Irish folk singer Karan Casey returns as featured vocalist and will also join the group in the studio when they record the group's seventh album. All the songs she performs will be from her Irish repertoire with arrangements by the band. The all-star cast also includes Amanda Cavanaugh, Graham Dezarn, Ellen Gawler, Ralph Gordon, Kathleen Guilday, Laurel Martin, Naomi Morse and Mark Robert.
Childsplay runs for one night only on Friday, November 17, 2017. Tickets are $30.00-$40.00 with special discounts available to all MPBN members. For tickets and discount information, contact the Gracie Theatre box office at 207-941-7888 or visit the theatre's website at GracieTheatre.com.
The band's sixth album As the Crow Flies was released in 2013. The group also has a concert DVD Live from the Zeiterion Theatre, which has been shown on public television stations across the country. Childsplay CDs and DVDs are available at www.childsplay.org, where you can also purchase performance tickets and find more information about live shows.
Below is a video from a 2016 performance of Childsplay at Somerville Theatre.
About Bob Childs:
Bob Childs has been making violins for more than 30 years. He was first introduced to violinmaking by Ivie Mann in Maine. He then did six years of apprenticeships with Mittenwald-trained violinmakers Anton Smith and Michael Weller, before setting up his shop in Cambridge, Mass. Childs produces instruments with a deep, sweet and dark sound whose quality has captured the interest of leading string performers throughout the United States and beyond.
As a fiddler himself, Childs was immersed in the Maine fiddle tradition for many years before becoming heavily influenced by Irish music. In addition to performing with Childsplay, Childs was also part of two seminal bands in Maine - Old Gray Goose and the Moosetones.
About the Gracie Theatre and Husson University:
The Gracie's season is made possible with support from Bangor Savings Bank. The theatre gratefully acknowledges the generous support provided throughout the season by additional show sponsors including: Downeast Toyota, The Dead River Company, WBRC Architects and Engineers, The Bangor Daily News, and The Maine Edge.
Completed in October of 2009, the Gracie is Husson University's center for the fine and performing arts. This beautiful 500-seat theatre is quickly earning a reputation as one of Maine's premier performance venues. In addition, the Gracie also serves as a learning platform for students from the New England School of Communications in digital audio, sound mixing, set design and construction, lighting, acting and electronics. For more information, visit GracieTheatre.com.
For more than 100 years, Husson University has prepared future leaders to handle the challenges of tomorrow through innovative undergraduate and graduate degrees. With a commitment to delivering affordable classroom, online and experiential learning opportunities, Husson University has come to represent superior value in higher education. Our Bangor campus and off-campus satellite education centers in Southern Maine, Wells and Northern Maine provide advanced knowledge in business; health and education; pharmacy studies; science and humanities; as well as communication. In addition, Husson University has a robust adult learning program. For more information about educational opportunities that can lead to personal and professional success, visit Husson.edu.
Back to All Articles