Husson's School of Legal Studies Held the Largest Career Fair in the University's History on October 18
Published on: October 18, 2017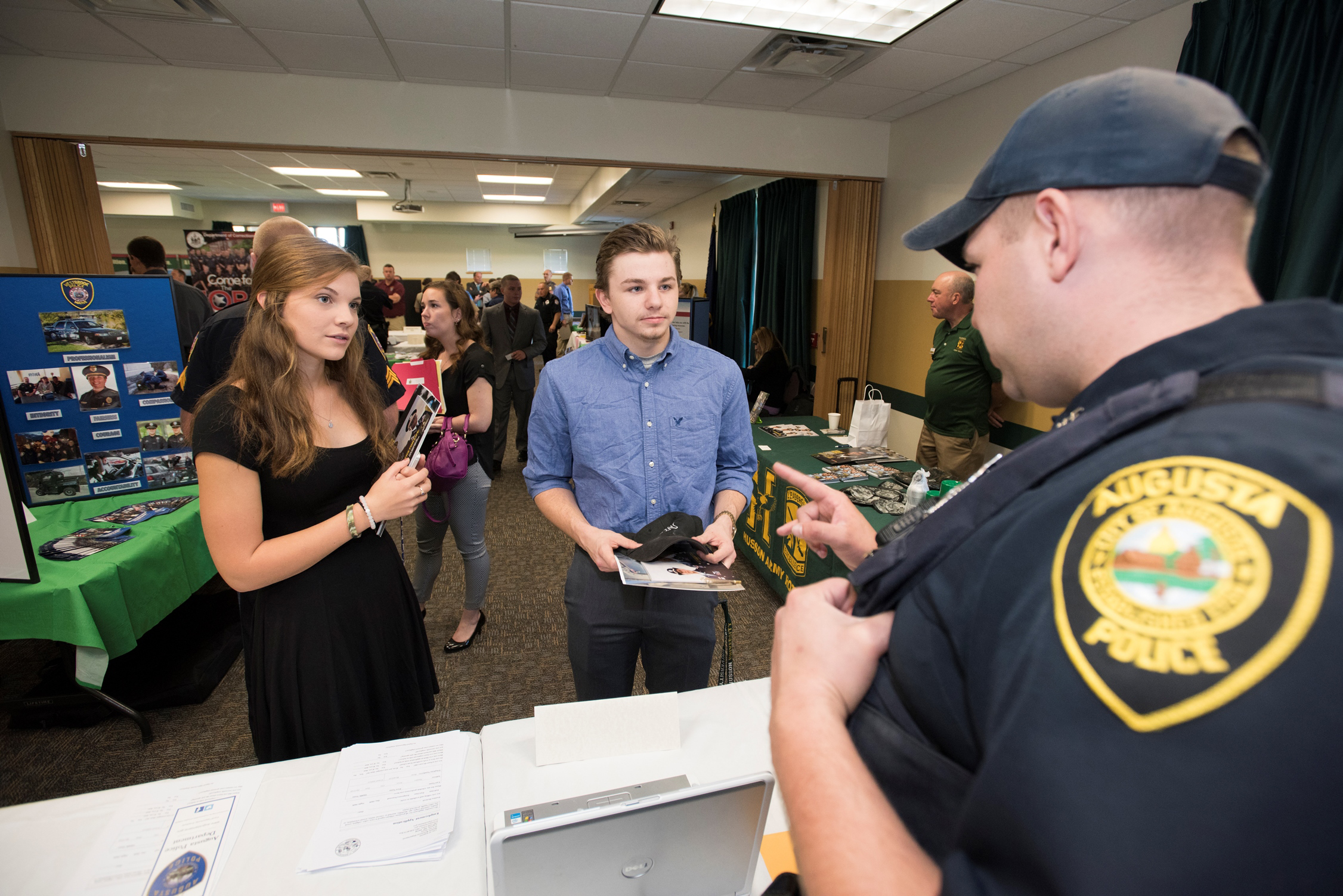 Students speak with potential employers at the 2016 Legal Studies Career Day at Husson University.
WHAT: The School of Legal Studies in Husson University's College of Business will be holding its ninth annual career day. Nearly 50 area employers have already confirmed their participation in this year's event with more signing up every day. Career Day provides students with a chance to learn more about potential employment and internship opportunities at various law enforcement organizations. It's also a great way for students in Husson's criminal justice, forensic science, paralegal studies, and pre-law programs to meet hiring professionals in their chosen fields.
In addition, this outstanding event provides students with the opportunity to get additional information about career options they may not have previously considered. Many of the organizations participating in this event are currently hiring. Other participating organizations anticipate have openings in the near future.
The unique format of this event allows participants to investigate multiple career opportunities. Similar to speed dating, a whistle is blown every five minutes. Students then rotate to a different employer's table. This ensures that students have a chance to hear about the numerous career options showcased at the event.
According to John Michaud, assistant professor and director of the School of Legal Studies at Husson University, "Numerous law enforcement agencies currently have openings and are seeking qualified applicants. Opportunities exist at all levels. There are abundant paralegal opportunities throughout Maine and many of our pre-law students have been accepted to law schools across the country."
According to the Bureau of Labor Statistics' Occupational Outlook Handbook's Occupational Employment and Wages webpage for police and sheriff's patrol officers (May 2016), annual mean wages range from $51,260 - $69,190. Nationally, employment of police and detectives is projected to grow 4 percent from 2014 to 2024.1 
WHO: The event is open to all Husson University students as well as Husson University alumni and members of the public. Local technical centers with law enforcement programs have also been invited to send their students to this event. No appointments are required. Individuals interested in participating in the career fair can walk in and meet with organization representatives at any time during the event. Professional attire is recommended.
WHEN: Wednesday, October 18, 2017, 10 a.m. – 2 p.m.
WHERE: Richard E. Dyke Center for Family Business
Husson University
1 College Circle
Bangor, ME 04401
COMPANIES: Agencies and organizations attending this year include:
• Auburn Police Department
• Augusta Police Department
• Bangor Career Center
• Bangor Police Department
• Brunswick Police Department
• Border Patrol
• Customs and Border Protection
• Charleston Correctional Center
• Department of Public Safety
• Downeast Correctional Center
• Department of Health and Human Services/Division of Support Enforcement & Recovery (DHHA/DSER)
• Ellsworth Police Department
• Freeport Police Department
• Hampden Police Department
• Hancock County Emergency Management Agency
• Hancock County Jail
• Hancock County Regional Communication Center
• Hollywood Casino
• Husson University's Master Science in Criminal Justice Administration Program
• Homeland Security Investigations
• Kennebec County Corrections
• Kennebec County Sheriff's Office
• Lewiston Police Department
• Maine Department of Corrections
• Maine Marine Patrol
• Maine Office of Judicial Marshals
• Maine School of Law
• Maine State Police
• Maine Warden Service
• Mountain View Youth Development Center
• Naval Criminal Investigative Service (NCIS)
• Ogunquit Police Department
• Old Orchard Police Department
• Old Town Police Department
• Orono Police Department
• Penobscot County Emergency Management Agency
• Penobscot County Sheriff's Office/Jail
• Portland Police Department
• Rockland Police Department
• Reserve Officers' Training Corps (ROTC)
• Rumford Police Department
• Scarborough Police Department
• Skowhegan Police Department
• State of Maine - Office of Judicial Marshals
• University of Maine Police Department
• U.S. Marshals Service
• Wells Police Department
• Westbrook Police Department
• Winslow Police Department
WHY: The quality of Husson students who have graduated and gone on to become successful legal and criminal justice professionals has enhanced the reputation of the School of Legal Studies. As a result, Husson has seen an increased demand from law enforcement organizations interested in attending this event and recruiting our students. This will be the largest School of Legal Studies Career Day in Husson University's history.
For more than 100 years, Husson University has prepared future leaders to handle the challenges of tomorrow through innovative undergraduate and graduate degrees. With a commitment to delivering affordable classroom, online and experiential learning opportunities, Husson University has come to represent superior value in higher education. Our Bangor campus and off-campus satellite education centers in Southern Maine, Wells, and Northern Maine provide advanced knowledge in business; health and education; pharmacy studies, science and humanities; as well as communication. In addition, Husson University has a robust adult learning program. For more information about educational opportunities that can lead to personal and professional success, visit Husson.edu.
1. Bureau of Labor Statistics, Occupational Outlook Handbook, Police and Detectives, https://www.bls.gov/ooh/protective-service/police-and-detectives.htm
###
Back to All Articles