Husson University Art Exhibition Examines the Pain and Hardship of the Elderly
Published on: October 3, 2017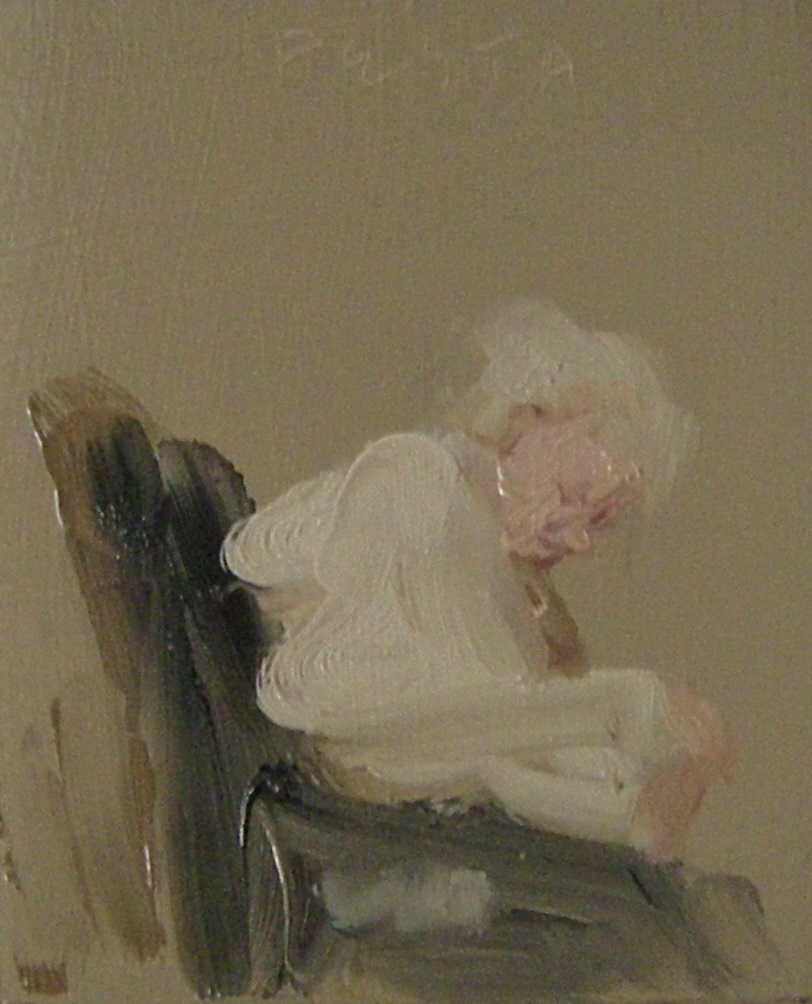 "Falling Asleep" by Donna Festa.
BANGOR, MAINE - Husson University announced today that they will be featuring an exhibition of paintings by educator and artist, Donna Festa, in the Robert E. White Gallery in Peabody Hall on its Bangor, Maine campus. The exhibition will run from Tuesday, August 29 through Friday, October 6, 2017. An artist's reception and meet and greet are scheduled for Wednesday, October 4 from 4 – 5:30 p.m.
The exhibition will include a collection of her oil paintings, inspired by the pain and psychological hardships she observed in the elderly community.
"We all have them. Those heavy burdens that we carry with us, making our shoulders droop," said Festa. "We push them down, far away from the surface. Many of us bury them with food, drink and pills. Meanwhile, these burdens make our hips wider, our hair greyer, and our worry lines deeper. Yet despite it all, we manage."
She is fascinated by the process of aging. Through her paintings, Festa captures the emotions of her subjects with the use of dark and neutral colors. She has met some of the subjects in her portraits, while others are persons she has envisioned on her own. 
Festa's educational background began at the Pennsylvania Academy of Fine Arts where she received her certificate in painting. She also attended the University of the Arts where she received her Bachelor of Fine Arts in painting with a teaching certificate. In 1996, she completed her Master of Fine Arts in painting at the University of Hartford.
Her paintings are part the permanent collections at the State Museum of Pennsylvania, and the Makeshift Museum in Los Angeles, California. In addition, her work is owned by a variety of private collectors. 
From October 12 through December 9, 2017, Festa's work will be a part of a group exhibition called "King Woman" at the Pen + Brush Gallery in New York City. Art Maze magazine will be including an article about Festa in their special, limited-edition fifth anniversary issue. The magazine with be distributed in New York, London and Berlin this fall.
Articles featuring Donna Festa's work have appeared in a variety of prestigious art-oriented publications including: Create! Magazine, Fresh Paint Magazine, ARTVOICES, Cleaver Magazine, Manifest INPA, and New American Paintings.
Galleries across the United States including New York, Chicago, Philadelphia, and San Francisco have all exhibited Festa's painting. She has also participated in exhibitions in the United Kingdom. 
Festa has been teaching at colleges and universities since 2006, getting her start at Delaware County Community College. She is now a part-time faculty member in the College of Science and Humanities at Husson's Bangor campus.
To learn more about Donna Festa and her work, visit DonnaFesta.com. 
About the Robert E. White Gallery at Husson University
Artists with connections to Maine who work in every possible medium including watercolors, oil paintings, pastels, sculptures, acrylics, photographs and etchings, are featured at the Robert E. White Gallery.
With a new show approximately every eight weeks, the gallery provides students with a glimpse into how New England artists express themselves, giving them added insight into the place where they've chosen to go to school. The gallery was established in 1992 and named for, and endowed by, Husson alumni and former Board of Trustees Chair Robert E. White '65.
The Robert E. White Gallery is free and open to the public, Monday through Friday, from 8:30 am to 4:30 pm. It is located in Peabody Hall on the campus of Husson University at 1 College Circle, Bangor, ME. For additional information contact: 207-941-7887. 
For more than 100 years, Husson University has prepared future leaders to handle the challenges of tomorrow through innovative undergraduate and graduate degrees. With a commitment to delivering affordable classroom, online and experiential learning opportunities, Husson University has come to represent superior value in higher education. Our Bangor campus and off-campus satellite education centers in Southern Maine, Wells and Northern Maine provide advanced knowledge in business; health and education; pharmacy studies; science and humanities; as well as communication. In addition, Husson University has a robust adult learning program. For more information about educational opportunities that can lead to personal and professional success, visit Husson.edu
# # #
Back to All Articles