Husson University Homecoming Weekend Begins This Friday
Published on: October 11, 2017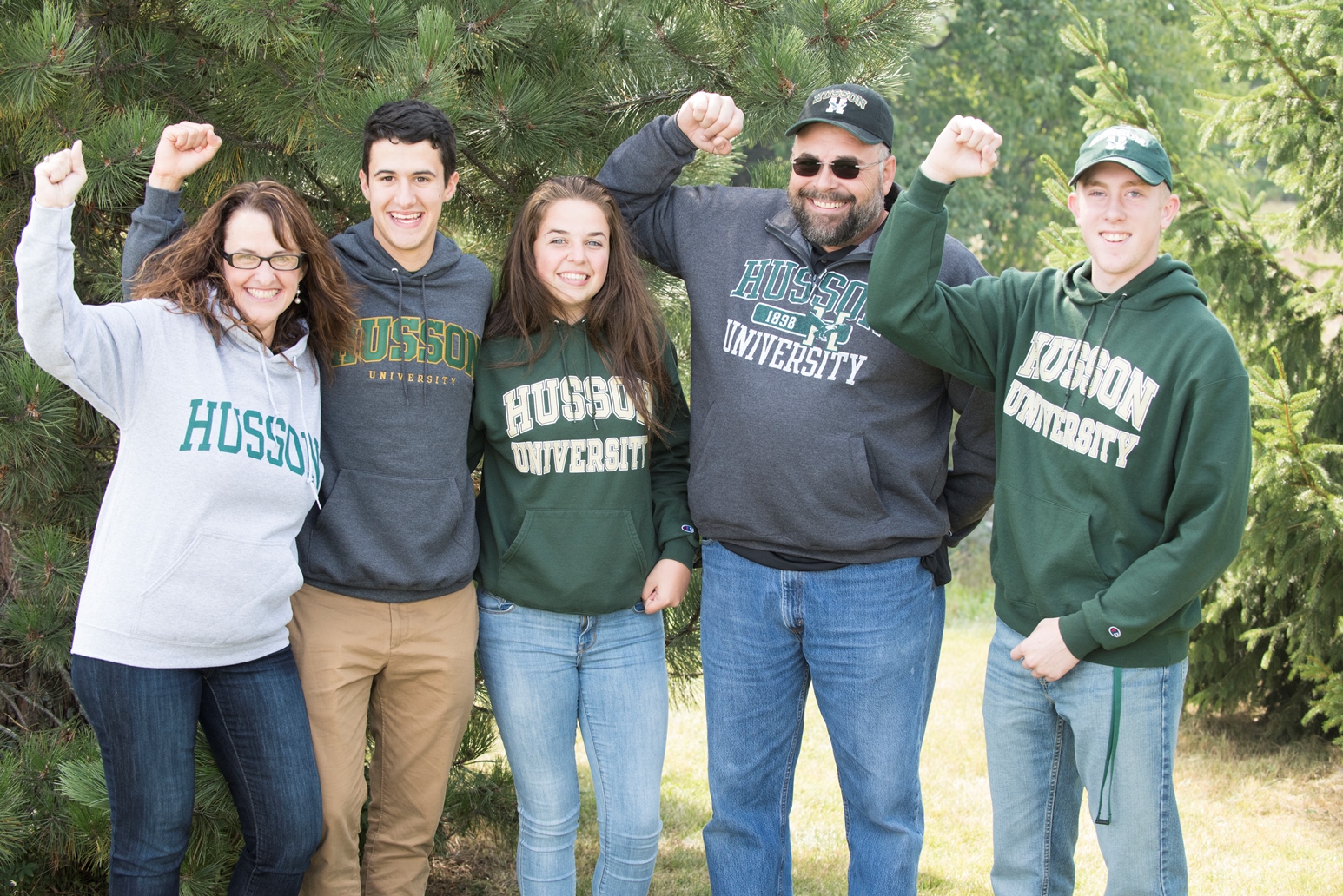 BANGOR, MAINE - Each year, Husson University's Homecoming Weekend is an excitement-filled celebration with fun for current students and alumni. This year, Husson's Homecoming Weekend takes place October 13-15.
The weekend kicks off on October 13 at 5 pm with the University's Alumni Hall of Fame induction ceremony. Each year, Husson recognizes several special individuals who have brought distinction to themselves and their alma mater through their devotion to education and professionalism. They are honored for their personal and career achievements, as well as their support of the university and its mission.
Six Husson graduates will be honored this year. Anne and Edward Baker '63, '83, '90G /'65 will receive the Presidential Outstanding Service Award. Jamie Jackson '02 will be honored as this year's young alumnus. Tracey Whitten '92 and Stephen "Jake" Jacobs '68 will be inducted into the Alumni Hall of Fame. Arlene Clifford '44 will be recognized as this year's Honorary Alumnus.
Following the Alumni Hall of Fame event is a free screening of the documentary film, "I Know a Man ... Ashley Bryan." This film profiles the renowned Maine artist Ashley Bryan. Bryan is described by the filmmakers as a "93-year-old creative wonder who skips and jumps in his heart like a child." The audience is sure to be enthralled by Bryan's story.  
Bryan served in a World War II all-black battalion and experienced the racism of a separatist Army and the carnage of D-Day. As a result, he dedicated his life to creating beauty and joy by spreading love and awe through his art. In addition to being a poet/illustrator of over 50 children's books, Bryan makes magical puppets and sea glass windows, inspired by his African heritage. His materials consist of found objects.
He lives on the remote Cranberry Islands in Maine and has been using art his entire life to celebrate joy, mediate the darkness of war and racism, explore the mysteries of faith, and create loving communities. His life story, and the art he makes from this wellspring of experience, is an inspiration to people of all ages.
After the film, at 8:00 p.m., Husson University alumni will participate in a pub crawl. This is a great opportunity for Husson graduates to experience the mouth-watering food, refreshments, and hospitality available to downtown Bangor visitors.
Homecoming weekend resumes the following day on October 14 with a tailgate celebration in parking lot #5 at 10 a.m., prior to the big football game. Those attending the tailgate can expect great food and plenty of it. Speaking of lip-smacking cuisine, at 11 a.m., parking lot #5 will feature a top chef cook-off where area chefs compete to create a sumptuous meal.
All of this leads up to the big football game when the 3-2 Castleton Spartans face the 4-1 Husson Eagles at 1 p.m. in the Dr. John W. Winkin Sports Complex. The Spartans are a solid team. This should be an exciting competition.
Sports fans who prefer soccer are welcome to cheer on the Husson women's soccer team at 3 p.m. when they take on the New England College Pilgrims at Boucher Field. After this game concludes at 5 p.m., the men's soccer teams from Husson and New England College will take the field and begin their game.
Later that evening, graduates of Husson University are invited to gather in the Campus Center at 6 p.m. for the Alumni & Friends Pre-Show Reception. This gathering will provide Husson graduates with an opportunity to see old friends and reconnect with the university prior to a musical performance by the fabulous 5th Dimension at the Gracie Theatre.
The performance kicks off at 7:30 p.m. and features everyone's favorite 60s and 70s soul-influenced vocal group, The 5th Dimension. With original member Florence LaRue, The 5th Dimension's unique sound lies somewhere between smooth, elegant soul, rhythm and blues, straightforward, adult-oriented pop, and jazz. The group is well-known for their popular hits: "Up, Up and Away," "Stoned Soul Picnic," "Medley: Aquarius/Let the Sunshine In," "Wedding Bell Blues," "One Less Bell to Answer," and "(Last Night) I Didn't Get to Sleep at All." While the show is part of Husson University's homecoming weekend celebration, members of the public are welcome to attend.
Homecoming 2017 concludes with the American Cancer Society and Husson Heroes for Hope 5K Run on Sunday, October 15. The run begins at 9:00 a.m. at Boucher Field (the soccer field). The run/walk consists of two laps around the outer Husson circle (College Circle and Kagan Drive), followed by one lap around the inner circle (College Circle) with the finish line at Boucher Field. Participants from the community are asked to please park in the lot next to the O' Keefe Softball Field (across from the soccer field). Walkers, runners, and volunteers who participate in this 5K event honor cancer survivors, raise awareness about reducing cancer risk, and raise money to help the American Cancer Society fight this dreaded disease.
The registration fee per runner is a non-refundable $30. T-shirts will be given to the first 150 entrants. If you have questions about the 5K run, please contact Stacy Duran via email at staceyduran@cancer.org or call her at 207-949-1988.
Single tickets for The 5th Dimension are $32-$61. To purchase tickets for this show, contact the Gracie Theatre's box office at 207-941-7888 or online at GracieTheatre.com.
The free documentary film screening and The 5th Dimension are just part of the slate of exciting entertainment that the Gracie Theatre will be bringing to Bangor over the next nine months.
Members of the public interested in other Gracie offerings are welcome to purchase season tickets to the four main shows that comprise this year's season at the Gracie. Season ticket holders will get a $40 discount. Single show tickets and more information about upcoming performances are available at GracieTheatre.com, Facebook, or by calling 207-941-7888.
Completed in October of 2009, the Gracie is Husson University's center for the fine and performing arts. This beautiful 500-seat theatre is quickly earning a reputation as one of Maine's premier performance venues. In addition, the Gracie also serves as a learning platform for students from the New England School of Communications in digital audio, sound mixing, set design and construction, lighting, acting and electronics. For more information, visit GracieTheatre.com.
For more than 100 years, Husson University has prepared future leaders to handle the challenges of tomorrow through innovative undergraduate and graduate degrees. With a commitment to delivering affordable classroom, online and experiential learning opportunities, Husson University has come to represent superior value in higher education. Our Bangor campus and off-campus satellite education centers in Southern Maine, Wells, and Northern Maine provide advanced knowledge in business; health and education; pharmacy studies; science and humanities; as well as communication. In addition, Husson University has a robust adult learning program. For more information about educational opportunities that can lead to personal and professional success, visit Husson.edu.
Back to All Articles