Award-Winning Illusionist to Use Time Machine to Transport Audience to Different Eras
Published on: October 16, 2017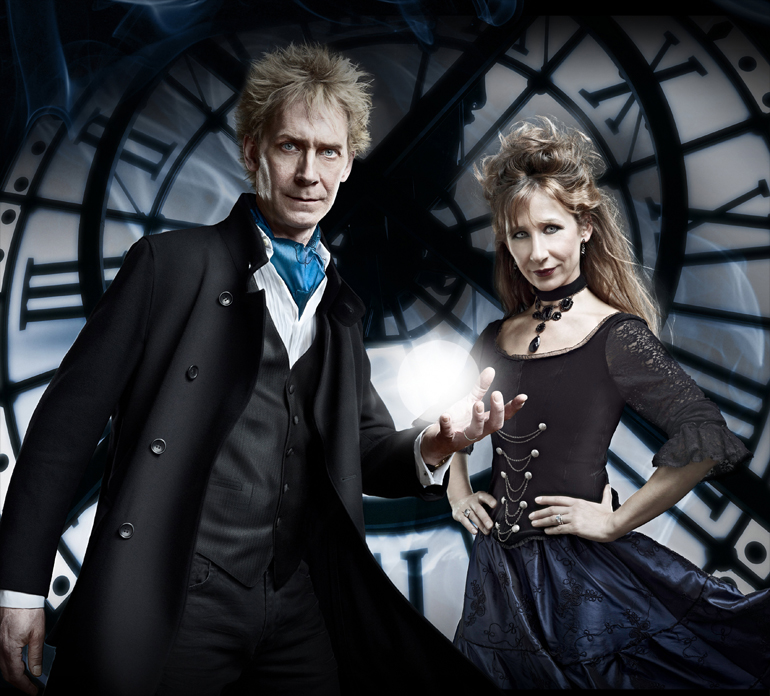 BANGOR, MAINE - Within seconds of taking the Gracie stage, Illusionist Ted Outerbridge, and his wife Marion, will hold viewers spellbound in a race against time. On Friday, October 27 at 7:30 p.m., the Gracie Theatre at Husson University will present
OUTERBRIDGE: Clockwork Mysteries
, a high-energy magical adventure for both adult and family audiences.
"We are delighted to be presenting our first-ever magical show at The Gracie. Hand-picked for its theatricality and dramatic theme, this show is one of a kind. After meeting Ted Outerbridge and hearing about the show's concept, I knew Clockwork Mysteries was a 'must-have,'" says Jeri Misler, managing director of the Gracie Theatre.
Keeping audiences enthralled from the first astonishing illusion to the spectacular finale, Ted and Marion Outerbridge fuse revolutionary illusions with split-second artistry creating an unforgettable visual experience. OUTERBRIDGE: Clockwork Mysteries takes its audience on a bizarre and fascinating journey through time. Many of the 20 illusions in the show involve an elaborate Victorian time machine in which Marion Outerbridge is transported through various eras, emerging in costumes ranging from medieval times to Victorian England to the 1960s. 
"Everyone wishes they could travel through time, go back and change the past," mused Ted Outerbridge. "Imagine being able to slow time down, speed time up, or savor a beautiful moment. A time machine makes this all possible."
The show will include a few classic illusions as well as some custom-designed by the duo. As part of the show, Marion Outerbridge is sawed in half and levitates in mid-air. Ted Outerbridge will vanish right before the audience's eyes. 
"Our show celebrates moments in time that the audience can appreciate or relate to in some way, with a blend of illusion dance and theatre. It's an exciting family-friendly night of entertainment," says Ted.
Recognized as one of the most creative and dynamic shows of its kind, critics have hailed Ted and Marion Outerbridge as "the most successful magicians in Canada" (Montreal Gazette) and "champions of magic" (Bergedorfer Zeitung, Hamburg, Germany). As the largest and most successful touring illusion show in the country, it has received both the 2011 Award of Excellence from Ontario Contact and the 2010 Touring Artist of the Year award from the British Columbia Touring Council.
OUTERBRIDGE: Clockwork Mysteries runs for one night only on Friday, October 27 at 7:30pm. Tickets for are $26.00-$36.00 and are available by calling the Gracie Theatre box office at 941-7888 or going online to www.ticketmaster.com or www.gracietheatre.com. It is a great way to celebrate the Halloween season with the family.
The Gracie's season is made possible with support from Bangor Savings Bank. The theatre gratefully acknowledges the generous support provided throughout the season by additional show sponsors including: Downeast Toyota, The Dead River Company, WBRC Architects and Engineers, The Bangor Daily News, and The Maine Edge.
Completed in October of 2009, the Gracie is Husson University's center for the fine and performing arts. This beautiful 500-seat theatre is quickly earning a reputation as one of Maine's premier performance venues. In addition, the Gracie also serves as a learning platform for students from the New England School of Communications in digital audio, sound mixing, set design and construction, lighting, acting and electronics. For more information, visit GracieTheatre.com.
For more than 100 years, Husson University has prepared future leaders to handle the challenges of tomorrow through innovative undergraduate and graduate degrees. With a commitment to delivering affordable classroom, online and experiential learning opportunities, Husson University has come to represent superior value in higher education. Our Bangor campus and off-campus satellite education centers in Southern Maine, Wells and Northern Maine provide advanced knowledge in business; health and education; pharmacy studies; science and humanities; as well as communication. In addition, Husson University has a robust adult learning program. For more information about educational opportunities that can lead to personal and professional success, visit Husson.edu.
Back to All Articles