Husson University Occupational Therapy Student, Allison N. Christensen, Receives $1,000 Margaret Louise Burckes Scholarship
Published on: September 20, 2017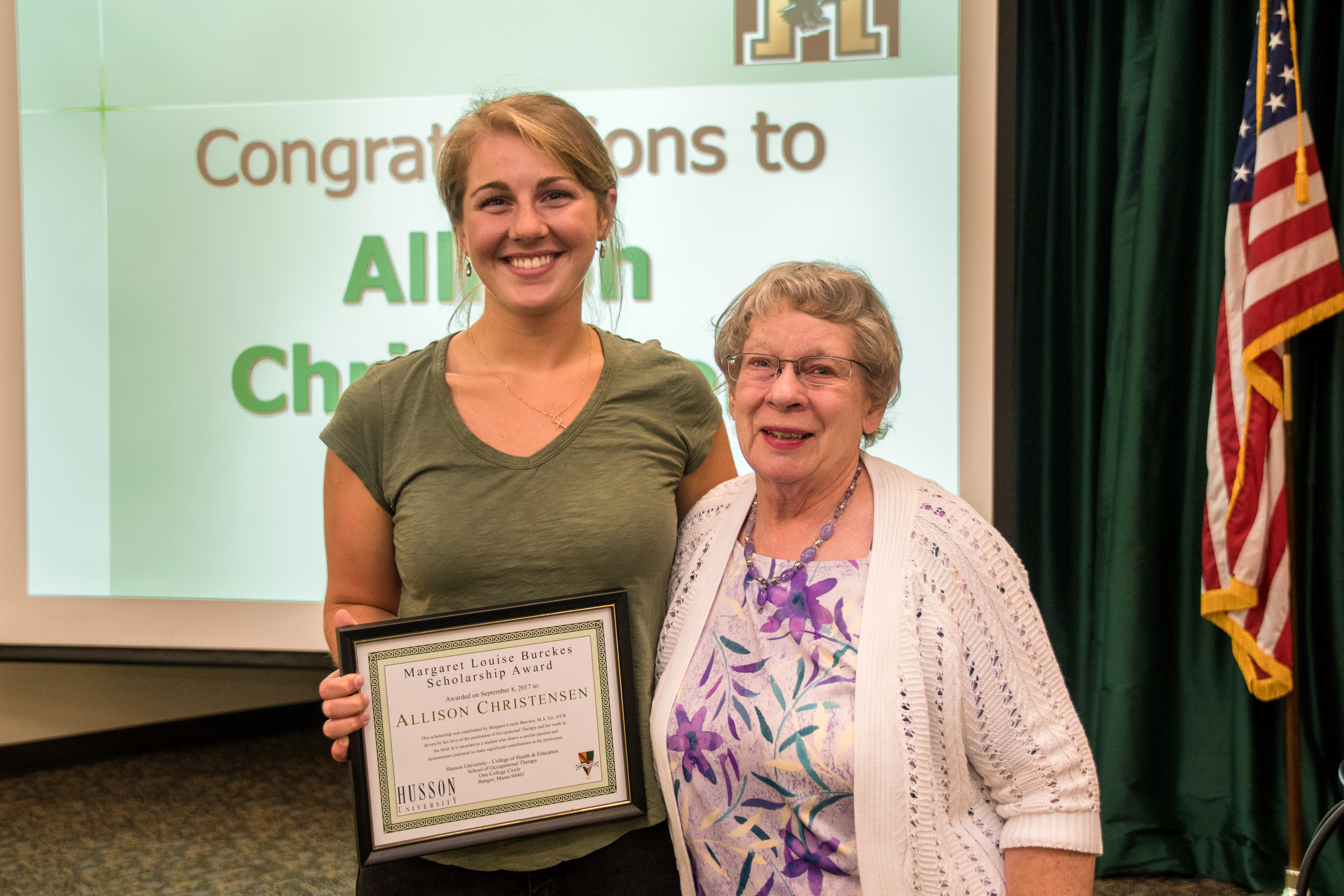 Allison N. Christensen (left) gratefully accepted a $1,000 scholarship for occupational therapy students at Husson University. The scholarship was made possible by Margaret Louise Burckes (right).
BANGOR, MAINE - Husson University announced today that Kent, New York's Allison N. Christensen, a fifth year student pursuing her Master of Science in occupational therapy, is this year's recipient of the Margaret Louise Burckes Scholarship.
Each year the Burckes Scholarship is given to a Husson University student, in good academic standing, who demonstrates a commitment to service and occupational therapy as a profession. Financial need is also taken into consideration. Recipients are selected by faculty members in Husson's School of Occupational Therapy.  
Allison's mother, Cindy Christensen, recalls how her daughter first became interested in occupational therapy. "I work at a school that has an occupational therapy department. At the time, Allison was struggling to figure out what she wanted to do with her life.  She ended up shadowing the preschool's occupational therapist and completed a research paper on this profession in high school. After learning more about occupational therapy, she decided that it would be a good career choice and she's never regretted it."
An outstanding student, Allison began her studies at Husson in the fall of 2013. She has been named to the Honors, Dean's or President's List for seven of the past eight semesters. In 2017, she graduated summa cum laude with a Bachelor of Science in healthcare studies from the University. Originally from Kent, New York, she is a graduate of Kendall Junior Senior High School. 
"Receiving this $1,000 scholarship means so much to me," said Allison. "I'm just overwhelmed that the faculty gave me this vote of confidence.  It's like they're saying, 'we believe in you and know that you have what it takes to provide care to others.'" 
Allison continued: "As part of the scholarship presentation, I got to hear about the life of Margaret Louise Burckes. One of my closest friends leaned over and whispered to me, 'she sounds just like your twin!'  I've always dreamed about going on mission trips and doing the kinds of things that Margaret has done."
This scholarship is made possible through the generosity of Margaret Louise Burckes. Burckes career afforded her the opportunity to work in rehabilitation hospitals, nursing homes, and in homecare services with people who had both mental and physical disabilities.
Over the course of her career, Burckes travelled to fifteen countries, including Singapore and Thailand, in order to serve populations in need of occupational therapy (OT) services. Prior to her work in OT, Burckes taught high school biology in Massachusetts and Connecticut.  She has lived most of her life in New England and New York State. Burckes strongly supports the work of Compassion International and has sponsored numerous children through this organization. In addition to travel, she enjoys camping, hiking, gardening, photography and is a lover of animals. 
The Margaret Louise Burckes Scholarship is just one part of a financial assistance tapestry that Husson University makes available to students. Despite being the lowest net-priced, private four-year college in Northern New England accredited by the New England Association of Schools and Colleges (NEASC), over 90 percent of Husson students qualify to receive federal, state, community and/or campus-based financial aid or scholarships. Last year, the university awarded nearly $12 million in institutional funded grants and scholarships to students.
Husson University's School of Occupational Therapy is one of the best sources of professional healthcare education in Maine. In 2016, 94 percent of Husson occupational therapy graduates passed the National Board for Certification in Occupational Therapy (NBCOT) exam within one year of graduation. As of September 2017, 96 percent of the occupational therapy students who graduated have passed their NBCOTs.
The field of occupational therapy is a dynamic, growing healthcare profession that helps people maintain, or regain the ability to participate in tasks associated with daily living. This can include a variety of activities affecting work, play, self-care, or caring for others. Occupational therapists work with people of all ages in a range of settings such as their homes, the community, hospitals and schools. They help people enjoy life to its fullest.
Occupational therapists accomplish this by utilizing creativity, flexibility and problem-solving skills to help people find practical real-life solutions to the challenges they're facing. For more information about Husson University's occupational therapy program visit
http://www.husson.edu/college-of-health-and-education/school-of-occupational-therapy/
For more than 100 years, Husson University has prepared future leaders to handle the challenges of tomorrow through innovative undergraduate and graduate degrees. With a commitment to delivering affordable classroom, online and experiential learning opportunities, Husson University has come to represent superior value in higher education. Our Bangor campus and off-campus satellite education centers in Southern Maine, Wells and Northern Maine provide advanced knowledge in business; health and education; pharmacy studies; science and humanities; as well as communication. In addition, Husson University has a robust adult learning program. For more information about educational opportunities that can lead to personal and professional success, visit Husson.edu.
Back to All Articles