The Gracie Theatre at Husson University Announces Its Sixth Season
Published on: July 27, 2017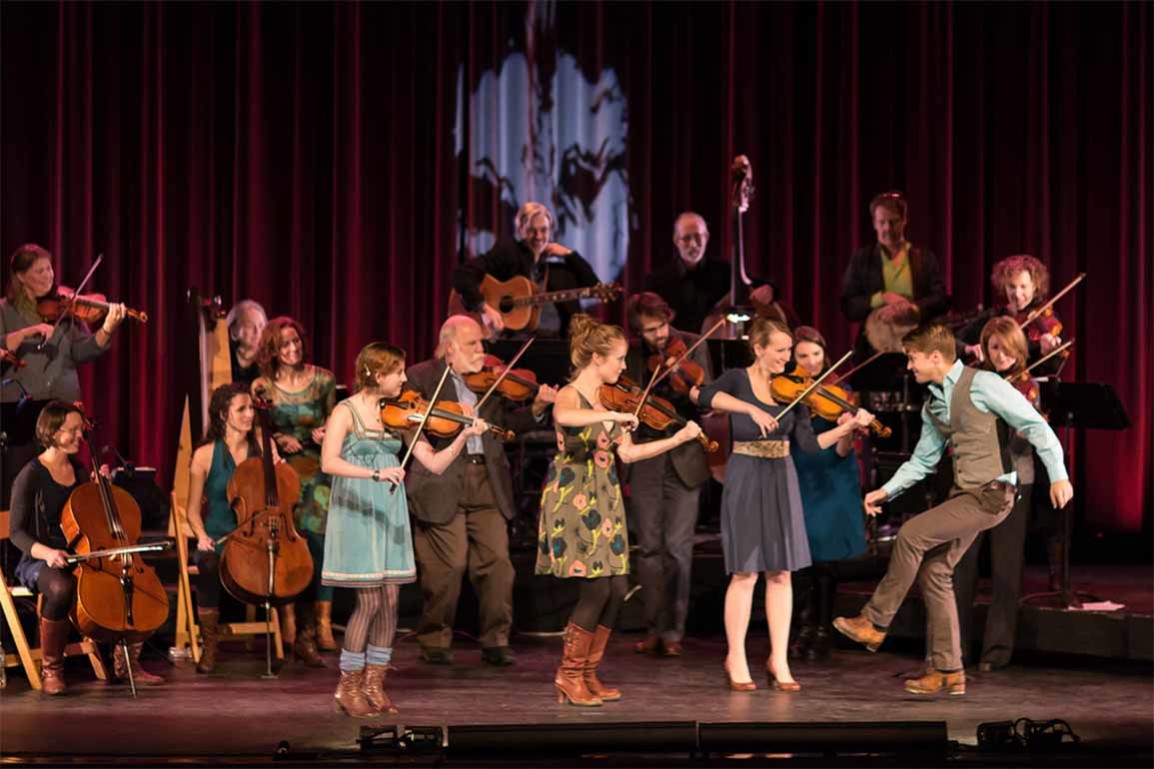 BANGOR, MAINE - The Gracie Theatre at Husson University is proud to announce the spectacular entertainment it has lined up for its sixth season. Together with founding sponsor Bangor Savings Bank, The Gracie kicks off its season on October 14 with The 5th Dimension in concert. Other acts booked for the coming year include Childsplay, Lonesome Traveler: the Concert, and country star Pam Tillis. In addition to these acts, The Gracie will also feature Clockwork Mysteries in October and Jenny Q Chai in Aqua Alta.
"This season is filled with great music. The 5th Dimension boasts a remarkable number of memorable hits, with "Up, Up and Away" being one of the most popular. Childsplay features 19 virtuoso fiddlers from the U.S. and Sweden. Equally fantastic is the Off-Broadway hit, Lonesome Traveler, which talks about the roots of folk music through song and story," says Jeri Misler, managing director of the theatre.
"If that weren't enough, we're ending the season with country star great, Pam Tillis. Each show is top-notch. This year, The Gracie is bringing some of the best in world-class entertainment to Bangor!"
The season kicks off Saturday, October 14, 2017, with The 5th Dimension. This popular 60s/70s soul-influenced vocal group features original member Florence LaRue. The 5th Dimension's unique sound lies somewhere between smooth, elegant soul, rhythm and blues, straightforward, adult-oriented pop, and jazz. The group is well-known for their popular hits: "Up, Up and Away," "Stoned Soul Picnic," "Medley: Aquarius/Let the Sunshine In," "Wedding Bell Blues," "One Less Bell to Answer," and "(Last Night) I Didn't Get to Sleep at All." While the show is part of Husson University's homecoming weekend celebration, members of the public are welcome to attend.
Celebrating 30 years of touring, Childsplay will be bringing their band of 14 fiddlers and nine all-star instrumentalists, dancers and singers to the Gracie stage on Friday, November 17, 2017. With over two dozen musicians from all over the United States and Sweden, and some of the leading virtuosos in traditional and contemporary fiddle music, Childsplay is sure to delight
music lovers of all ages. The band creates vibrant, powerful, and eclectic sounds, with a repertoire that includes the lilting beauty of Celtic jigs and airs, the driving rhythms of American country hoedowns, and the smoky improvisations of jazz.
The stirring concert version of the acclaimed Off-Broadway musical Lonesome Traveler: The Concert, warms up the winter on February 24, 2018. The show celebrates the roots of American folk music with songs by Woody Guthrie, Pete Seeger, Joan Baez, Bob Dylan, Peter, Paul and Mary, Harry Chapin, The Byrds, James Taylor, Van Morrison and more. An inspiring evening, Lonesome Traveler paints a revealing musical portrait of our cultural roots. With charismatic singers and multi-media projections, this performance will bring home the songs that have shaped generations.
Pam Tillis, the child of country music royalty, Mel Tillis, rounds out the season with a performance on April 14, 2018. Having always insisted on writing and cutting songs that speak from the soul, Pam has had an illustrious career that spans more than 30 singles on US Billboard charts, 10 studio albums including her favorite, the critically acclaimed 2002 "It's All Relative" (a tribute to her father), and three other releases including "Rhinestoned," "Recollection," and "Just In Time For Christmas." She is proud to be a nine-time Academy of Country Music Award nominee, a two-time Grammy award winner, a six-time Grammy nominee, and an American Music Award's nominee.
The Gracie Theatre season package includes premium seats for these four shows at a special discount price. The premium seats are in the middle orchestra section and are available for a limited time.
In addition to the four shows in the season ticket package, the Gracie will present the high-energy magical adventure, Outerbridge: Clockwork Mysteries in time for Halloween on Friday, October 27, 2017. This adult and family show takes its audience on a bizarre and fascinating journey through time. With the help of an elaborate Victorian time machine, the performers and spectators become part of a race against time, while experiencing time accelerating and slowing down. Audience members will be able to participate in predicting the contents of a time capsule. Recognized as one of the most creative and dynamic shows of its kind, critics have hailed Ted and Marion Outerbridge as "the most successful magicians in Canada" (Montreal Gazette). The largest and most successful touring illusion show in the country, Clockwork Mysteries has received both the 2011 Award of Excellence from Ontario Contact and the 2010 Touring Artist of the Year award from the British Columbia Touring Council.
Every year, The Gracie is home to a series of classical performances. This winter, Husson and The Gracie welcome pianist Jenny Q. Chai's unique program, Acqua Alta on Thursday, February 1, 2018. An artist of electrifying vision and intellect, pianist Jenny Q Chai is known for her expressive technique and for the beauty of her programming, which explores the intersections of music with artificial intelligence, history, visual art, and technology.
After years of intense collaboration, Chai created her Acqua Alta (High Water) project combining sound and video installations based on the global warming data of NASA jet propulsion scientist Dr. Ian Fenty. The partnership with Dr. Fenty focuses on the effects of global warming on Earth's oceans. The program moves rapidly through musical history, telling a tale of our changing oceans along the way. Dr. Fenty will open the concert that evening with an introduction to his work on climate change.
The Gracie's season is made possible with support from Bangor Savings Bank. The theatre gratefully acknowledges the generous support provided throughout the season by additional show sponsors including: Downeast Toyota, The Dead River Company, WBRC Architects and Engineers, The Bangor Daily News, and The Maine Edge.
Season tickets are currently available at $145.00 for the four main shows, which entitles purchasers to premium seating for each show at a 30% discounted rate. Single show and season tickets are available at www.gracietheatre.com, Facebook, or by calling 207-941-7888. Tickets range in price from $28.00--60.00 depending on the fees and the show.
Completed in October of 2009, the Gracie is Husson University's center for the fine and performing arts. This beautiful 500-seat theatre is quickly earning a reputation as one of Maine's premier performance venues. In addition, the Gracie also serves as a learning platform for students from the New England School of Communications in digital audio, sound mixing, set design and construction, lighting, acting and electronics. For more information, visit GracieTheatre.com.
For more than 100 years, Husson University has prepared future leaders to handle the challenges of tomorrow through innovative undergraduate and graduate degrees.  With a commitment to delivering affordable classroom, online and experiential learning opportunities, Husson University has come to represent superior value in higher education.  Our Bangor campus and off-campus satellite education centers in Southern Maine, Wells and Northern Maine provide advanced knowledge in business; health and education; pharmacy studies; science and humanities; as well as communication.  In addition, Husson University has a robust adult learning program.  For more information about educational opportunities that can lead to personal and professional success, visit Husson.edu.
Back to All Articles