Husson University School of Pharmacy Students Explore New Educational Frontiers
Published on: July 11, 2017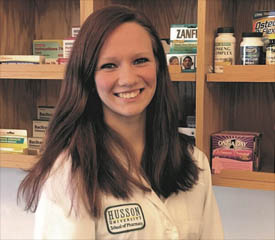 BANGOR, MAINE - Many students find the prospect of curing diseases, or decoding the mysteries of biological and chemical processes, appealing. For these students, Husson University's School of Pharmacy has designed a program that can help these aspiring scientists get great jobs and achieve career success.
The Master of Science in Pharmacology is for students who want to pursue a career in scientific research. This degree provides students with an in-depth understanding of laboratory bench skills, pharmacology, and toxicology.
Reagan Scott was the first student to enroll in Husson University's Master of Science in Pharmacology program. The degree is offered by the Department of Basic Pharmaceutical Sciences at Husson University's School of Pharmacy. Over the next two-and-a-half-years, Scott will complete both her Doctor of Pharmacy (Pharm.D.) degree and this research-oriented master's degree concurrently. Originally from Michigan, Scott has been active in the School of Pharmacy. She is current serving as president of the Pharm.D. Class of 2019.
"It's a rigorous program but it prepares you for a professional career as a scientific researcher. Beyond being a pharmacist, I'll have the background necessary to work with a team, and make contributions to science that expand our understanding of the human body's chemical processes and how they work," said Scott. 
One unique element of Husson University's Master of Science in Pharmacology program is that it focuses on industry regulatory issues. "Students who complete a Master of Science in Pharmacology degree will gain an in-depth knowledge of regulatory issues," said James Westhoff, director of career services at the University's Center for Student Success. "Today's research laboratory and pharmaceutical industry employers need people with regulatory expertise."
According to the Bureau of Labor Statistics Occupational Outlook Handbook, the median pay for pharmacists in 2016 was $122,230 per year. The median pay in 2016 for medical scientists was $80,530 per year.
That was good news for Roger Ewer, a non-traditional student who graduated with a Doctor of Pharmacy (Pharm.D.) degree from Husson University in 2017. Unlike traditional students who live and study on campus, Ewer began his journey toward his doctorate holding down a full-time job at a phone company, while helping to support a wife and five sons.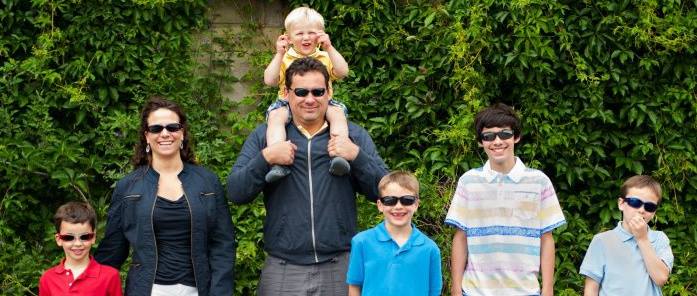 During this time, Ewer took advantage of Husson University's flexible learning options and completed as many undergraduate credits as he could. This allowed him to balance his job and family responsibilities as he worked toward his degree. Ewer then became a full-time student. His wife financially supported the family while Ewer went to school.
"It's was great to have degree options as I worked toward completing my doctorate. Part of the reason why I enrolled at Husson was their variety of programs. While I'm glad I became a pharmacist, it was great to know that if my interests changed, Husson had me covered," said Ewer. "The smaller class sizes, and the approachability of the faculty and administration at the School of Pharmacy, helped make the whole experience worthwhile."
Founded in 2008, the Husson University School of Pharmacy is accredited by the Accreditation Council for Pharmacy Education (ACPE). The School graduated its first class with Doctorate of Pharmacy (Pharm.D.) degrees in May 2013. Since the School of Pharmacy has one of the lowest student-to-faculty ratios, students are able to get the individualized attention they deserve. On July 15, the PharmCAS online portal begins accepting applications for Fall 2018 admission. Applicants interested in applying for admission to Husson University's School of Pharmacy should visit pharmcas.org.
For more than 100 years, Husson University has prepared future leaders to handle the challenges of tomorrow through innovative undergraduate and graduate degrees. With a commitment to delivering affordable classroom, online and experiential learning opportunities, Husson University has come to represent superior value in higher education. Our Bangor campus and off-campus satellite education centers in Southern Maine, Wells, and Northern Maine provide advanced knowledge in business; health and education; pharmacy studies; science and humanities; as well as communication. In addition, Husson University has a robust adult learning program. For more information about educational opportunities that can lead to personal and professional success, visit Husson.edu.
Back to All Articles