Whole Lotta Shakin' Goin' On at the Gracie Theatre's "Celebrate Husson" Event
Published on: June 8, 2017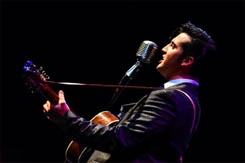 BANGOR, MAINE - It'll be a night of rockabilly, country, gospel and pure 1950's rock 'n' roll when One Night in Memphis, comes to the Gracie Theatre on Saturday, June 24, 2017 at 7:30 p.m. The show is a high energy concert that takes you back to December 4, 1956 – the night when four of the biggest names in early rock 'n' roll; Elvis Presley, Carl Perkins, Jerry Lee Lewis and Johnny Cash – gathered together for an impromptu jam session at the legendary Sun Studios in Memphis.
"This show is an absolute must for anyone who loves the music of the 50s," says Jeri Misler, managing director of the theatre. "One Night in Memphis audience members will feel as though they're in the same room with four legendary performers whose music stands the test of time."
This production features an authentic, energetic rockabilly backup band and superb cast members who sound, look, and act like the original legends.
Created and directed by John Mueller from the highly acclaimed show, "Winter Dance Party," One Night in Memphis has generated similar accolades, sell-out shows and audience standing ovations.
The show gets off to a rockin' start with a performance of Carl Perkins' hits including; "Honey Don't," "Brown-Eyed Handsome Man," and "Blue Suede Shoes." Between songs, the actor shares anecdotes about Perkins' life as a sharecropper's son and his musical influences.
Midway through his set, the actor portraying Perkins invites session musician "Jerry Lee Lewis" to join him. Lewis, who was also known as "The Killer," seizes the opportunity to front the band and lead the audience on a musical journey from New Orleans to 
Nashville and eventually into the Rock 'n Roll Hall of Fame.  His set includes "High School Confidential", "Breathless, "Whole Lotta Shakin' Goin' On," and "Great Balls of Fire."
Just as the audience tries to catch their breath, the next performer is welcomed to the stage and opens with "Hello, I'm Johnny Cash." The musical journey through Cash's timeless catalog begins and includes the smash hits "Folsom Prison Blues," "Ring of Fire," and "I Walk the Line." 
Wrapping up the evening is "Elvis Presley." He electrifies the audience with a performance that harkens back to when "The King" went from driving a truck to delivering 11 number-one hits between 1956 -1959. Audience members will thrill to songs like "Shake, Rattle & Roll," "All Shook Up," "Heartbreak Hotel," "Don't Be Cruel," and "Hound Dog."
The concert is part of the University's "Celebrate Husson" event. This weekend of fun runs from Friday, June 23 to Sunday, June 25 and includes a golf tournament, a lobster bake, an all-alumni reception and the One Night in Memphis performance in the Gracie Theatre. For more information about Celebrate Husson! visit https://campaign.husson.edu/celebratehusson.html
Tickets for One Night in Memphis range from $25 - $38 for orchestra or balcony seats. To reserve tickets, call the Gracie Theatre box office at 207-941-7888 or visit www.gracietheatre.com.
This show is another example of the slate of exciting entertainment that the Gracie Theatre brings to Bangor. Additional information is available on the theatre's website, Facebook page, or by calling the box office.
Completed in October of 2009, the Gracie Theatre is Husson University's center for the fine and performing arts. This beautiful 500-seat theatre is quickly earning a reputation as one of Maine's premier performance venues. In addition, The Gracie also serves as a learning platform for students from the New England School of Communications in digital audio, sound mixing, set design and construction, lighting, acting and electronics.
For more than 100 years, Husson University has prepared future leaders to handle the challenges of tomorrow through innovative undergraduate and graduate degrees. With a commitment to delivering affordable classroom, online and experiential learning opportunities, Husson University has come to represent superior value in higher education. Our Bangor campus and off-campus satellite education centers in Southern Maine, Wells, and Northern Maine provide advanced knowledge in business; health and education; pharmacy studies; science and humanities; as well as communication. In addition, Husson University has a robust adult learning program. For more information about educational opportunities that can lead to personal and professional success, visit Husson.edu.
Back to All Articles