Husson University Symposium on Ethics to Focus on Science and Religion
Published on: June 8, 2017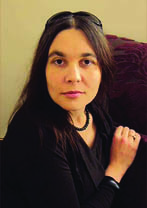 BANGOR, MAINE - The Husson University Symposium on Ethics in partnership with the Bangor Pastor-Theologian Project will be hosting a presentation by Dr. Fern Elsdon-Baker, the director of the Centre for Science, Knowledge and Belief in Society at Newman University at Birmingham in the United Kingdom.
Invited by Dr. William Johnson, an ethics professor at Husson and a member of the Bangor Pastor-Theologian Project, Dr. Elson-Baker's presentation will focus on the relationship between evolutionary science and religion and ask whether these two ways of explaining the world conflict with one another. She will emphasize the need for atheists, agnostics and people of faith to treat each other with respect.
"Dr. Elsdon-Baker's presentation will help symposium attendees better understand the gap between those who have faith and those who do not," said Clifton Guthrie, Ph.D., professor of ethics and humanities at Husson University's College of Science and Humanities. "It's my hope that her lecture will help bridge the gap between people who look at the world from different perspectives."
More about Dr. Elsdon-Baker:
Dr. Fern Elsdon-Baker leads the Science and Religion: Exploring the Spectrum project. This international research program explores public perceptions of evolutionary theories and looks for ways we can open-mindedly communicate about science. She is a lifelong atheist who began her academic life studying environmental science. Her doctoral studies focused on the history and philosophy of the theory of evolution. Since earning her doctorate, her research has focused on theories of inheritance, science communication, and its relationship to the production of scientific knowledge from the 1800s to the present. 
In 2009, Dr. Elsdon-Baker published a book called, The Selfish Genius: How Richard Dawkins Rewrote Darwin's Legacy. She led the Darwin Now project, a multimillion-pound global initiative that celebrated the life and work of Charles Darwin. Subsequently, Dr. Elsdon-Baker directed the British Council's Belief in Dialogue program, a multiregional portfolio of intercultural and interfaith dialogue projects that explore how we can live peacefully with diversity and difference in an increasingly pluralistic world.
Dr. Patricia Bixel, dean of the College of Science and Humanities at Husson University had this to say about the upcoming presentation: "Beyond practical, career-focused programs, Husson University and the College of Science and Humanities are committed to exploring big questions that have complex answers. Conflicts among individuals and cultures grounded in issues of faith have persisted for centuries. Events like this are opportunities for a diverse conversation based on tolerance and civil discourse, a form of engagement critical to our society."
The presentation by Dr. Fern Elsdon-Baker will take place on Saturday, June 3 at 5:00 p.m. at Husson University's Richard E. Dyke Center for Family Business in Bangor. The event is free and open to the public. 
If you would like more information about the upcoming presentation, or if you need to talk to someone about special arrangements or accommodations, please contact Cliff Guthrie, professor of ethics and humanities at guthriec@husson.edu or 207 941-7760.
For more than 100 years, Husson University has prepared future leaders to handle the challenges of tomorrow through innovative undergraduate and graduate degrees. Today, Husson has over 4,000 alumni in Southern Maine and a network of more than 20,000 alumni nationwide. With a commitment to delivering affordable classroom, online and experiential learning opportunities, Husson University has come to represent superior value in higher education. Our Bangor campus and off-campus satellite education centers in Southern Maine, Wells, and Northern Maine provide advanced knowledge in business; health and education; pharmacy studies; science and humanities; as well as communication. In addition, Husson University has a robust adult learning program. For more information about educational opportunities that can lead to personal and professional success, visit Husson.edu.
Back to All Articles