Husson University's College of Business Launches New Integrated Technology Degree
Published on: June 23, 2017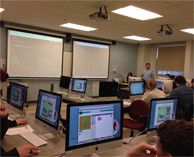 BANGOR, MAINE - Husson University announced today that the College of Business will be offering new associate and bachelor's degrees in integrated technology starting this fall. Degree concentrations in computer information systems; software development; and website design and development will be available to those pursuing a Bachelor of Science in Integrated Technology.   
"To create these exciting new programs, we combined curricula and faculty members from the New England School of Communications and the College of Business," said Dean Marie Hansen, Ph.D. "The resulting educational offerings take the best of some existing degree programs and combine them in ways that give students more choice and a more comprehensive understanding of integrated technology."
The Bachelor of Science in Integrated Technology from Husson University is designed to provide students with the skills they need to help organizations achieve business goals by creating computer information systems, developing software, and engaging in web design and development. The comprehensive program provides students with an in-depth understanding of enterprise software and specialized utility programs. The hands-on curriculum teaches students to effectively analyze customer needs and develop solutions. 
As part of the program, students will learn how to identify issues and problems; collect and analyze data; summarize and present findings; manage projects; and engage in effective client communication.
Graduates of this degree program will be highly trained professionals with expertise in areas ranging from building direct hardware interfaces to enterprise application development.
Students will also now be able to combine their Bachelor of Science in Integrated Technology with a Master of Business Administration (MBA) and complete both degrees in a reduced amount of time. At the master's degree level, students can obtain additional concentrations in either biotechnology and innovation, healthcare management, hospitality and tourism management, risk management, organizational management or athletic administration.
"Adding an MBA to your undergraduate integrated technology degree is a terrific option," said Michael Knupp, an assistant professor of information technology at Husson University's School of Business and Management. "In the past, many students would enroll in our software development or webmedia programs. Unfortunately, these programs didn't give students the option to graduate with a bachelor's degree and a master's degree in five years."
"Now, with the new Bachelor of Science in Integrated Technology/MBA program, students can get two degrees that will provide them with advanced technology and business skills. The combination of these two degrees will help graduates be even more prepared for successful careers in technology," concluded Knupp.
For working professionals interested in an abbreviated program of study, Husson University's College of Business will be offering certificate programs in integrated technology. The credits earned as part of these certificate programs can be applied toward a bachelor's degree if students are interested in furthering their studies later.
The U.S. Department of Labor, Bureau of Labor Statistics is projecting increased job demand for individuals pursuing careers in computer and integrated technology. According to the Bureau's Occupational Outlook Handbook, job opportunities for computer and integrated technology professionals are projected to grow 12 percent from 2014 to 2024, faster than the average for all occupations.
This will be the result of an increased emphasis on cloud computing, the collection and storage of big data, and the need for more everyday items to become connected to the "Internet of Things." Continued demand for mobile computing will also increase demand for these professionals.
The handbook also stated that the median annual wage for computer and information technology professionals was $82,860 as of May 2016.
In an effort to help fill this need for qualified professionals, Husson University has been collaborating with organizations like Project>Login. "Students that take a computer science course in high school are six times more likely to major in a computer science-related field at the post-secondary level," said Dr. Jason Judd, program director for Educate Maine's Project>Login. 
Other recent outreach efforts by Husson University faculty members included presentations at the New England Celebration of Women in Computing (NECWIC) conference sponsored by the regional Association for Computing Machinery – Women. For several years, Husson University has also been an active participant in Hour of Code. This international program makes technology fun and approachable by giving high school students hands-on experience in computer programming.
Husson University integrated technology faculty members have also contributed to the success of The Maine Science Festival in Bangor. Their workshops have provided high school students attending these sessions with the opportunity to learn about the world of computer programming, video game design, computers, and website construction. This fall, Husson University's College of Business will be offering a career fair and a panel discussion for students interested in learning more about technology-related fields and technology companies.
For more information about any of these new integrated technology degree and certificate educational programs, please visit husson.edu/college-of-business/integrated-technology. You can also contact Husson University's Office of Admissions at 207.941.7000 or admit@husson.edu.
For more than 100 years, Husson University has prepared future leaders to handle the challenges of tomorrow through innovative undergraduate and graduate degrees. With a commitment to delivering affordable classroom, online and experiential learning opportunities, Husson University has come to represent superior value in higher education. Our Bangor campus and off-campus satellite education centers in Southern Maine, Wells, and Northern Maine provide advanced knowledge in business; health and education; pharmacy studies, science and humanities; as well as communication. In addition, Husson University has a robust adult learning program. For more information about educational opportunities that can lead to personal and professional success, visit Husson.edu.
Back to All Articles