Golf, Run, Reunion, Food and a Show: They're All Part of Celebrate Husson!
Published on: June 1, 2017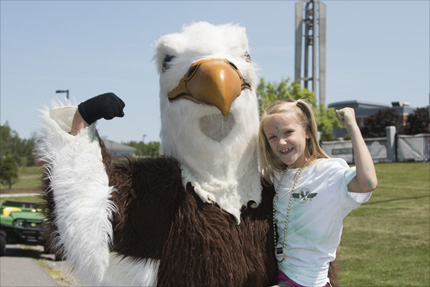 BANGOR, MAINE - Husson alumni and members of the community are invited to participate in Celebrate Husson! on Friday, June 23 – 25. With events for children and adults, the three-day event offers fun for everyone. 
Celebrate Husson! kicks off on Friday, June 23, 2017 with a golf tournament at the Bangor Municipal Golf Course. Husson alumni and friends of Husson are welcome to participate. Coordinated by Husson Eagle Athletics, the shotgun start is at 11:30 a.m.
On the following day, events kick off with a "Run for the Gold." This fun run is divided into four major categories. For adults, there's a 5K run. Registration is $25. There's also a student version of the 5K run that only costs $10.
For those who prefer a slightly slower pace, the "Run for the Gold" offers a one mile, fun run/walk for everyone 10 and older. Children nine-years-old and under can participate in the one mile fun run/walk for free. 
Registration for all four "Run for the Gold" events begins at 9:30 a.m. at the Gardner Basketball Court on Husson University's Bangor campus. Registered participants should meet on College Circle at 10 a.m. to begin the festivities.
As Celebrate Husson! moves into the evening, attendees will have even more opportunities for great food and entertainment. All Husson alumni are invited to reconnect, reminisce, and re-engage as part of the University's Class Reunion from 4 p.m. – 5:30 p.m. in a tent next to the Richard E. Dyke Center for Family Business. The 50th, 25th and 10th reunion classes—those from 1967, 1992 and 2007, respectively-- will be specially honored at the All-Alumni Reunion Reception as they share recollections about their years at Husson and take in the many changes that have taken place since they were in school.
The reception concludes at 5:30 p.m. and is immediately followed by a lobster bake. Fresh Maine lobster will be served to event participants in the same tent as the All-Alumni Reunion Reception. There is a $25 charge to attend the lobster bake. Husson University has also instituted a kid's price of $12 per child for all children 12 and under who won't be eating lobster.   
While the lobster bake will feature servings of everyone's favorite crustacean, those who prefer non-lobster choices can feast on other sumptuous summer selections, including chicken and burgers.
Capping off the Celebrate Husson! events at 7:30 p.m. on June 24 is an evening of rockabilly, country, gospel and pure 1950's rock 'n' roll when One Night in Memphis, comes to the Gracie Theatre. The show is a high energy concert that takes audience members back to December 4, 1956 – the night when four of the biggest names in early rock 'n' roll; Elvis Presley, Carl Perkins, Jerry Lee Lewis and Johnny Cash – gathered together for an impromptu jam session at the legendary Sun Studios in Memphis.
This production features an authentic, energetic rockabilly backup band and superb cast members who sound, look, and act like the original legends. Tickets for One Night in Memphis are $35 each.
Those who choose to attend both the lobster bake and One Night in Memphis are eligible to purchase combined tickets at a reduced price. Tickets for adults to both events are available for $50 – a 16 percent savings. 
Celebrate Husson concludes on Sunday, June 25 with the 50th Class Reunion Breakfast. The breakfast is open to all alumni. Those interested in enjoying a variety of breakfast favorites prepared by Husson University's award-winning dining services staff are invited to gather at the G. Peirce Webber Campus Center in Peabody Hall. Breakfast service begins at 8:30 a.m.
To register for all or part of Celebrate Husson! visit https://campaign.husson.edu/events.html
For more than 100 years, Husson University has prepared future leaders to handle the challenges of tomorrow through innovative undergraduate and graduate degrees. With a commitment to delivering affordable classroom, online and experiential learning opportunities, Husson University has come to represent superior value in higher education. Our Bangor campus and off-campus satellite education centers in Southern Maine, Wells, and Northern Maine provide advanced knowledge in business; health and education; pharmacy studies; science and humanities; as well as communication. In addition, Husson University has a robust adult learning program. For more information about educational opportunities that can lead to personal and professional success, visit Husson.edu.
Back to All Articles