Smart Business Seminar Series to Focus on Shareholder/Limited Liability Corporation Agreements and Member Agreements
Published on: May 9, 2017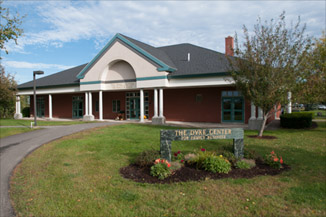 BANGOR, MAINE - Husson University and the law firm of Eaton Peabody announced today that their third workshop in the Smart Business Seminar Series would be focusing on shareholder/limited liability corporation agreements and member agreements. The seminar will be at the Richard E. Dyke Center for Family Business on the Bangor, Maine campus of Husson University on Wednesday, May 17, 2017 from 9 a.m. – 11 a.m.  
"This is a vitally important topic for small business owners who want to understand the benefits and challenges associated with different legal options for organizing their companies," says Husson University College of Business Dean Dr. Marie Hansen. "Personal liability, participation in management, and the dissolution of assets in the event a business fails are all affected by how companies are structured as legal entities."
The upcoming seminar features two knowledgeable presenters:
The first is Eaton Peabody Shareholder Dan S. Pittman. Pittman will be focusing on the tax considerations associated with these agreements during the presentation.
According to his Eaton Peabody biography, Pittman's practice focuses on municipal finance and tax matters for businesses, tax-exempt organizations and individuals. He has extensive experience representing clients on international, federal and state tax matters. Pittman assists clients at every stage of organizational development. This includes providing advice on organizational structuring, drafting organizational documents, and advising client on tax-efficient structures for acquisitions and dispositions of assets and businesses.
Joining Pittman will be the Chair of Eaton Peabody's Business Practice Group Gretchen Jones. Jones has extensive experience in representing businesses and financial institutions in transactional matters, according to her Eaton Peabody biography. She also represents individuals and business entities in business succession, transition planning, estate planning and administration. Her expertise encompasses serving as general outside counsel; governance; regulatory compliance; finance; charter conversions; and mergers, acquisitions and reorganizations.
"Running your own business can be complex. Business owners need to make informed decisions about taxes, shareholder or member interests, assets, and estate planning while complying with state and federal regulations," says Jones. "Working together with Husson University and the Richard E. Dyke Center for Family Business, this seminar series has provided Eaton Peabody with an opportunity to inform local business owners about the critical issues they need to address in order to plan effectively for the future."
A continental breakfast will be available at the upcoming presentation. Individuals interested in registering for the upcoming Smart Business Seminar Series event should contact Nate Levesque via email at nlevesque@eatonpeabody.com. The seminar is free and open to the public.
Founded in 1939, Eaton Peabody is a community-based law firm with over 50 attorneys serving New England and Atlantic Canada from offices in Augusta, Bangor, Brunswick, Ellsworth, and Portland. The firm offers broad legal expertise through a variety of focused practice groups led by some of Maine's leading attorneys. For more information, visit eatonpeabody.com.
For more than 100 years, Husson University has prepared future leaders to handle the challenges of tomorrow through innovative undergraduate and graduate degrees. With a commitment to delivering affordable classroom, online and experiential learning opportunities, Husson University has come to represent superior value in higher education. Our Bangor campus and off-campus satellite education centers in Southern Maine, Wells, and Northern Maine provide advanced knowledge in business; health and education; pharmacy studies; science and humanities; as well as communication. In addition, Husson University has a robust adult learning program. For more information about educational opportunities that can lead to personal and professional success, visit Husson.edu.
Back to All Articles