Over 72% of Husson University School of Pharmacy Students Make a Six-Figure Annual Income After Graduation
Published on: May 15, 2017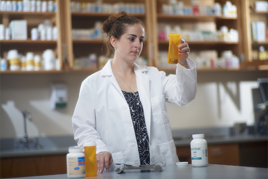 BANGOR, MAINE - A recent survey conducted by Career Services at Husson University has revealed that higher education continues to lead to higher earnings. Data from a survey of 2015 and 2016 Husson University Doctor of Pharmacy degree graduates revealed that 72.7 percent of the survey respondents were making $100,000 a year or more within a year of graduation.
Future research will help determine if this percentage would be even higher within two or three years of graduation. A portion of Husson graduates may be continuing their education with pharmacy residencies immediately after earning their doctorate. These residencies are full-time jobs that pay between $40,000 - $45,000/year. Most residencies are 1-2 years long and lead to six-figure positions.
"The Doctor of Pharmacy (Pharm.D.) degree at Husson University is a rigorous program. Those who complete this degree will have the skills and knowledge demanded by today's employers," said Rodney A. Larson, Ph.D., R.Ph., founding dean of the Husson University School of Pharmacy.
According to the United States Department of Labor, Bureau of Labor Statistics' Occupational Outlook Handbook, the median annual wage for pharmacists was $122,230 in May 2016. An aging population and an increased demand for prescription medications will lead to more demand for pharmaceutical services.
The survey conducted by Career Services also found that 87.7 percent of Pharm.D. graduates were working full-time, while 7.7 percent of Pharm.D. graduates were working part-time.
Those who complete a Pharm.D. degree are qualified to work in pharmacies, including those in grocery and drugstores. In addition to retail environments, those with a Pharm.D. degree can also work in hospitals, research laboratories and other healthcare facilities as research pharmacists.
Several factors may be contributing to the career success of Husson University School of Pharmacy graduates.
First, the Husson University School of Pharmacy has a strong peer network. "Husson has taught me to challenge limits and embrace new opportunities," said Courtney Colligan, Husson University Class of 2018, Doctor of Pharmacy candidate. "Being surrounded by people striving for success, and who are there to lift you higher, has really helped in developing my career."
In addition to fellow students, Husson University has a faculty dedicated to helping students make the most of their education. Many of the School of Pharmacy's faculty members are some of the nation's leading experts in their field. While Husson University prides itself as a teaching institution, the importance of faculty scholarship and research to contemporary pharmacy education is highly valued. As a result, the School of Pharmacy has been able to attract nationally renowned educators with expertise in wound healing, protein mutations, cancer prevention, and national board certification in the specialty areas of pharmacotherapy.
This year's graduation will feature four unique individuals. In addition to earning their Doctor of Pharmacy (Pharm.D.) degree, these students simultaneously completed a Master of Business Administration (MBA) degree. This powerful combination will allow these four students to excel in both the business and healthcare-oriented segments of the pharmaceutical industry. An educational degree combination like this is ideal for students interested in working for a large pharmaceutical company, retail chain or starting their own retail drug store.   
Founded in 2008, the Husson University School of Pharmacy is accredited by the Accreditation Council for Pharmacy Education (ACPE). The School graduated its first class with Doctorate of Pharmacy (Pharm.D.) degrees in May 2013. Since the School of Pharmacy has one of the lowest student-to-faculty ratios, students are able to get the individualized attention they deserve. 
More recently, the School of Pharmacy launched a Master of Science in Pharmacology program. Designed for individuals who want to pursue a career in scientific research, this degree provides students with an in-depth understanding of laboratory bench skills, pharmacology, and toxicology. Unlike other master's degree programs, Husson University's Master of Science in Pharmacology also focuses on industry regulatory issues. Hiring qualified professionals with a knowledge of regulatory issues is an important priority for today's research laboratory and pharmaceutical industry employers. 
For more than 100 years, Husson University has prepared future leaders to handle the challenges of tomorrow through innovative undergraduate and graduate degrees. With a commitment to delivering affordable classroom, online and experiential learning opportunities, Husson University has come to represent superior value in higher education. Our Bangor campus and off-campus satellite education centers in Southern Maine, Wells, and Northern Maine provide advanced knowledge in business; health and education; pharmacy studies; science and humanities; as well as communication. In addition, Husson University has a robust adult learning program. For more information about educational opportunities that can lead to personal and professional success, visit Husson.edu.
Back to All Articles