James F. Dicke II to Deliver Husson University Commencement Address
Published on: May 3, 2017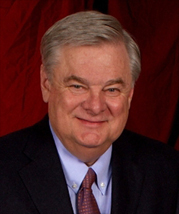 BANGOR, MAINE - James F. Dicke II, chairman and chief executive officer of the Crown Equipment Corporation will deliver the commencement address to the Class of 2017 at Husson University's 118th Annual Commencement Exercises at the Cross Insurance Center in Bangor, Maine. The graduation ceremony begins at 10:30 a.m. on May 6.
"Our graduation ceremony not only honors graduates and their academic accomplishments, it allows us to show students just how far a Husson education can take you," says Husson University President Robert A. Clark, Ph.D. "Having successful business leaders like James Dicke at our Commencement, helps students see that they can live lives filled with leadership, innovation, public service and artistic expression."
About Commencement
Husson's graduation ceremony will recognize individuals who have completed their degrees from Husson University's College of Business, College of Health and Education, College of Science and Humanities, New England School of Communications (NESCom), and the School of Pharmacy. At this year's Commencement, Husson will award 809 degrees: 26 Associate of Science degrees, 510 Bachelor of Science degrees, 185 master's degrees, and 88 doctoral degrees.
The Cross Insurance Center is located at 515 Main Street in Bangor, Maine. Individuals traveling to graduation from outside the area who need help finding accommodations are encouraged to contact the Bangor Convention and Visitors Bureau at (207) 947-5205.
The commencement ceremony begins at 10:30 a.m. Guests not marching in the ceremonies are encouraged to arrive at the Cross Insurance Center by 10:00 a.m. Early arrival is recommended to avoid traffic congestion and to obtain choice seating. Tickets are not required. Those who arrive first, get to choose their seats first. 
Individuals with special needs should call (207) 941-7129 or email greenj@husson.edu so Husson University can make the appropriate arrangements. Those who cannot attend are welcome to view the ceremony via streamed video online. More information about the streaming video and ceremonies is available at www.husson.edu.
Commencement Academic Honors
For the first time in Husson University's 119-year history, four students are being named valedictorians. All four completed their degrees with a perfect 4.0 grade point average (GPA). They are:
Marcus D. Campito of Menands, New York. He will be receiving a Bachelor of Science in communications technology with a concentration in audio engineering.
Miranda R. Charloux of Hermon, Maine. She will be receiving a Bachelor of Science in accounting and a Master of Business Administration (MBA).
Nicole G. Sparlin of Milford, Maine. She will be receiving a Bachelor of Science In entertainment production.
Dylan J. Wetmore of Madawaska, Maine. He will be receiving a Bachelor of Science in accounting and a Master of Business Administration (MBA).         
Abby Logan Stevens of Fort Kent, Maine will be the Class of 2017's salutatorian. She earned a Bachelor of Science in healthcare studies while maintaining a grade point average of 3.982. In the fall, Stevens will continue her education at Husson University and begin working toward her Master of Science in occupational therapy degree.  
More Information about James F. Dicke II  
Dicke began his studies at the Culver Military Academy. In addition to a rigorous academic curriculum, he studied painting under Warner Williams, noted bas-relief artist and amateur astronomer. The Academy honored Dicke with distinguished service, man of the year, outstanding leadership, and honorary cum laude awards.
Four years later, he graduated from Trinity University in San Antonio, Texas with a Bachelor of Science in Business Administration. During this period, Dicke also served as the assistant to Congressman William M. McCullough, the author of the 1964 civil rights and 1965 voting rights acts. 
In 1980, he was named president of the Crown Corporation, a family-owned firm founded by his father. Dicke continued in that position until 2002, when he was named to his current post as chairman and CEO of the organization. This family-owned business with over 14,000 employees, located in the United States, Germany, Australia, China, and Singapore, operates a service and distribution network that exceeds 500 retail locations in over 80 countries.
Crown Equipment Corporation designs, manufactures, distributes, services, and supports material handling products that provide customers with superior value. Crown entered the material handling equipment industry in 1956, and designs and manufactures 85 percent of its lift truck components, including key parts like motors, drive units, and electronic modules. The company's goal is to provide the user with the safest, most efficient, and ergonomic lift truck possible to lower total cost of ownership and increase uptime. A strong and extensive global dealer network provides a wide variety of quality material handling equipment, storage solutions, and support services.
Dicke was appointed to the President's Export Council from 2006 to 2008 as part of the George W. Bush administration. He also served as the international president of the Young Presidents' Organization from 1992 – 1993. He is the past chairman of commissioners of the Smithsonian American Art Museum and chair emeritus of the Dayton Art Institute in Ohio. In addition, Dicke is a member of the board of directors of the Horatio Alger Association of Distinguished Americans. 
An avid artist who enjoys both painting and photography, Dicke studied with Jack Earl of Lakeview, Ohio and Nelson Shanks of Philadelphia, Pennsylvania. His art is included in numerous permanent museum and private collections.
About Husson University:
For more than 100 years, Husson University has prepared future leaders to handle the challenges of tomorrow through innovative undergraduate and graduate degrees. With a commitment to delivering affordable classroom, online and experiential learning opportunities, Husson University has come to represent superior value in higher education. Our Bangor campus and off-campus satellite education centers in Southern Maine, Wells, and Northern Maine provide advanced knowledge in business; health and education; pharmacy studies; science and humanities; as well as communication. In addition, Husson University has a robust adult learning program. For more information about educational opportunities that can lead to personal and professional success, visit Husson.edu.
Back to All Articles