Your Favorite Princesses are Coming to Bangor and Setting the Record Straight at Husson University's Gracie Theatre
Published on: April 13, 2017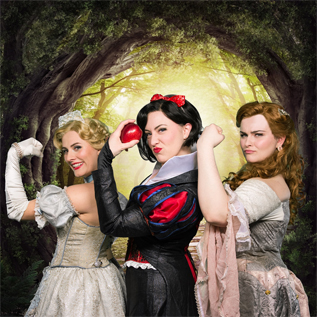 BANGOR, MAINE - Poisoned apples? Glass slippers? Who needs them? Not Snow White and her posse of disenchanted princesses in the hilarious, not-for-the-kiddies, musical that's anything but Grimm.
DISENCHANTED!
, the hit musical,  will be at Husson University's Gracie Theatre on Saturday, April 22, 2017 with performances at 5 p.m. and 8 p.m. This musical is the final show in the 2016 – 2017 Bangor Savings Bank season. The two performances are sponsored by the Dead River Company and promise to give fairy tales a completely new meaning.
"I saw a short, live segment of DISENCHANTED! during a recent trip to New York City and loved it," said Jeri Misler, managing director of the Gracie Theatre. "This show has had sold-out runs Off-Broadway, and around the country. It's a great opportunity to get to see this hot new musical right here in Bangor."
The idea for DISENCHANTED! was conceived by Dennis T. Giacino, a former history teacher. When teaching his class about the colonial settlement at Jamestown, Virginia, he couldn't help but wonder: What would the 'real' Pocahontas – a circa 1616, rough-and-tumble 10-year-old Powhatan girl – think of the fringed deer-pelt miniskirt and long, flowing hair donned by her 20-year-old counterpart in her 1995 movie comeback? A musician at heart, Giacino penned a musical number skewering the 'princess pop culture' that transformed Pocahontas from a revered Native American heroine into a pin-up vixen of the silver screen. Soon, Giacino found himself discovering a number of other princesses who had a bone to pick with the way they were portrayed, and DISENCHANTED! was born.
During the New York engagement, the production defied the trend for Off-Broadway shows with its sold out performances and critical acclaim. NBC New York called the show "funny, irreverent, and great fun! The seriously talented cast of six strong, hysterical women gives fairy tales a new meaning!" while Time Out New York stated, "If you love fairy tales with a sassy modern twist, relief is here! The not-for-children musical revue DISENCHANTED! gives a saucy makeover to Snow White, Sleeping Beauty and other fairy-tale princesses."
The Huffington Post called it, "funny and a touch wicked. DISENCHANTED!'s pop score delivers to great comic effect." The New York Times described DISENCHANTED! as "a girls'-night-out rebellion" and FOX 5 said, "It's a hot ticket that delivers a new kind of fairy tale. You'll laugh and then laugh some more at the sassy, irreverent humor."
Broadway Box raved, "Think 'Bridesmaids' for Disney princesses! This sidesplitting adult parody of the Disney princess posse and its mega-talented cast will make you blush and feel nostalgia all at once. Who could ask for anything more?"
Tickets for DISENCHANTED! range from $30 - $47 for orchestra or balcony seats. To reserve tickets, call the Gracie Theatre box office at 207.941.7888 or visit www.gracietheatre.com. Group tickets for 10 or more people are available at the 8:00 p.m. performance. Call the box office for more information about this option.
DISENCHANTED! is presented through special arrangement with Theatrical Rights Worldwide, 1180 Ave. of the Americas, 8th Floor, New York, NY 10036, www.theatricalrights.com.
This show is another example of the slate of exciting entertainment that the Gracie Theatre is bringing to Bangor over the next three months. Information about other upcoming performances is available on the theatre's website, Facebook page, or by calling the box office.
Completed in October of 2009, the Gracie Theatre is Husson University's center for the fine and performing arts. This beautiful 500-seat theatre is quickly earning a reputation as one of Maine's premier performance venues. In addition, The Gracie also serves as a learning platform for students from the New England School of Communications in digital audio, sound mixing, set design and construction, lighting, acting and electronics.
For more than 100 years, Husson University has prepared future leaders to handle the challenges of tomorrow through innovative undergraduate and graduate degrees. With a commitment to delivering affordable classroom, online and experiential learning opportunities, Husson University has come to represent superior value in higher education. Our Bangor campus and off-campus satellite education centers in Southern Maine, Wells, and Northern Maine provide advanced knowledge in business; health and education; pharmacy studies; science and humanities; as well as communication. In addition, Husson University has a robust adult learning program. For more information about educational opportunities that can lead to personal and professional success, visit Husson.edu.
Back to All Articles