Husson University Students Explore Love and Loss in John Cariani's "Almost, Maine"
Published on: April 12, 2017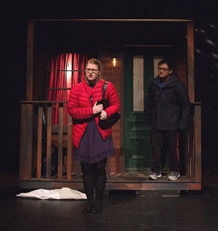 BANGOR, MAINE - 
Husson University's student theatre group will be performing John Cariani's popular "Almost, Maine," on April 7, 8, and 9 at the Gracie Theatre's main stage.
"Almost, Maine" is set in a remote, mythical town called Almost, Maine. It's a town too lazy to get organized and get an actual name, with a population that's too large to be declared wilderness. In fact, the town is so small, no one outside of Almost, has ever heard of it. 
The story takes place on one strange wintery night when strangers become lovers, lovers become strangers, and strangers become friends. The play has eleven short scenes: the Prologue (which continues in the Interlogue and Epilogue), Her Heart, Sad and Glad, This Hurts, Getting It Back, They Fell, Where It Went, Story of Hope, and Seeing the Thing.
"Almost, Maine" premiered at the Portland Stage Company in Portland, Maine in 2004 where it broke box office records and garnered critical acclaim. The play then went on to open Off Broadway at the Daryl Roth Theatre on January 12, 2006 and closed one month later on February 12, 2006. Though its Off Broadway run was brief, the play is featured in Smith and Kraus' New Playwrights: Best Plays of 2006. Since 2006, the play has proved popular in professional and nonprofessional theatre companies worldwide. It is now the most produced play in North American high schools, recently supplanting William Shakespeare's "A Midsummer Night's Dream."
Husson University Theatre (HUT) is a student-run organization and the official student theatre company of Husson University. It allows students to act as directors, designers, and performers in productions of their own choosing. Past performances include Tennessee Williams' "The Glass menagerie," David Auburn's "Proof," William Shakespeare's "Twelfth Night," and "Mary's Wedding" by Stephen Massicotte. Husson students are responsible for all aspects of the company's operations. This includes all of the production roles from acting on stage, to crew roles backstage, and box office management.
Performances will take place on Friday and Saturday, April 7 and 8 at 7:00 p.m. and Sunday, April 9 at 2:00 p.m. Tickets are available only at the door and are $3 for Students and $5 for General Admission. 
There will be three performances. Show times are 7 p.m. on Friday, April 7 and Saturday, April 8. In addition, there will be a matinee performance at 2 p.m. on Sunday, April 9. Tickets can be purchased at the door. They are $3 for students and $5 for the public. For more information about HUT and the upcoming production of "Almost, Maine," please contact Husson University Theatre president Nichole Sparlin at sparlinn@husson.edu.
Completed in October of 2009, The Gracie is Husson University's center for the fine and performing arts. This beautiful new 500-seat theatre is quickly earning a reputation as one of Maine's premier performance venues. In addition, The Gracie also serves as a learning platform for students from the New England School of Communications in digital audio, sound mixing, set design and construction, lighting, acting and electronics. For more information, visit GracieTheatre.com.
For more than 100 years, Husson University has prepared future leaders to handle the challenges of tomorrow through innovative undergraduate and graduate degrees. With a commitment to delivering affordable classroom, online and experiential learning opportunities, Husson University has come to represent superior value in higher education. Our Bangor campus and off-campus satellite education centers in Southern Maine, Wells, and Northern Maine provide advanced knowledge in business; health and education; pharmacy studies; science and humanities; as well as communication. In addition, Husson University has a robust adult learning program. For more information about educational opportunities that can lead to personal and professional success, visit Husson.edu.
Back to All Articles