Student and Faculty Scholarship to be Celebrated During Husson University's Eighth Annual Research and Scholarship Day
Published on: April 21, 2017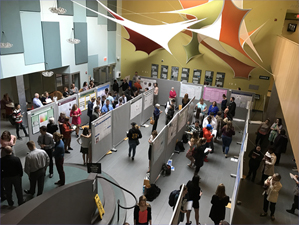 BANGOR, MAINE - Husson University will be celebrating students and faculty members' contributions to the scientific and clinical research community's growing body of knowledge during its Eighth Annual Research and Scholarship Day on Thursday, April 20, 2017 in the Gracie Theatre and the adjacent Darling Atrium. During the event, undergraduates, graduate students, and faculty members from all of the university's colleges and schools will share the results of their many capstone research projects, graduate theses and other activities devoted to understanding our world.  
This year's plenary speaker is the Dr. Phil Grant Professor of Management & Economics, at Husson University's College of Business, Steven R. Cunningham, Ph.D.
"Perhaps the dominant element driving large, developed, industrial economies is the way the public forms its perceptions of the state of the economy and financial markets," says Cunningham. "The flow of information and the way people process that information governs their economic decisions, like those regarding employment, purchases, and standards of living."
Cunningham's presentation will focus on his research in the role of perceptions and expectations in our economy. The presentation will culminate in a discussion about Cunningham's latest paper on the "Everyday Price Index" and the way the public forms its ideas about prices and inflation.
Immediately following Cunningham's presentation will be a recognition ceremony honoring the best research posters. A reception in the Darling Atrium will conclude the event.
"Every year, Husson students and faculty members make important contributions to our understanding of the world. Research and Scholarship Day is an annual opportunity for us to recognize their efforts. Their works helps us better understand the issues, materials, and processes that affect our lives every day. The depth and diversity of students' original thinking is a testament to the outstanding education we offer to aspiring professionals," said Lynne Coy-Ogan, Ed.D., senior vice president for academic affairs and provost at Husson University.
Research and Scholarship Day kicks off at 8:30 a.m. on Thursday, April 20, at the Darling Atrium in the Beardsley Meeting House with a display of posters that summarize many of the scholarly activities undertaken during the past year. This is followed at 10:30 a.m. by oral platform presentations in the Gracie Theatre where research originators share their findings. From 11:00 a.m. – 12:30 p.m., research authors will be present to stand by their posters and answer questions about their findings. Following Dr. Cunningham's plenary address, there will be a concluding reception and presentation at 2:30 p.m. recognizing the Best Student Research Posters as judged by a select group of Husson University faculty and staff members. Top scoring student posters will be awarded gift certificates to the Husson University Bookstore.
About this year's plenary speaker:
Dr. Steven R. Cunningham is the Dr. Phil Grant Distinguished Professor of Management and Economics at Husson University. He started his career as a research mathematician and statistician, and later switched to economics. Since earning a PhD in economics, he has worked for over 30 years as an economist. He worked as an economist at the Federal Reserve Board of Governors in Washington, DC, served on the board of directors of a national sports organization, and was the founding director of the Connecticut Center for Economic Analysis. He was also president, director of research and education, and chief economist of the American Institute for Economic Research, and is an emeritus professor at the University of Connecticut.
He has given speeches all over the country, and has appeared frequently on local and national television and radio as an expert in economics and finance. He has advised corporations, industry groups, and government agencies. He has published over 100 articles and his graduate students have gone on to careers with federal and state agencies, international organizations such as the International Monetary Fund, the World Bank, the Central Bank of Chile, and the Bank of England, and at universities like Cambridge University, the University of Athens, and Trinity College.
About Husson University:
For more than 100 years, Husson University has prepared future leaders to handle the challenges of tomorrow through innovative undergraduate and graduate degrees. With a commitment to delivering affordable classroom, online and experiential learning opportunities, Husson University has come to represent superior value in higher education. Our Bangor campus and off-campus satellite education centers in Southern Maine, Wells, and Northern Maine provide advanced knowledge in business; health and education; pharmacy studies; science and humanities; as well as communication. In addition, Husson University has a robust adult learning program. For more information about educational opportunities that can lead to personal and professional success, visit Husson.edu.
Back to All Articles