L.L. Bean Bootmobile to Visit Husson University's Campus
Published on: April 26, 2017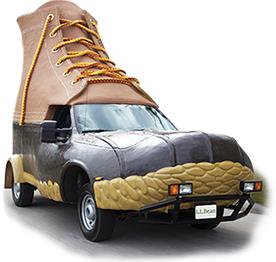 WHAT: The L.L. Bean Bootmobile will be visiting the campus of Husson University. The vehicle is 13 feet 6 inches tall and is shaped like one of the L.L. Bean boots that have become synonymous with this well-known clothing brand.             
While the Bootmobile is on campus, it will present the Husson University Outdoors club with a $300 gift card to buy outdoor equipment for students to use next year. Tables will be also set up with raffle items. This is part of an effort by the Husson's Outdoors Club and L.L. Bean to encourage members of the university community to participate in outdoor health and recreational activities. 
The Bootmobile is made of steel and fiberglass and is mounted on a Ford F250 frame. The shoelaces are made of 12-strand braided mooring rope, capable of towing 106,000 pounds.
If this was a real boot, the shoe would be size 747 and the person wearing it would be approximately 143 feet tall. That's 32 feet taller than the Statue of Liberty.
WHO:  Husson University students, members of the Husson University Outdoors Club, faculty, and staff will be participating in the event.
WHEN: Wednesday, April 26, 2017
                 10 a.m. – 1:00 p.m.
WHERE: The Bootmobile will be parked in the outdoor patio area between the Husson University Campus Center and the Furman Student Center.
WHY:  The L.L. Bean Bootmobile is on a tour of the state. It is visiting a variety of colleges in an effort to encourage students to enjoy nature year-round.
For more than 100 years, Husson University has prepared future leaders to handle the challenges of tomorrow through innovative undergraduate and graduate degrees. With a commitment to delivering affordable classroom, online and experiential learning opportunities, Husson University has come to represent superior value in higher education. Our Bangor campus and off-campus satellite education centers in Southern Maine, Wells, and Northern Maine provide advanced knowledge in business; health and education; pharmacy studies, science and humanities; as well as communication. In addition, Husson University has a robust adult learning program. For more information about educational opportunities that can lead to personal and professional success, visit Husson.edu
Back to All Articles