Good Grief! Husson University's Annual Spring Musical is "You're a Good Man, Charlie Brown"
Published on: April 18, 2017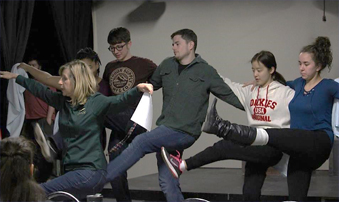 BANGOR, MAINE - Husson University's New England School of Communications' entertainment production degree program presents You're a Good Man, Charlie Brown. This entertaining musical comedy will be in The Gracie's Black Box Theatre from April 28 – 30 and promises to be fun for the whole family.
"It's hard to believe that the world's most famous blockhead is celebrating his 50th theatrical birthday," said New England School of Communications (NESCom) Instructor Kenneth Stack. "Even though the original production opened Off-Broadway in 1967, the timeless humor of cartoonist Charles M. Schulz remains as fresh today as when his characters first leaped off the pages of the Sunday funnies."
The NESCom production is staged by Jeri Misler, managing director of the Gracie Theatre. Misler is well known to the Bangor theatre community through her work with the Gracie as well as with the Penobscot Theatre Company and Winterport Open Stage. She is being assisted by Phil Burns. Burns teaches at Husson and has served as a music director for numerous productions at the Penobscot Theater Company. 
All semester, Misler and Burns have been working with NESCom's musical theatre performance class, the Fundamentals of Stage Lighting class, multiple technical theatre practicums, as well as live sound and graphic design students to rehearse, design, and produce this iconic and endearing musical. The performance ensemble is matched by an equal number of student technicians and designers. The production company for You're a Good Man, Charlie Brown includes over 40 Husson students, staff, and faculty.
When asked about the production company, Misler said, "Husson students are an integral part of the creative process for every aspect of this musical, serving as designers, technicians, and performers. They have brought their talents together to 
bring Peanuts from the comic strip to the stage. Unique to this production is the use of original animated projection art slides that serve as digital backdrops for the various scenes. The entire production process provides hands-on experience for students with the added reward of sharing their final product with audiences."  
The show features fifteen songs that bring the Peanuts gang to life, including the title song, "You're a Good Man, Charlie Brown", Linus' "My Blanket and Me", Lucy's "Queen Lucy", "The Book Report", "The Baseball Game" and Snoopy's "Suppertime." The show has received many awards over the years, including a Tony Award, the Outer Critics Circle Award, two Drama Desk Awards, the Theatre World Award, and two Grammys. 
This musical comedy revolves around a typical day in the life of Charlie Brown. Sharing the stage are Lucy van Pelt, nemesis and part-time psychiatrist; Linus van Pelt, a philosopher with a blanket; Schroeder, a pianist and art lover;  Sally, Charlie Brown's impetuous sister;  Pig Pen; Frieda, the girl with naturally curly hair; Marcie;  Peppermint Patty; and of course, Snoopy, man's best friend and WWI flying ace. The cast is comprised of the students within the Musical Theatre Performance class along with other Husson University students who love the performing arts.  
Back in 1967, composer and librettist Clark Gesner commented on the challenges of bringing such recognizable characters from newsprint to the stage. "None of the cast is actually six years old and they don't really look like Charles Schulz's Peanuts cartoon characters," he said. "This doesn't seem to make that much difference once we are into the play. It becomes obvious that they are all really quite fond of each other."
Performances of You're a Good Man, Charlie Brown are scheduled for Friday, April 28 at 7:00 p.m., Saturday, April 29 at 2:00 p.m. and 7:00 p.m. and on Sunday, April 30 at 2:00 p.m. The Gracie Black Box Theatre is located on the second floor of the Gracie Theatre on the Bangor campus of Husson University.
General admission tickets are available at the door before each performance. Ticket prices are $5.00 for the public and $3.00 for students. Since seating is limited to 60 seats for each performance, the public is encouraged to arrive early. For more information, call the Gracie Theatre box office at 207.941.7888 or visit www.gracietheatre.com. 
This show is another example of the slate of exciting entertainment that the Gracie Theatre is bringing to Bangor in the coming months. Information about other upcoming performances is available on the theatre's website, Facebook page, or by calling the box office. 
Completed in October of 2009, the Gracie Theatre is Husson University's center for the fine and performing arts. This beautiful 500-seat theatre is quickly earning a reputation as one of Maine's premier performance venues. In addition, The Gracie also serves as a learning platform for students from the New England School of Communications in digital audio, sound mixing, set design and construction, lighting, acting and electronics. 
For more than 100 years, Husson University has prepared future leaders to handle the challenges of tomorrow through innovative undergraduate and graduate degrees. With a commitment to delivering affordable classroom, online and experiential learning opportunities, Husson University has come to represent superior value in higher education. Our Bangor campus and off-campus satellite education centers in Southern Maine, Wells, and Northern Maine provide advanced knowledge in business; health and education; pharmacy studies; science and humanities; as well as communication. In addition, Husson University has a robust adult learning program. For more information about educational opportunities that can lead to personal and professional success, visit Husson.edu.
Back to All Articles