Husson University to Confer Three Honorary Degrees at Commencement
Published on: April 27, 2017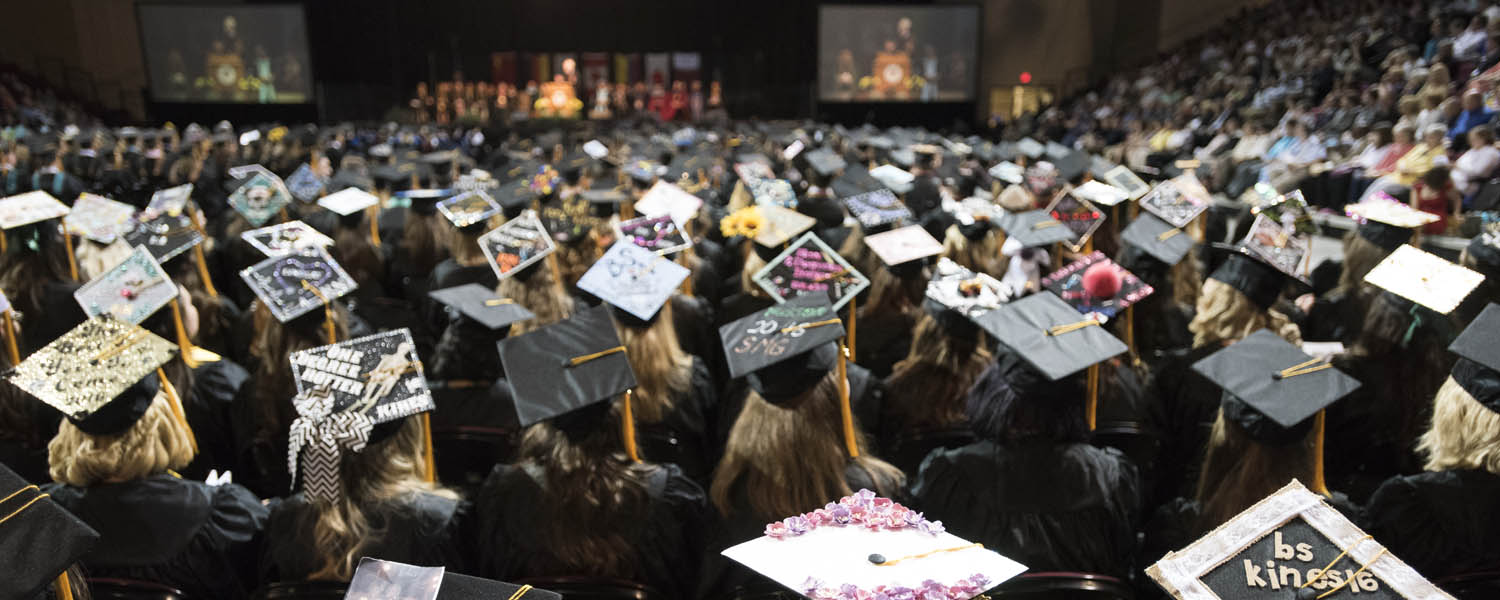 BANGOR, MAINE - At its 118th Annual Commencement Exercises on Saturday, May 6, 2017 at the Cross Insurance Center in Bangor, Maine, Husson University will confer honorary doctorates on three business leaders who have distinguished themselves in the manufacturing, transportation, and communications industries. All of their companies were founded as family-owned businesses.
Honorary Degree Recipients
In addition to delivering the keynote Commencement address, the chairman and chief executive officer of the Crown Equipment Corporation James F. Dicke II, will receive an honorary Doctor of Business degree in recognition of his leadership abilities, his dedication to innovation, and his devotion to public service.
Dicke began his studies at the Culver Military Academy. In addition to a rigorous academic curriculum, he studied painting under Warner Williams, noted bas-relief artist and amateur astronomer. The Academy honored Dicke with distinguished service, man of the year, outstanding leadership, and honorary cum laude awards.
Four years later, he graduated from Trinity University in San Antonio, Texas with a Bachelor of Science in Business Administration. During this period, Dicke also served as the assistant to Congressman William M. McCullough, the author of the 1964 civil rights and 1965 voting rights acts.
In 1980, he was named president of the Crown Corporation, a family owned firm founded by his father. Dicke continued in that position until 2002, when he was named to his current post as chairman and CEO of the organization. This family-owned business with over 14,000 employees, located in the United States, Germany, Australia, China, and Singapore, operates a service and distribution network that exceeds 500 retail locations in over 80 countries. 
Crown Equipment Corporation designs, manufactures, distributes, services, and supports material handling products that provide customers with superior value. Crown entered the material handling equipment industry in 1956, and designs and manufactures 85 percent of its lift truck components, including key parts like motors, drive units, and electronic modules. The company's goal is to provide the user with the safest, most efficient, and ergonomic lift truck possible to lower total cost of ownership and increase uptime. A strong and extensive global dealer network provides a wide variety of quality material handling equipment, storage solutions, and support services.
Dicke was appointed to the President's Export Council from 2006 to 2008 as part of the George W. Bush administration. He also served as the international president of the Young Presidents' Organization from 1992 – 1993. He is the past chairman of commissioners at the Smithsonian American Art Museum and chair emeritus of the Dayton Art Institute in Ohio. In addition, Dicke serves as a member of the board of directors of the Horatio Alger Association of Distinguished Americans.
An avid artist who enjoys both painting and photography, Dicke studied with Jack Earl of Lakeview, Ohio and Nelson Shanks of Philadelphia, Pennsylvania. His art is included in numerous permanent museum and private collections.
Galen Cole
Another person who will receive an honorary doctorate in business is Galen Cole, former president of Cole Express, founder of the Cole Land Transportation Museum, Maine World War II veteran, and philanthropist.
Cole, born in Bangor, was one of seven children raised by Allie and Amy Stone Cole. The Cole family started a horse-drawn US Mail carrier business in Enfield, Maine that grew to include highway express service from Bangor.  
Cole's earliest recollections are of his dad with a snowplow crew at the family residence in Bangor. He remembers his father climbing aboard a huge snowplow to open roads so his Cole Express trucks could travel the snow-clogged roads from Old Town to points north. His father was responsible for plowing the roads from 1929 to 1934. After Maine created the Department of Transportation in 1934, the state assumed responsibility for clearing the roads starting in 1935. These early life experiences inspired Cole to dedicate his life to trucking on Maine's highways and delivering express service to the public.
He worked as a truck driver's helper until he was 15 years old. The advent of World War II created a shortage of drivers. With driver job openings available, Cole was able to drive trucks throughout Maine.
Graduating from Bangor High School at age 18, Cole enlisted in the US Army infantry. Months later, he was in the heart of Germany. Five members of Cole's squad were killed and another eight were wounded as the result of a German artillery shell. Even though Cole was wounded himself, it could have been much worse. A soldier senior to Cole returned from a hospital stay and wanted his seat back on the half-track. Cole moved to the other side of the half-track to give that soldier his seat. When an artillery shell hit the vehicle, that soldier wound up getting killed while Cole was only wounded.
He returned home after the war ended. A few years later, his dad passed away. His brothers and the Cole Transportation's Board of Directors chose him to lead this family-owned business. For 50 consecutive years, those companies produced profits and grew to more than 900 vehicles from 15 New England and Canadian Maritime terminals. 
As New England's oldest Class 1 motor freight carrier, national carriers pursued Cole Transportation after state and national deregulation. With Cole and his wife Sue reaching retirement age, they sold their controlling stock interests and formed a tax-free foundation.
Today the Cole Family Foundation operates the Cole Land Transportation museum in Bangor, Maine. Since 1990, the museum has provided over 475,000 visitors with a glimpse into the history of Maine's land-transportation equipment evolution. The Foundation has also provided Maine-made walking sticks to over 10,000 military veterans in the state.
Cole's wife Sue has supported the Reading Recovery Program at the University of Maine. This literacy initiative is credited with helping over 100,000 early grade school students learn to read.
Cole's other charitable work includes a variety of volunteer leadership positions. He has been president of the Maine Truck Owner's Association, the Bangor YMCA, the Bangor and Maine Chamber of Commerce, Associated Industries of Maine and Bangor City Council. Cole is currently the City of Bangor's oldest living mayor. 
George Wildey
Wildey was born and raised in Yonkers, New York. He attended Emerson College in Boston where he received a Bachelor of Arts degree in broadcasting/communication in 1958. He also completed a Master of Science in business degree from Husson College, (now known as Husson University) in 1983.
He began his career as a part-time announcer at WXHR Radio in Cambridge, Massachusetts. The station was one of the first FM stations in the Boston area. Following that, he became a staff announcer/disc jockey at WTYM Radio in Springfield, MA, and later an on-air personality, sports announcer, TV host and program director at WHYN-AM/FM/TV in the same city.
His broadcasting experience opened career doors for Wildey. It led him to accept a position at the University of Maine as a director and radio/TV information specialist at the educational institution's Department of Public Information. 
Later, with partner James Goff, Wildey founded the Penobscot Broadcasting Corporation. In 1976, he and Goff applied to the Federal Communications Commission to build an FM station. The application was accepted and WPBC 92.9 FM "Bangor's Beautiful Music," was born. The Penobscot Broadcasting Corporation then bought WHOU AM and FM in Houlton along with the rights to the MUZAK franchise for Central and Northern Maine.
After working with the broadcast industry in Maine for over 20 years, Wildey saw the need for a school that could supply area radio and TV stations with qualified employees. To make this possible, Wildey founded the New England School of Broadcasting as a family-owned business in 1981. The one-year program started with 23 students and graduated its first class in 1982.
Del Merrill was the president of Husson College in 1985. He invited the New England School of Broadcasting to move to the Husson College campus. That was the beginning of a remarkable period of growth.
Over the next 32 years, the New England School of Broadcasting changed its name to the New England School of Communications, also known as NESCom. The school was formally integrated into the Husson University family in 2014. 
Today, NESCom offers three different Bachelor of Science degrees covering nine different concentrations. Husson students pursuing communications degrees at NESCom are able to gain expertise in audio engineering, live sound technology, video production, webmedia, and entertainment production. They go on to successful careers as journalists, marketers, and radio broadcasting professionals – just to name a few. NESCom graduates have earned Grammy's and Emmys while the New England School of Communications is regularly recognized with awards that pay tribute to the quality and professionalism of student productions.  
Wildey himself has been recognized for his contributions to the broadcast industry. He was inducted into the Maine Broadcasting Hall of Fame in 1993 and was named Broadcaster of the Year during that same year.
Commencement
All three of these individuals will receive their honorary degrees as part of Husson University's 118th Annual Commencement Exercises on Saturday, May 6, 2017 at the Cross Insurance Center in Bangor, Maine. The Cross Insurance Center is located at 515 Main Street in Bangor, Maine. The commencement ceremony begins at 10:30 a.m. 
For more than 100 years, Husson University has prepared future leaders to handle the challenges of tomorrow through innovative undergraduate and graduate degrees. With a commitment to delivering affordable classroom, online and experiential learning opportunities, Husson University has come to represent superior value in higher education. Our Bangor campus and off-campus satellite education centers in Southern Maine, Wells, and Northern Maine provide advanced knowledge in business; health and education; pharmacy studies; science and humanities; as well as communication. In addition, Husson University has a robust adult learning program. For more information about educational opportunities that can lead to personal and professional success, visit Husson.edu.
Back to All Articles