Husson University Faculty Member Named Distinguished Young Pharmacist by the Maine Pharmacy Association
Published on: April 26, 2017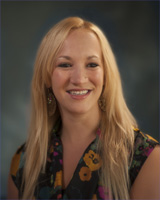 BANGOR, MAINE - Husson University's Assistant Professor of Pharmacy Practice Cassandra Parsons, Pharm.D., BCACP, BCGP, is the recipient of the 2016 Distinguished Young Pharmacist in Maine Award from the Maine Pharmacy Association.
The Distinguished Young Pharmacist Award acknowledges young pharmacists in each state who are dedicated to individual excellence. This award also recognizes individuals who make outstanding contributions to their state's pharmacy association and community.
"It's an honor to receive the Distinguished Young Pharmacist Award for Maine. I'm extremely passionate about the pharmacy profession and feel fortunate to have such a fulfilling job. I'm also proud to be able to teach future pharmacists attending the Husson University School of Pharmacy. Furthermore, it's a great privilege to provide care to United States Veterans in the spinal cord injury clinic while precepting students at the VA Maine Healthcare System. A career in pharmacy can be very rewarding."
The recipients of the Distinguished Young Pharmacist Award must have completed his or her degree in pharmacy within the past 10 years. The individual also must be licensed to practice in the state he or she represents. In addition, recipients must have a current membership in a state pharmacy association and participate in national pharmacy associations, professional programs, and state association activities. Community service can supplement, or be considered in lieu of, professional pharmacy organization activities as part of the award application process.  
"Cassie is an outstanding member of our faculty and continues to garner recognition as one of our state's leading pharmacy professionals," said Rodney A. Larson, Ph.D., R.Ph., founding dean of the Husson University School of Pharmacy. "She was recently named president-elect for the Maine Pharmacy Association by her peers. She is a valuable member of our team and is helping to make Husson University a regional leader in integrated pharmacy education."
About Dr. Cassandra Parsons:
Dr. Cassandra Parsons, a native of Hermon, Maine, is proud to be a licensed pharmacist in her home state. After earning her Doctor of Pharmacy from Albany College of Pharmacy in New York, Parsons completed a post-graduate, year-one, pharmacy practice residency at the VA Maine Healthcare System in Augusta. During that time, she participated in rotations encompassing primary care, internal medicine, quality management and administration, home-based primary care, geriatrics, mental health, and more.
The VA Maine Healthcare System serves as Parsons' clinical practice site. She also represents Husson University's School of Pharmacy as a clinical pharmacist for the spinal cord injury clinic.
Parsons' career began at the age of fifteen as a pharmacy technician in retail. Over time, she gained experience working for pharmacies at Wal-Mart, CVS, and Rite Aid. Parsons is a Board Certified Ambulatory Care Pharmacist (BCACP), a Board Certified Geriatric Pharmacist (BCGP), and a member of the American College of Clinical Pharmacy, Maine Pharmacy Association, Maine Society of Health-System Pharmacists, and the American Association of Colleges of Pharmacy. 
She serves on the board of directors for the Maine Pharmacy Association and is currently president-elect of the organization. Parsons was a recipient of both the Albany College of Pharmacy Dean's Scholarship and the Verizon Scholarship. In 2012, she was selected as a Who's Who of American Universities. She also received awards for the 2015-2016 P4 Teacher of the Year, and 2015-2016 Faculty Experiential Educator of the Year.
About the Husson University and the School of Pharmacy
Founded in 2008, the Husson University School of Pharmacy is accredited by the Accreditation Council for Pharmacy Education (ACPE). The School graduated its first class with Doctorate of Pharmacy (Pharm.D.) degrees in May 2013.
While Husson University prides itself as a teaching institution, the importance of faculty scholarship and research to contemporary pharmacy education is highly valued. The School of Pharmacy has been able to attract nationally renowned educators with expertise in alcohol research, wound healing, and national board certification in the specialty areas of pharmacotherapy. 
For more than 100 years, Husson University has prepared future leaders to handle the challenges of tomorrow through innovative undergraduate and graduate degrees. With a commitment to delivering affordable classroom, online and experiential learning opportunities, Husson University has come to represent superior value in higher education. Our Bangor campus and off-campus satellite education centers in Southern Maine, Wells, and Northern Maine provide advanced knowledge in business; health and education; pharmacy studies; science and humanities; as well as communication. In addition, Husson University has a robust adult learning program. For more information about educational opportunities that can lead to personal and professional success, visit Husson.edu.
Back to All Articles