Brewing Industry's Economic Impact on Maine to be Examined at Husson University
Published on: April 11, 2017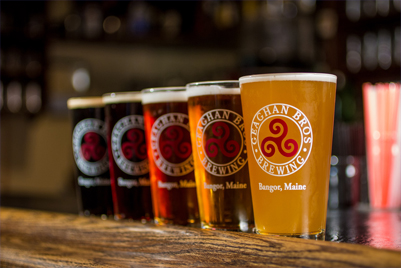 BANGOR, MAINE - An elite panel of five area business and economic leaders with insight into Maine's growing craft beer industry will participate in, "More Than Just Beer: How the Brewing Industry Impacts the State of Maine," a panel discussion at the Richard E. Dyke Center for Family Business on Thursday, April 27 at 3:00 p.m. Following the event, attendees are encouraged to stop by Nocturnem for a "Networking Happy Hour" with available members of the panel. 
The panel discussion will focus on the craft beer industry's significant contributions to our state's economy. According to a recent economic impact study released by the Maine Brewers' Guild, the Maine brewing industry employed 1,632 people directly, and helped support the creation of 545 additional jobs in other industries. In addition, the study estimated that Maine's brewing industry had an economic impact of nearly $228 million in 2016.
Over the past six years, this industry has seen significant growth. During this time, the number of independent breweries in Maine has gone from a couple dozen to more than 60.
"The craft beer industry in Maine is helping to grow jobs, keep young people here after college, and make our state an even more desirable vacation destination," said Husson University College of Business Dean Dr. Marie Hansen. "In addition to creating new jobs in brewing and beer manufacturing, local businesses that focus on agriculture, hospitality, and tourism have been positively impacted by the growth of craft beer." 
As an industry, craft beer is part of the "support local" movement. Maine craft beer brewers use Maine resources. They support agriculture by purchasing brewing ingredients locally, and supplying local farms with spent grain bi-products. These bi-products, derived from the brewing process, are used to feed livestock.
"This event embraces the spirit and culture of the craft brewing industry," said Andrew Geaghan, owner and head brewer at Geaghan Brothers Brewing Company in Bangor. "Craft brewers enjoy sharing information with each other about the brewing process. Sharing information with students about our industry is a natural extension of what we're all about. This panel discussion will expand students' understanding of breweries and stimulate ideas about possible career options after graduation. The craft beer industry in Maine is growing and creating jobs here in our state." 
The panel, moderated by Dean Hansen, will include:
Gene Beck, owner of the Nocturnem Draft Haus and The Growler Bus
Jacob Buck, co-founder of the Maine Malt House
Andrew Geaghan, owner and head brewer at Geaghan Brothers Brewing Company
D'arcy Main-Boyington, director of economic development for the City of Brewer
Sean Sullivan, executive director of the Maine Brewers' Guild
"Husson University is a champion of professional education and regional economic development. Presentations like this benefit both the students and the panel participants," said William Watson, director of the Richard E. Dyke Center for Family Business.
"Panel discussions with members of the local business community give students the opportunity to better understand professional careers and leadership positions," continued Watson. "They also allow the business community to share information about the positive contributions they are making to our region's economic development."
This panel discussion presentation is free and open to the public. It is being organized by Husson University's College of Business and the Richard E. Dyke Center for Family Business. For more information or to attend the panel discussion, please call the Center for Family Business at 207-973-1053 or email Caroline Snow at cfb@husson.edu.
For more than 100 years, Husson University has prepared future leaders to handle the challenges of tomorrow through innovative undergraduate and graduate degrees. With a commitment to delivering affordable classroom, online and experiential learning opportunities, Husson University has come to represent superior value in higher education. Our Bangor campus and off-campus satellite education centers in Southern Maine, Wells, and Northern Maine provide advanced knowledge in business; health and education; pharmacy studies; science and humanities; as well as communication. In addition, Husson University has a robust adult learning program. For more information about educational opportunities that can lead to personal and professional success, visit Husson.edu.
Back to All Articles