Husson University Faculty Tune Into the Science of Sound at the Maine Science Festival
Published on: March 21, 2017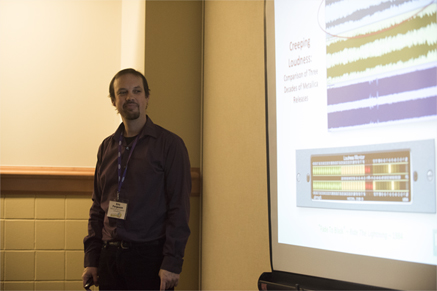 BANGOR, MAINE - Husson University faculty will be sharing their in-depth knowledge of sound and electronic recording at the upcoming Maine Science Festival on March 18 and 19 in Bangor. Two different presentations with hands-on activities will help inspire the next generation of audio scientists, recording engineers, radio broadcasters, live sound engineers, recording artists, musicians, and audiologists. 
"While many people listen to music and information every day, they often never stop to appreciate the science, processes and challenges that go into audio communication and entertainment," said Husson University College of Business Dean and New England School of Communications (NESCom) Interim Dean Marie Hansen, PhD. "Students and parents who attend our sessions will gain a better understanding of musical recording strategies and the detrimental effects of excessive volume on human hearing.  
One of the Husson faculty members who will be leading a session at the festival will be Eric Ferguson, an assistant professor at Husson University's New England School of Communications. On Saturday, March 18, 2017 from 11:30 a.m. – 12:30 p.m. at the Cross Insurance Center, Ferguson will be helping students understand why musical recordings have grown increasingly louder over the last 30 years. His presentation, "The Loudness Wars" will explain the causes and potential solutions associated with "ear-bleeding volume."
Ferguson has over twenty-five years of professional audio experience. As a staff engineer at the legendary A&M Studios, he worked with numerous platinum recording artists such as Chicago, Ringo Starr, Macy Gray, and Billy Corgan. As a freelance engineer, Ferguson has been involved in over a hundred recording, mixing, and post-production projects including work for such luminaries as Phil Collins, Aretha Franklin, Kool & The Gang, Fourplay, and Dave Grusin. Accomplished in sound reinforcement, Ferguson has toured in over 17 countries for artists such as Lee Ritenour, James Ingram, and Dave Koz.
On Sunday, March 19, 2017 from 11:30 a.m. – 12:45 p.m. at 58 Main Street, New England School of Communications Audio Instructor Joshua Small will kick off the day's events with a session called "Audio Recording 101." This hands-on presentation will help students better understand the process that takes place when recording artists impart music to listeners. The workshop will give students a hands-on experience in how to mix audio. Over the course of the session, young people will be able to learn more about mixing strategies, equalization, compression, reverb, and the phase considerations that go into making music come alive for listeners.
Small has been a member of the New England School of Communications Audio Department since 2005. In addition to his work at NESCom, Small owned and operated Nightcrawler Studios from 1995-2010. His teaching interests include multi-track recording, production, and electronics. In addition to teaching at NESCom, Small is a professional musician and an accomplished guitarist. He has performed at venues and festivals all along the eastern seaboard. 
"Our faculty members are looking forward to attending the festival and sharing their knowledge with young people," said Senior Vice President for Academic Affairs and Provost Lynne Coy-Ogan, Ed.D. "Educational events like this can plant the seeds of inspiration and nurture the curiosity of young people so that one day, with the benefit of education, they can reach their full potential and achieve a lifetime of career success."
Continuing, Coy-Ogan observed: "The Maine Science Festival also helps to showcase the variety of science-related expertise available at Husson University. We're glad to support this educational effort and help make the festival a great experience for students of all ages."
For more than 100 years, Husson University has prepared future leaders to handle the challenges of tomorrow through innovative undergraduate and graduate degrees. With a commitment to delivering affordable classroom, online and experiential learning opportunities, Husson University has come to represent superior value in higher education. Our Bangor campus and off-campus satellite education centers in Southern Maine, Wells, and Northern Maine provide advanced knowledge in business; health and education; pharmacy studies; science and humanities; as well as communication. In addition, Husson University has a robust adult learning program. For more information about educational opportunities that can lead to personal and professional success, visit Husson.edu.
Back to All Articles