Husson University Dance Club will "Blame it on the Boogie" at their Sixth Annual Showcase
Published on: March 27, 2017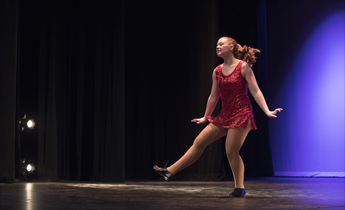 WHAT: Those who love dance should make it a point to attend the Husson University Dance Club's Sixth Annual Showcase performance on Saturday March 25, 2017 at 7 pm in the Gracie Theatre. This year's theme is "Blame it on the Boogie." While event is free and open to the public, voluntary donations to help the club pay for costumes and shoes are appreciated.
WHO:   This year's showcase will feature original pieces performed and choreographed by Husson students in a variety of dance styles. Dance Club members have devoted over six months to preparing for this event. Husson's Dance Club is open to anyone enrolled at the university. Everyone, regardless of their past dance training and experience, can participate in club activities. The club is run by students.
Interviews with the Husson University Dance Club President Jillian Wilson can be arranged upon request. She can be reached at wilsonj@husson.edu or at (603) 781-7945.                     
WHEN:   Saturday, March 25, 2017
                 7 p.m.
 
WHERE:   Gracie Theatre
                  Husson University
                  1 College Circle
                  Bangor, ME 04401
WHY:   This showcase is designed to give students an opportunity to share their work with the public. It is also an opportunity to highlight some of the exceptionally talented students at Husson University.
Public exhibitions are a valuable part of the educational experience. They serve as venues where students can exchange creative expressions with their peers and receive feedback from members of the public.
About Husson University:
For more than 100 years, Husson University has prepared future leaders to handle the challenges of tomorrow through innovative undergraduate and graduate degrees. With a commitment to delivering affordable classroom, online and experiential learning opportunities, Husson University has come to represent superior value in higher education. Our Bangor campus and off-campus satellite education centers in Southern Maine, Wells, and Northern Maine provide advanced knowledge in business; health and education; pharmacy studies, science and humanities; as well as communication. In addition, Husson University has a robust adult learning program. For more information about educational opportunities that can lead to personal and professional success, visit Husson.edu
Back to All Articles