Art and Science Leadership Course Graduates to Receive Certificates at Husson University Southern Maine
Published on: March 7, 2017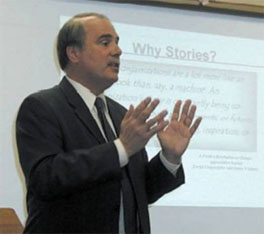 WESTBROOK, MAINE - Since September 21 2016, prominent local business executives and organizational rising stars have participated in a 15-class leadership certificate course in "The Art & Science of Leadership" at Husson University's Southern Maine campus in Westbrook. On March 8, 2017 at 5:30 p.m., those individuals will be awarded their certificates of completion.
"This course is designed for current executives who want to strengthen their leadership skills along with aspiring leaders who want to gain the knowledge essential to growing their careers," said Vince Pelote, a managing partner with daVinci Consulting and course instructor. "Today's managers must be able to achieve balance in a fluid business environment that requires them to motivate people and make thoughtful and empathetic decisions as they maintain their focus on achieving business objectives."
"Two strategic areas that are having a tremendous impact in today's workplace directly involve coaching: managers are doing more coaching and coaching as a practice is being scaled across organizations" adds Pelote. 
A variety of coaching scenarios, skill-building exercises, and a 360-degree review were a part of the course assignments.
The curriculum provided participants with insights into:
Improving leadership effectiveness
Leadership strengths
Emotional intelligence
Self-aware leadership practices
Ways to establish cultures of highly motivated employees
What it takes as a leader to "get to the next level"
Practices that make others feel valued, appreciated, and "listened to"
Business cultures that generate and value effective feedback 
"As the course progressed, students were able to take the skills they learned in class and apply them to the workplace. This gave participants the opportunity to learn from their own experiences as well as those of other team members," said Husson University College of Business Dean Marie Hansen, Ph.D. "At Husson we support education that provides students with experiential learning. The "learn by doing" component of this leadership course helps make classroom learning even more relevant."
Some of the prominent Maine business leaders who served as guest lecturers included Steven P. Cote, president of the Chalmers Insurance Group, and Dajuan Eubanks, president of the Maine Red Claws, an NBA D-League basketball team.
Local leaders enrolled in the course included:
Charlotte Clark, an accounting manager with Alexander and Schmidt. "We found the course on the Husson website. I would highly recommend it to anyone that wants to continue to learn and grow," said Clark. Alexander and Schmidt's Operations Manager Lindsey Schmidt also took the course.
Andrea Osgood, a regional vice president for retail banking with Norway Savings Bank. "I have been fortunate enough to work for a company that strongly supports continuing education and over the years I've participated in a number of leadership courses," said Osgood. "This program has challenged me in ways I haven't experienced in other leadership classes. I've shared my experiences with our vice president and encouraged her to recommend this course to other leaders in our organization." 
Maureen Hassett, vice president and business opportunity creator, Custom Composite Technologies. "Thank you for taking the time to invite Dajuan Eubanks to come speak with us. I could relate to many aspects of his experience and felt inspired and ready to keep making the challenging decisions required by a leader," said Hassett
Charlotte M. Ellis, education data manager, Maine Department of Education. "Thank you so much for the tools that you have shown me in the Masterpieces in Leadership course. I used the "mindful mindsets" in a meeting today, along with SCARF. The result? Two people that did not get along shared their appreciation for each other's positive aspects. I have also shared the "mindful mindsets" with another person who has a potentially contentious meeting in front of him. These tools have been timely and invaluable to the positive functioning of my organization," said Ellis.
This course is certified by the International Coach Federation (ICF). ICF certification is unique among Maine colleges and universities. Husson University is one of the few to offer an ICF certified course.
In addition to the invaluable skills the students gained through this course, anyone who receives a certificate of completion will also earned 41.25 units of Continuing Coach Education (CCE) credit from the ICF. CCEs count toward supplemental and advanced education for those wishing to renew an ICF Credential.
If you are interested in registering for the next "Leadership Certificate Course: The Art & Science of Leadership," visit Husson.edu/southern-maine. For more information, contact Russell Strout at 207-874-5804 or email him at stroutr@husson.edu.
For more than 100 years, Husson University has prepared future leaders to handle the challenges of tomorrow through innovative undergraduate and graduate degrees. Today, Husson has over 4,000 alumni in Southern Maine and a network of more than 20,000 alumni nationwide. With a commitment to delivering affordable classroom, online and experiential learning opportunities, Husson University has come to represent superior value in higher education. Our Bangor campus and off-campus satellite education centers in Southern Maine, Wells, and Northern Maine provide advanced knowledge in business; health and education; pharmacy studies; science and humanities; as well as communication. In addition, Husson University has a robust adult learning program. For more information about educational opportunities that can lead to personal and professional success, visit Husson.edu.
Back to All Articles