Poland Spring Managers to Share Career and Company Watershed Moments at Husson University
Published on: February 27, 2017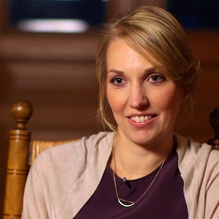 BANGOR, MAINE - Two managers from Poland Spring will speak at a luncheon at Husson University's Richard E. Dyke Center for Family Business on Wednesday, March 1 from 11:30am-1:30pm. The presenters are Heather Printup, community relations manager and Thomas Brennan, natural resources manager.
Printup will talk about her career. She'll also talk about how Poland Spring was able to become the top selling water brand in the country. Brennan will offer insights into the company's search for new sources of spring water. Both Printup and Brennan will be available to answer questions. The luncheon is free and open to the public.
"We are honored to have two successful Poland Spring leaders on our campus," said Nancy Roberts, an instructor at Husson University's New England School of Communications. "This is a unique opportunity for students and the community to learn more about the career and communications issues that affect professionals at major companies like Poland Spring."
Printup has been a Maine resident her entire life. She has worked for Poland Spring for 16 years and got her start working in the Poland Spring Museum when she was 19 years old. As a part of her role as community relations manager, Printup oversees initiatives such as the Poland Spring Good Science Scholarship program, community appreciation days, environmental education programs, and community partnerships.
Poland Spring just announced a $50 million bottling expansion that eventually will employ 80 people. A part of Nestlé Waters North America, Poland Spring operates three Maine bottling plants in Poland, Kingfield, and Hollis. The company bottled close to 821 million gallons of water last year and employed over 800 Mainers in 2016, making it one of the top private employers in Maine.
"This event is another demonstration of Husson University's commitment to working with Maine's businesses," said Dr. Marie Hansen, dean of Husson University's College of Business. "Representatives from organizations who are willing to share their insights and experience with the next generation of leaders are regularly featured at Husson. Our students get to learn first-hand, from experienced professionals, what they'll need to be fully prepared to enter the workforce. It's part of what makes a Husson education different from programs at other colleges and universities."   
This event is organized by Husson University's College of Business and the Public Relations Student Society of America Chapter (PRSSA). PRSSA is a national organization for students interested in public relations, marketing, and communications. PRSSA allows students to learn and apply networking skills, attend regional conferences, and acquire leadership skills.
For more information or to attend the luncheon, please call the Richard E. Dyke Center for Family Business at 207-973-1053 or email Caroline Snow at cfb@husson.edu.
For more than 100 years, Husson University has prepared future leaders to handle the challenges of tomorrow through innovative undergraduate and graduate degrees. With a commitment to delivering affordable classroom, online and experiential learning opportunities, Husson University has come to represent superior value in higher education. Our Bangor campus and off-campus satellite education centers in Southern Maine, Wells, and Northern Maine provide advanced knowledge in business; health and education; pharmacy studies; science and humanities; as well as communication. In addition, Husson University has a robust adult learning program. For more information about educational opportunities that can lead to personal and professional success, visit Husson.edu.
Back to All Articles