Husson University Dedicates New Wight's Sporting Goods Strength and Conditioning Facility
Published on: February 24, 2017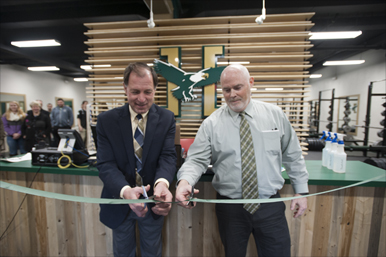 Husson University held a ribbon cutting and dedication ceremony for the new Wight's Sporting Goods Strength and Conditioning Facility on Thursday, February 16, 2017 at 12 p.m. (noon). Located on the lower level of the Newman Gymnasium complex, the facility is designed to help Husson student athletes maximize their physical potential, enhance their performance, and develop the strength needed to avoid sports-related injuries.
Two hundred and fifty thousand dollars in donations made the new strength and conditioning facility possible with Wight's Sporting Goods providing the lead gift. This outpouring of donor generosity allowed the University to more than double the size of the athletic weight training facility, replace and update equipment, and add new rubberized flooring. The new Wight's Sporting Goods Strength and Conditioning Facility also includes a high-efficiency fresh air supply system, a reception desk, and an expanded storage area.
Part of the ceremony was dedicated to honoring Andrew Nickerson. He resides in Holden and is the president and CEO of Wight's. Nickerson purchased Wight's Sporting Goods in 1993 and is co-owner of the business along with his wife Julie, a first-grade teacher. Nickerson attended Husson University in 1985 and was a member of the men's basketball program. His two daughters also attended Husson University. His elder daughter Holly graduated from Husson in 2016 with a degree in healthcare studies while his younger daughter Meg is currently attending Husson and pursuing a degree in elementary education. 
Nickerson is involved in all aspects of Wight's Sporting Goods on a daily basis. Some of his hobbies include hunting, fishing, golfing and most importantly spending time with his family.
Wight's Sporting Goods is full-line sporting goods dealer located in Hampden, Maine. It provides a diverse product line of sports-related equipment for all team sports as well as a complete embroidery and screen print center at their 14 Commerce Court facility. Wight's quality of product and service has made them one of the leading providers of athletic uniforms and custom uniforms in the state.
Other individuals who participated in the event included:
• Robert A. Clark, Ph.D., president, Husson University
• Frank Pergolizzi, director of athletics, Husson University
Husson trustees, faculty, staff, and students also attended.
Back to All Articles